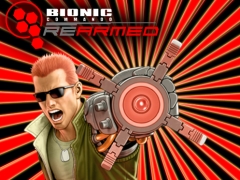 After much fanfare and patient waiting, Bionic Commando is almost upon us. To celebrate the release of Nathan "Radd" Spencer's first 3D adventure, we've teamed up with our buddies at Sony to drop the price on Bionic Commando: Rearmed on the PlayStation Network for a limited time. BC:R was one of the top-rated digitally downloaded games of last year and received much love from reviewers around the globe . Now this gem can live on your North American PlayStation 3 for a puny $4.99!
Xboxers, don't fret. The XBLA version of Bionic Commando: Rearmed will also go on sale on LIVE for 400 starting on May 25. Lucky Europeans actually get to take advantage of this price drop today.
You're obligated to pick this one up in order to experience my second-favorite Capcom game of all time. Also, if you're kicking around the idea of getting Bionic Commando when it releases on Tuesday, May 19, keep in mind that there's a couple cool things that unlock in the "big" game if you have the "little" game.
More about BC:R directly from the keyboard of Ben Judd on the awesome PlayStation blog.