Kuni, Chibiterasu's most important partner
Hello, everyone! This is Kuniomi Matsushita, Director of Okamiden.
This time, I'd like to talk about one of the most important partners in this game. That is Kuni, and of course, there is a story on how he came out during development. In Okamiden, Chibi overcomes difficult situations in cooperation with each partner. Kuni is the very first partner for Chibi so it's very natural for us to start off working on Kuni. In my mind, from the beginning, Kuni is modeled on
– A son of Susano and Kushi
– A rambunctious kid but cowardly at heart.
Based on the above two settings, I asked design team to come up with his look. This is the finalized Kuni image.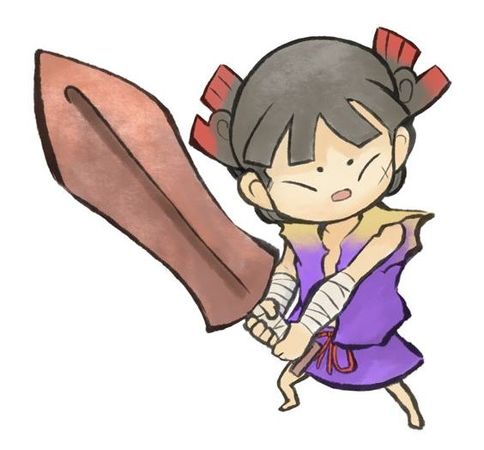 However, prior to this final version of Kuni, there actually was older version of Kuni in It's a very different taste from what you see below.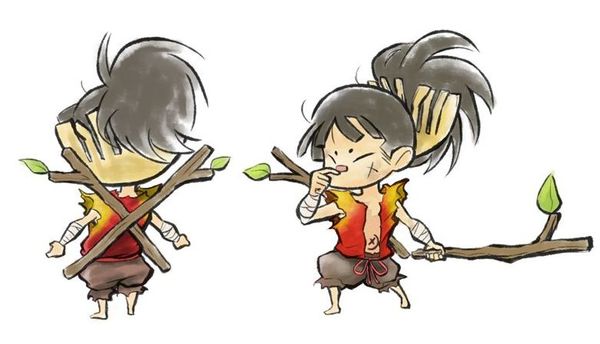 If I were to explain a bit about this older version of Kuni, that's going to be like
– Kuni only has 'a twig' as his sword compared to his father Susano, who owns a wooden sword.
– Kuni fixed his hair with his mother Kushi's big comb. (Check out the crooked comb expressing his rambunctiousness)
Everyone from our team and I myself praised this older version of Kuni and we actually carried out its – Model production, and – Motion production. However, it turned out not that great of a design when we actually had the completed Kuni ride on Chibi's back and watched the display of him on Nintendo DS screen.
Here's the reasoning why we thought that wasn't enough.
– With the size of Nintendo DS screen, the back shot of Kuni looks mixter-maxter, especially with the twig, hairdo, and Kushi's comb.
– People cannot recognize him well because of his hairdo when the camera is about to look down on him from above.
Having seen the development team was working so hard on Kuni's design, model production and motion production, I suffered torment with this decision-making.
– How about forcing into production with current Kuni design?
– What if we adjust the camera movements so that we can keep using current Kuni design…?
After the several days passed, I made up my mind. 'All in all, we cannot provide our customers something we're unconfident for its quality.'
So, I asked all the team members who worked on designing Kuni to get together. It took quite some time to persuade them by explaining what really needs to be done for the Kuni. (Of course, with my kneeling down on the floor and bowing to beg them. You can imagine the scene after a samurai did a Harakiri on the floor.)
I heard the words which seemed to be a savior of my life at that time, though I was expecting that everyone would drop their motivation down at my request. One of them said 'I truly agree with you on this need of remaking.' The other said 'I apologize for our inability having overlooked these issues.' Seriously, thank goodness on those greatest words which made me teary.
Then, we again worked on the whole designing process from the beginning, discussed how to resolve the design issue over and over. Then, here comes the final Kuni that appeared!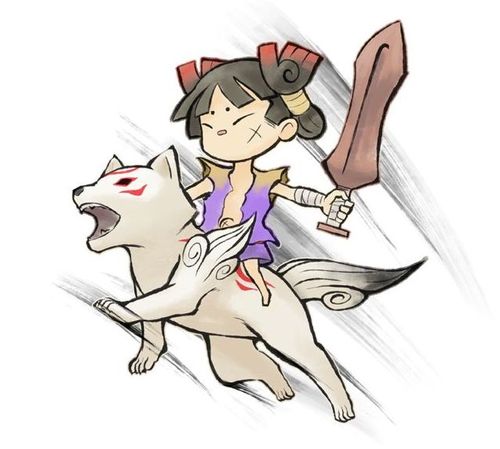 This is a hidden story of how Kuni became able to appropriately run across the field of Nintendo DS screen. Please enjoy your vivid adventure in Okamiden with the new and improved look of Kuni!