Remember PAX East? Maybe, maybe not. Well, those adorable, it's-so-fluffy-I'm-gonna-die Chibiterasu Stuffed Animals are available now in VERY limited supply on the Capcom Store.
Capcom Store links:
These are available now but act fast as it's a very limited supply of what we left back in office during PAX East. Only a little over 100 total remain from the PAX East First Edition run of 300 pillows and 300 plushies.
If you nabbed the smaller Chibi by pre-ordering on the Capcom Store you can do this….Behold the tower of cute!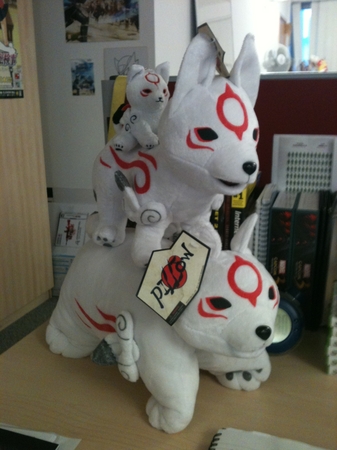 If you didn't nab the smaller Chibiterasu just wait to hear more from these guys…as we are also pleased to confirm that SOTA Toys will be selling the large Okamiden Plushies and Pillows via their website. This is a different production run then the PAX East batch and have an estimated ship date of after 4.15.2011
If you want these cuties now, head over to the Capcom Store!
Also, if you haven't picked it up yet Okamiden is available now! Buy it today! Then get a stuffed Chibi and hug your character! What could be better? For more info check out the Official Okami Brand page on Facebook.