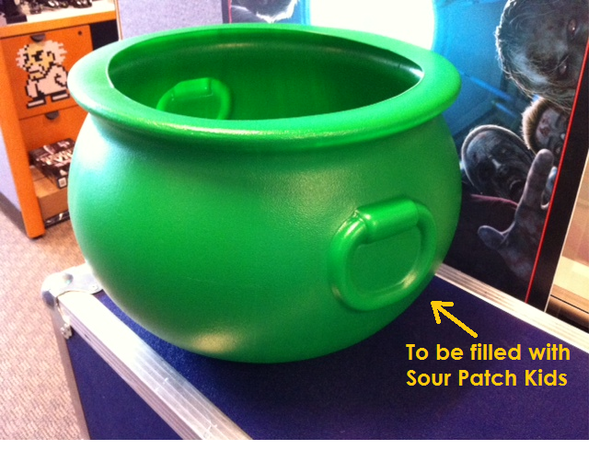 ::Update – Contest closed! Thanks for all the awesome submissions. Stay tuned for winner announcements in the near future.
Hey, you like Sour Patch Kids, right? Part sour, part sweet, all kid. What's not to like?
You've probably caught wind by now of our Sour Patch Kids-themed game, World Gone Sour, which we announced last November to the enthusiastic rhymes of Method Man.
Well, the game is almost out as a digital download for PS3 and Xbox 360, plus with St. Patrick's Day right around the corner, we reckon it's time to celebrate with a little giveaway. Luckily, the good people at Kraft Foods have hooked us up with a truckload of Sour Patch Kids to dish out to you guys.
So here's the deal: After the jump is an image of a grizzled Sour Patch Kid heavily armed and dressed for the upcoming holiday. Your job is to fill in that speech bubble with something amusing (using your image-editing software of choice). The more amusing the better! Extra points for sticking to a St. Patrick's theme! Also, vulgar or belligerent submissions will be deleted at our discretion.
Attach your image in a comment on this post. We will pick one Grand Prize Winner to receive an enormous pot (pictured above) filled with bags of Sour Patch Kids. Several Runner-Ups will receive smaller but equally delicious quantities of SPKs.
Easy, right? I must say, this is likely the most snacktacular giveaway we've ever run, so don't miss out!
Valid entry period is now until 12:00pm (noon) next Monday, March 19th. Winners will be contacted via Unity PM. Also, I'm afraid we've got to limit this one to North American entrants only.
Pic after the jump!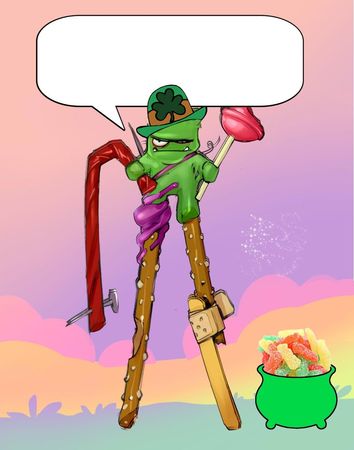 Now get to it!