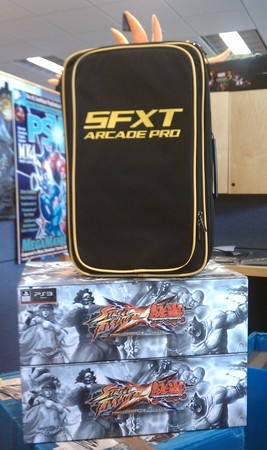 In each Capcom Unity Official Podcast we pose a question to the community and share the replies right here on the site. This week, we're upping the ante and offering a mega-huge prize – one PS3 and one 360 FightStick courtesy of MadCatz! And if that wasn't sweet enough, we're also tossing in the Arcade Pro carrying case that carefully cradles your FightStick while you're on the go.
HOW TO ENTER
Post a video response to the Street Fighter X Tekken TV spot video seen below (and linked here ):
In the response, share your favorite arcade memory. It could be a personal Street Fighter victory, a Ms Pac-Man tale from the '80s or anything in between. Doesn't matter which game or what time period, we just want to spread some amazing stories that show how important arcades have been for all of us. The winning entries should contain a mix of nostaliga, excitement and uniqueness, or have a personal element that make it even better.

An image of the comment box – find it on the video page here
To create a video reply, simply click in the comment box below the video and select "Create a Video Response." When you upload your video, make sure you specify which stick you prefer – PS3 or 360 – and include your Capcom Unity name as well. Entries will be accepted from 3/30/12 through 4/6/12, with two winners announced on 4/13/12. Contest is only valid in North America.
Seth, Greg and I share our memories in this week's show , so check 'em for examples!