Are you guys ready for Capcom Cup this weekend? 32 players are making their way to San Francisco to fight for a share of $250,000. You can watch all the action unfold over two streams on the Capcom Pro Tour Site this Sunday, December 5th beginning at 10am.
For Capcom Cup brackets, Capcom Cup's shirt design, and more information on what we're doing with Street Fighter V at PSX, continue on.
On Saturday, there will be a live Street Fighter V stream happening from 12pm-6pm on our Capcom Fighters twitch channel . Be sure to tune in and see who wins one of the two tournaments we have that day as I'm sure the players there will be more than competent this time around.
Then, beginning on Sunday at 10am, we kick off Capcom Cup! The action will begin on our first channel , with the second channel kicking off 30 minutes later while the brackets can be followed on Challonge . Use one of the hastags below to vote for your favorite player on twitter during the event:
#MomoWin
#infilWin
#BonchanWin
#XianWin
#GamerBeeWin
#TokidoWin
#FuudoWin
#Magowin
#DaigoWin
#KazuWin
#NemoWin
#Dashiowin
#KeomaWin
#RBWin
#LuffyWin
#SnakeWin
#XiaoHaiwin
#JustinWIn
#PoongkoWin
#ItazanWin
#TonpyWin
#NuckleWin
#Striderwin
#DieminWin
#JiewaWin
#HumanWin
#ShiroWin
#ProblemWin
#GacktWin
#ValmasterWin
#Dakouwin
Of course this star studded event wouldn't be complete without the best commentators in the game. Get ready as Ultra David, James Chen, Sp00ky, F-Word, Logan-sama, and Skisonic provide the insight that only they can on what these players are thinking during the grandest Street Fighter event of them all!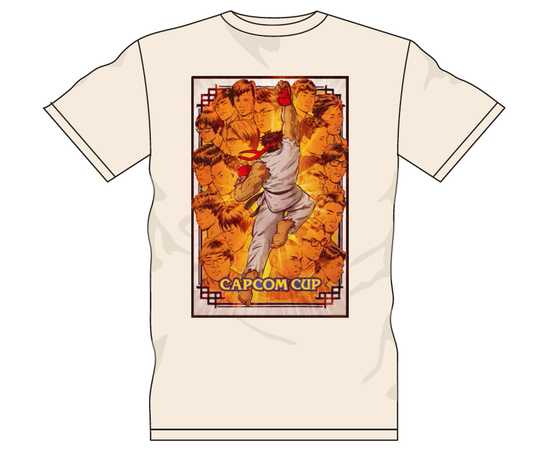 Oh yeah, one last thing for our special Capcom Cup guests! Here's the design for the shirt (amongst other goodies) that will be included in the VIP bags.
See you guys in a few days. Time to close out this year in the grandest way possible!