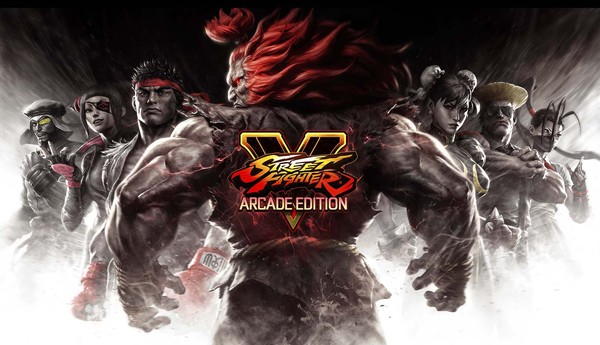 Street Fighter V: Arcade Edition is now available for MSRP $39.99 on PlayStation 4 in North America and PC, with access to new content such as Arcade Mode, Extra Battle Mode, Team Battle Mode, Gallery, V-Trigger IIs and more! SFV: Arcade Edition disc owners must connect to the internet to receive the latest update, which includes Extra Battle Mode, Team Battle Mode and new balance changes. They'll also be able to redeem the code that comes with the disc to unlock Character Pass 1 and 2 content.
Current owners of Street Fighter V will also need to download the patch in order to update to SFV: Arcade Edition. Once the download is complete, all the aforementioned modes and changes will be present when booting up the game. Both players who already own SFV and those who start with SFV: AE will all play together as part of the same pool.
*In Europe and Australia, the SFV: Arcade Edition disc and digital version will arrive on January 19. Existing SFV players can download the update on January 16.
If you need a quick reminder on what Street Fighter V: Arcade Edition has to offer, continue reading below.
The entire Street Fighter team is incredibly proud to bring you Street Fighter V: Arcade Edition and the start of Season 3 in the midst of our 30 th anniversary year! For those who haven't jumped in yet or haven't enjoyed a good street fight in a while, now is the time to hop in. Here are the reasons why!
NEW MAJOR FEATURES
Relive Street Fighter history by journeying through Arcade Mode, an experience that emulates each main series in the past 30 years.
Test your skills in unique challenges throughout the year in Extra Battle Mode to earn unique costumes, titles, EXP, and Fight Money!
Form teams of multiple characters in Team Battle Mode where every match can be optimized to your liking.
Enjoy the vast collection of over 200 illustrations, movies, and music in the Gallery.
Learn how to utilize each character's new V-Trigger II to unlock their newfound potential.
Look at each costume and its color before purchasing in the new 3D Costume Viewer.
Improve your training by using the new frame display options in Training Mode.
All Season 1 and 2 characters come with the physical and digital copy of Arcade Edition (Alex, Guile, Ibuki, Balrog, Juri, Urien, Akuma, Kolin, Ed, Abigail, Menat, and Zeku). They are not included in the update for current Street Fighter V owners, but can still be purchased with Fight Money and real money.
For those returning or are new to Street Fighter V, the cinematic experience "A Shadow Falls" is available as a free download. Unravel Shadaloo's sinister plot by following all your favorite characters through this feature-length adventure.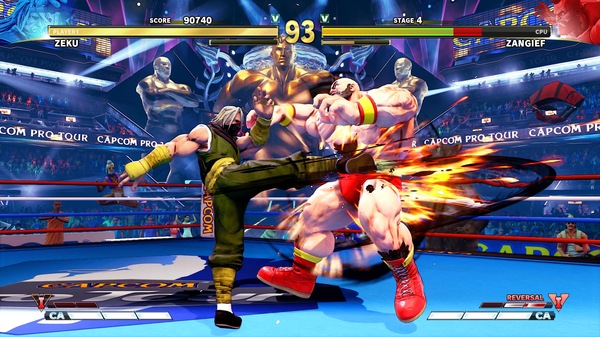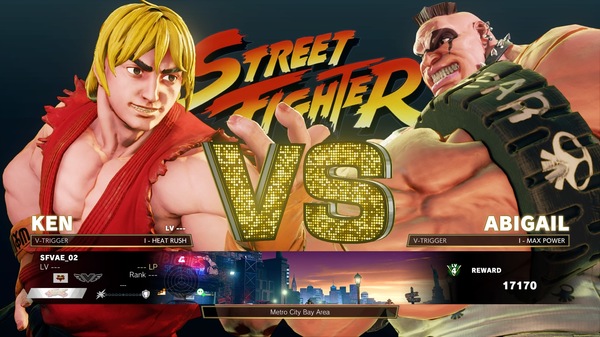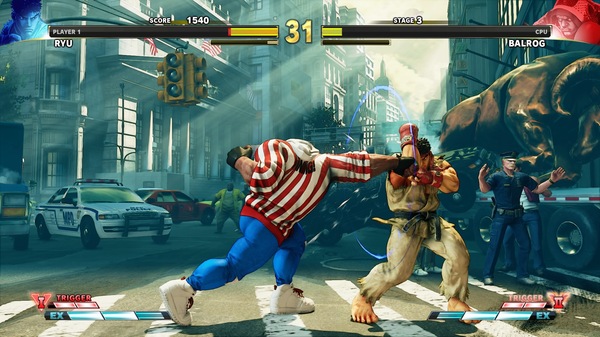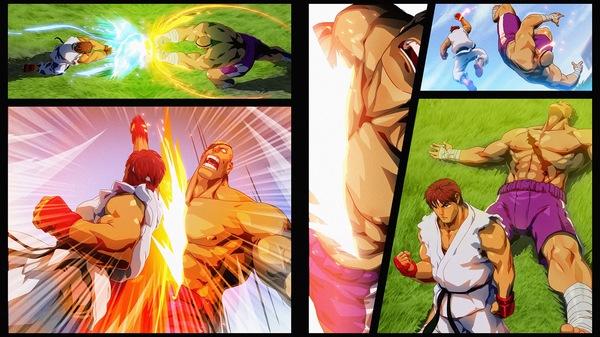 For a more detailed look at these major features, head to our blog here: All-in-one Look at the Major Features.
A SCHOOLGIRL'S JOURNEY
Sakura returns to the series with new moves and new motives that reflect her transition into adulthood. The Exuberant Youth can be played for FREE from now until 1/23, so open those textbooks, head to the lab, and see what Sakura brings to the fight. Learn more about her playstyle in the reveal blog: Sakura is Coming to Street Fighter V: Arcade Edition .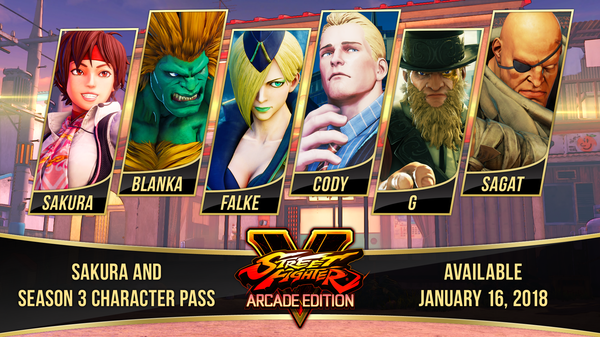 The Season 3 Character Pass is also available for purchase right now for MSRP $29.99, which includes Sakura, Blanka, Falke, Cody, G, and Sagat when they become available throughout 2018 along with their Battle Costumes with colors 3-10, default costume colors 3-10 unlocked, and each Season 3 character's title. Starting now, if you purchase each character individually with real money, you'll also get the same Battle Costume and colors as you would if you have the Character Pass. In fact, you can do so for Season 1 and 2 characters right now! Sakura, individually, is available for MSRP $5.99 or for 100K Fight Money.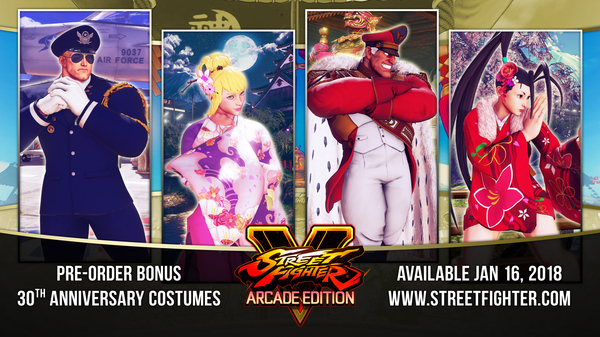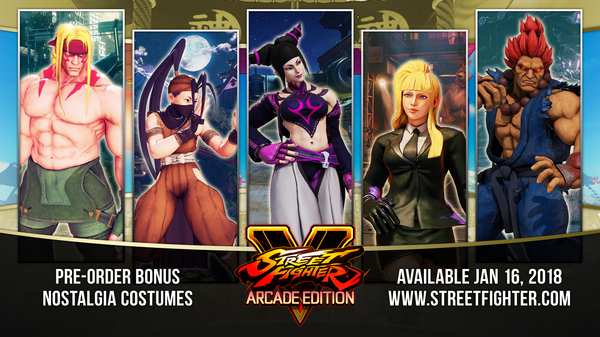 As a special bonus, if you purchase the Season 3 Character Pass OR the digital version of Street Fighter V: Arcade Edition from 1/16 to 1/30, you'll also receive nine costumes: the 30 th Anniversary Costumes for Guile, Karin, M. Bison, and Ibuki, along with the Nostalgia Costumes for Alex, Ibuki, Juri, Kolin, and Akuma. This promotion is only available in the Americas and Asia (Japan not included). Please see relevant retailers for promotions in Europe.
THE RETURN OF THE TRUE DEMON

We previously revealed that Special Challenges are scattered throughout the year in Extra Battle Mode that offer unique titles upon completion. Shin Akuma returns as one of these Special Challenges to haunt your dreams and offers the Man-Eating Fiend Title, as well as some EXP…if you can beat him. Shin Akuma first appeared in Street Fighter Alpha 2 as a hidden boss, and made equally terrifying appearances throughout the history of Street Fighter. Don't expect him to be a walk in the park, or he'll walk right up to you with Raging Demon.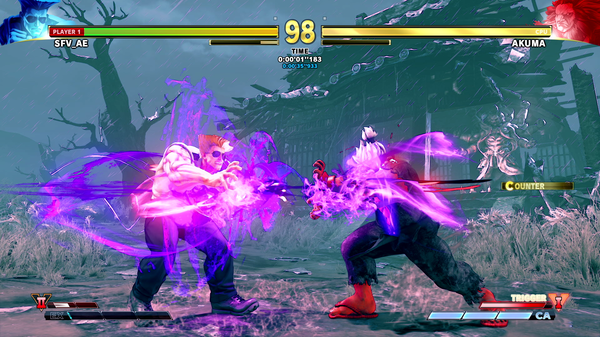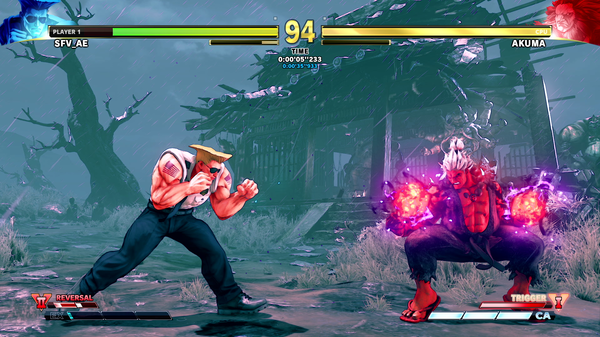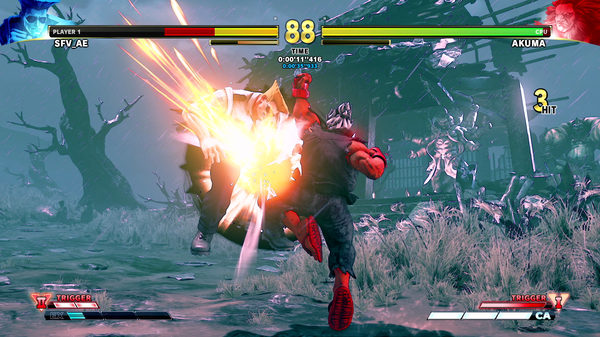 Special Challenge

Name

Date

Cost

Reward

The Invasion of Shin Akuma

1/16-1/21

1,000 FM

Man-Eating Fiend Title
You can attempt to defeat Shin Akuma as many times as you'd like during the date range. Each time you defeat him, you'll receive a bonus reward! Good luck – you'll need it!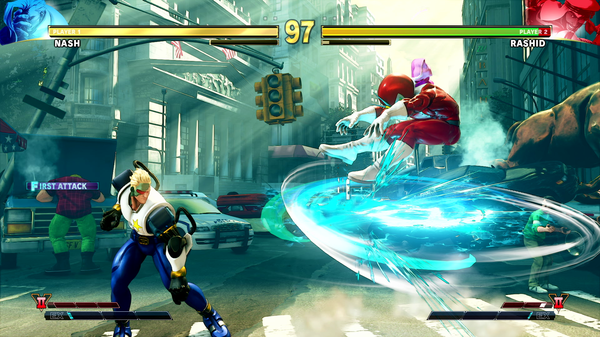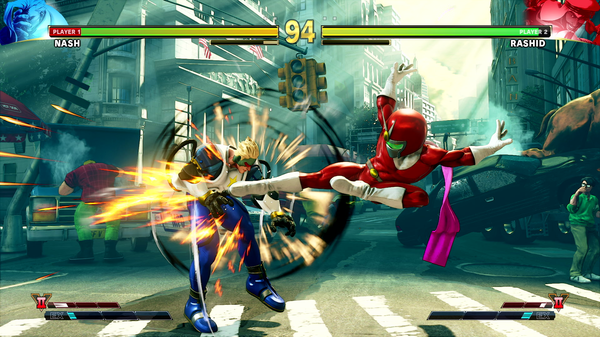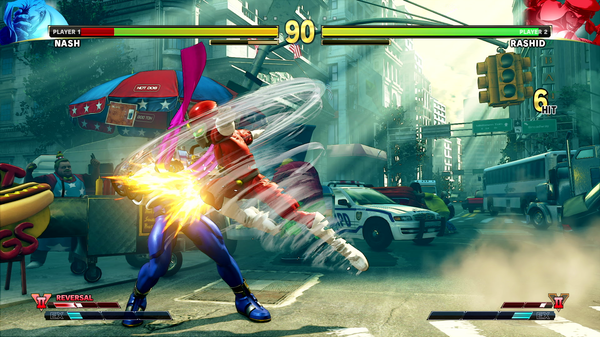 We'll also be reminding everyone on Facebook and Twitter when a unique costume, such as the Viewtiful Joe Crossover Costume, is up for grabs in Extra Battle Mode, so make sure to keep an eye out. For a more detailed look at this month's Crossover Costume – and Ingrid Costume – head to the blog here: Prepare for the Viewtiful Joe Crossover Costume !
Finally, a certain electrifying beast is waiting in the shadows, but in the meantime, enjoy playing with Sakura, attempting to complete Extra Battle Challenges, unlocking illustrations, and discovering new ways to use V-Trigger IIs, all in Street Fighter V: Arcade Edition!