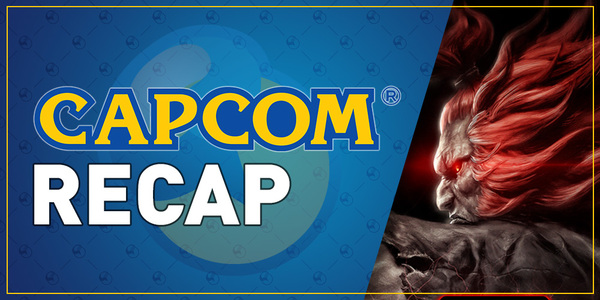 Street Fighter V: Arcade Edition hits the streets, Monster Hunter: World launches one more PS4 Beta round, and more!

Street Fighter V: Arcade Edition, Sakura, and the Season 3 Character Pass are now available
Viewtiful Joe Crossover Costume for Rashid and the Ingrid Costume for Karin in SFV:AE
Viewtiful Joe comes to Puzzle Fighter
First Puzzle Fighter fan tournament of 2018 has a winner: Duc-Malice
The final Monster Hunter: World Beta on PS4 is now live
——————————

[PAST]
Street Fighter V: Arcade Edition – Launch Day Celebration, with surprise guest appearance by Producer Yoshinori Ono!
Monster Hunter: World final Beta – "The Insatiable Nergigante"
[FUTURE]
All times listed are Pacific Time:
Tuesday , January 23rd @ 3PM – Street Fighter V: Arcade Edition
Friday , January 26th @ 2PM – Monster Hunter: World with Director Kaname Fujioka
Remember to FOLLOW our Twitch channel to get email reminders whenever we go live.
——————————

Patrick Kulikowski: Memes erupt in the most peculiar of ways, if the latest craze over an old 1996 The Simpsons' episode is anything to go by.
For the uninitiated, users have recently re-introduced a classic scene from the long-running series lovingly known as the "Steamed Hams" scene and have created their own unique takes on the scene.
To summarize, the skit involves Principal Skinner covering up his failed attempt at cooking dinner for his guest, Super Ninten—ah, I mean, Superintendent Chalmers. The lies Skinner comes up with get more and more ridiculous by the second, and Chalmers begins pointing out his contradictions on the spot.
Wait a second, pointing out contradictions on the fly? Sounds a little like a certain classic lawyer game series! Enter YouTube user iKiwed , who remixed the scene to be a little more akin to Ace Attorney, complete with appropriate text blips and music! Give it a watch, below. I was cackling the whole time!
——————————
STICKY NOTE: Did you make something cool? Send us a note or drop a comment below; we would love to feature your work here! Same goes for any awesome stuff you may see in the wild; we always welcome more fantastic fan work. =)
——————————
See you online on the Monster Hunter: World Beta!
-Yuri