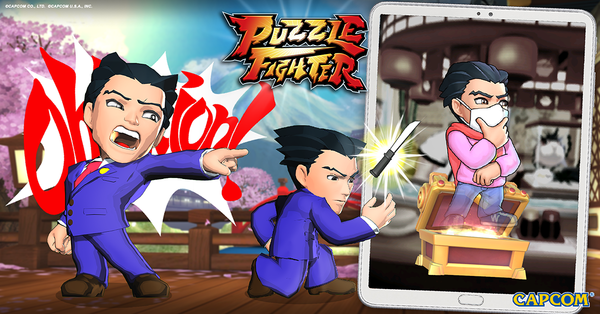 Capcom's Ace Attorney comes files a motion to strike as today Phoenix Wright joins the Puzzle Fighter roster of fighters. Stepping into the ring with a mountain of evidence, and years as a criminal defense lawyer he'll see if fighting opposing council in a court of law is the same as battling against another fighter in the ring.
Used to solving murderous mysteries Wright's moves include Questioning, Investigate and Evidence. Phoenix joins Chun-Li, Ryu, Jill Valentine, and X as a Blue Affinity character.
Phoenix Wright joins recent Puzzle Fighter additions Viewtiful Joe and the Servbots. With more characters on the way Puzzle Fighter now has a roster representing many of Capcom's most beloved game series including Mega Man , Resident Evil , Street Fighter , Devil May Cry , Dead Rising , Darkstalkers , and Final Fight .
The arcade classic Puzzle Fighter is free on Android and iOS devices now. Download today at bit.ly/PuzzleFighter .