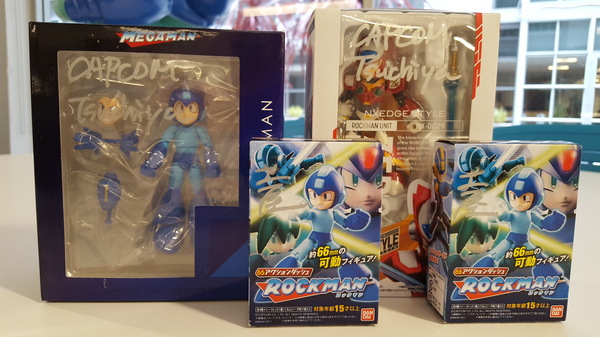 UPDATE: Winners have been contacted! We'll showcase the winning entries in a future blog.
For over thirty years, a defining feature of Mega Man has been the way his color palette changes each time he uses the weapon of a defeated Robot Master. With Mega Man 11 changing things up and giving the Blue Bomber a unique appearance and a new color scheme based on the power he's using, that got us thinking – what would he look like if he equipped weapons from past Mega Man games? That's where you come in!
It's no secret among Mega Man fans that as far back as the original Mega Man, there were plans for the Blue Bomber's sprite to change based on what he was equipped with. Now, we want to see what you can create based on the following premise:
What would Mega Man look like if his entire appearance changed when he equipped a Robot Master's weapon from Mega Man 1 through 10?
This is all about style, so let your imagination run wild. We're looking for the most creative and unique entries that fit the above theme, so don't worry about your artistic skill level or the medium. Pencil sketches, paintings, digital art of any kind – go with what feels right to you! Your design can be an action shot, a reference sheet, Mega Man just lazing around, actively using a Robot Master's power, or anything else that comes to mind.
Mega Man equipped with a Robot Master's weapon in Mega Man 11.
This contest is open to residents of North America, Central America, and South America. Entries should be sent to contest@capcom.com . Full contest details can be found at this link, so be sure to read them in full before sending something in. One entry per person, so make it count! You've got from now until May 21 st , 11:59 PM PST, the eve before the release of Mega Man Legacy Collection 1 + 2 on Nintendo Switch. We'll choose our favorites and announce a winner a few days after the contest has ended. Good luck!
UPDATE : This contest has now ended. Thanks to everyone who submitted an entry! We'll be looking over them and picking our favorites, to be revealed in the next few weeks.