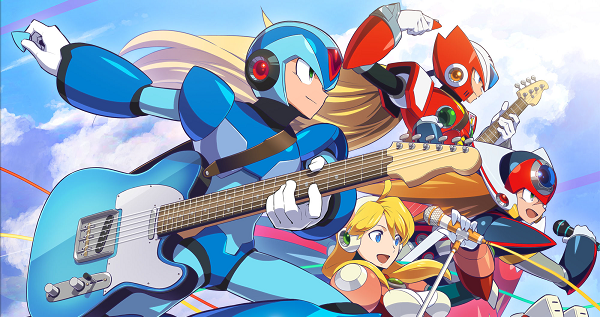 If you've been having a blast with Mega Man X Legacy Collection and Mega Man X Legacy Collection 2 since they launched yesterday, we hope you've got enough room for another, extra special blast: the auditory kind! Introducing the Mega Man X Legacy Collection Soundtrack and Mega Man X – Mega Man X8 Sound Collections, all available for purchase in AAC, FLAC, and MP3 format right now on the Steam Store (plus iTunes and Amazon )!
You have to admit a huge part of what makes the Mega Man X series' X-busting, Z-Sabering, air-dashing, and wall-climbing so memorable is that you get to do it with an iconic, pulse-pounding, rockin' soundtrack playing in the background.
What's more, the Mega Man X Legacy Collection Soundtrack features a ton of rad MMX remixes and brand-spanking new music from the "X Challenge" mode composed by Yasumasa Kitagawa (Professor Layton vs.Phoenix Wright: Ace Attorney, Resident Evil: The Mercenaries 3D) with additional guitar work by Taisuke Fujisawa and Yasuyuki Tsujino (Mega Man X8, Mega Man Battle Network 5 & 6), plus guest vocal performances by ERICA and Janet Hsu (Ace Attorney Localization Director)!
To celebrate the occasion, Capcom staff are chiming in with some of our favorite Mega Man X tracks and musical memories. Be sure to check out the music trailer and tracklists down below, buy the Mega Man X Legacy Collection 1 and Mega Man X Legacy Collection 2 soundtracks here and here , and then chime in with your favorite MMX tunes in the comments below!
Brett Elston (Capcom USA Fighting Game Brand Manager)
Favorite Mega Man X track: "Sigma Stage 2" – Mega Man X, Composed by Setsuo Yamamoto
It goes without saying that the entire Mega Man X OST lineup is loaded with standout tracks, and certainly in the original MMX every single song is a banger. There are numerous tracks that immediately come to mind, but given that I suspect they'll show up elsewhere in this blog, I'll choose MMX Sigma Fortress 2.
The whole vibe of the song is "dirty '80s." This is probably my overall favorite "sound" of all time, which leans more into the mysterious / moody / ominous side of '80s synth than, say, a lot of the other soundtracks and pop-synth bands of the era. Some guitar, some synth, some standout bass guitar. Imagine a mishmash of John Carpenter and other moody (yet melodic) synth goodness mixed with a bit of guitar shredding from modern synthwave stuff like Carpenter Brut and you get something like "Sigma Stage 2". At least, that's the mental gymnastics my brain does when listening to this one!
It all really clicks when the main riff kicks in roughly 15 seconds into the track. That main hook floored me the first time I heard it as a kid, and listening today it still hits me hard! But, this is just ONE of like a hundred all-time-greats tucked inside the MMX series. Get ta listening!
Kellen Haney (Capcom USA Community & Social Media Specialist)
Favorite Mega Man X track: "Our Blood Boils" – Mega Man X7, Composed by Teruo Konishi
One of the friendly jabs I've liked to take at Mega Man X games over the years is that the music is made up entirely of electric guitar solos. That's totally untrue, of course, with a wide variety of musical styles and instruments on display throughout the entire series as it advanced from beloved 16-bit tunes into the 32-bit era and beyond, and it's a common thread throughout the 21XX saga that many of the most memorable tracks have a cohesive feel to them that complement the stage they're featured in.
Armored Armadillo's eclectic jazz-pop-rock mix booms as you dive through caves on out-of-control minecarts, while the deep, forlorn baselines that permeates Sigma's and Doppler's fortresses and Gate's laboratory speak to the greater struggle that X and Zero face in their mission. The jungle beats of Web Spider's stage add to the feeling of being tangled up in a dense woodland, and the chaotic strings that play as you plunge through the caverns Blaze Heatnix calls home remind you of the terrifying foe you're about to face.
One of the most consistent themes, however, has been what you hear when you run afoul of Sigma as he makes his return time and time again. To me, nothing quite captures that feeling that you've reached the end like "Our Blood Boils," the track that accompanies the Sigma fight in Mega Man X7. The moment that high-energy guitar kicks in, you know that you're in for a truly challenging battle. Considering the theme, perhaps Sigma was a heavy metal singer in another life. The guitars and synth combine in a way that makes the music sound like it's both encouraging you and attacking you at the same time, resulting in a frenetic track that keeps you on your toes. Added bonus: There's an electric guitar solo. Some things never change.
Toshihiko Horiyama (Capcom Japan Audio Team & Mega Man X "Password" + Mega Man X4 Composer)
Listening to the Mega Man X4 songs again, I realized that every last one of them sounds really dense – not "bold and exciting", per se, but just rich walls of sound. I'd forgotten what it was like to create music like that. Especially the final tracks like the "Sigma" themes; those two were as thick as arctic ice. Just what state of mind was I in when I composed those? There are some super harsh and dissonant sounds in there, but I'm sure I was laser-focused on my work, pounding intensely away with both hands on my electronic keyboard. Sigma must've inspired me to put those sounds in himself. He likes to tell people, "Tremble with terror, you are finished!" as I recall…
Janet Hsu (Capcom Japan Localization Director & "RE;FUTURE" vocalist / lyricist)
Favorite Mega Man X track: "Armored Armadillo Stage" – Mega Man X, Composed by Setsuo Yamamoto
Patrick was nice enough to invite me in since I wrote the English lyrics for and sang "RE;FUTURE feat. Janet"* on the Mega Man X Legacy Collection Soundtrack, so thank you, Patrick!
I think for my favorite tune I'm going to have to go old school and say that the "Armored Armadillo Stage" from Mega Man X is my favorite with the highway opening (also from MMX ) as a very, very close second. While the high-octane opening was a great way to set the tone for the rest of the brilliant soundtracks, it's the jazz elements (diminished chords — yes…) in the Armored Armadillo stage that makes it really stand out in my mind. I love how it starts out all jazzy, then shifts into metal before seamlessly pulling off a wicked guitar solo and looping back to that jazzy first half.
My own, personal theory as to why this track is so extra is that the original composer knew that in order to get the Hadoken move, players would have to traverse this stage again and again, so it had to really shine. Because, honestly, most of my memories of the Armored Armadillo stage are of me jumping into that final chasm just before the Boss Room, lol.
As for "RE;FUTURE", I used to play the X games until I had blisters on my thumbs, so it was a real honor to work on it. Unlike the other songs I've worked on for the Ace Attorney series, I was given Japanese lyrics this time around to adapt and sing. Therefore, one of the biggest challenges was how to convey the same content when the number of syllables required in each language was so different. I would often run into instances where the Japanese could convey what it needed to in one phrase while I needed to combine concepts from two phrases in order to make the words feel natural in the flow of the music while preserving what the Japanese was saying. And even after I had finished writing the lyrics, I found that some words worked better than others (some vowel sounds are harder to sing nicely at certain pitches, etc.) and had to bring out the thesaurus. But in the end, the recording went relatively painlessly. We recorded the melody line first and layered me singing the harmony line on top.
The mixing of this song was an interesting learning experience for me and Yasumasa Kitagawa. He had used some filters to get rid of the usual pops and noises (which is what you typically do), but when I listened to that initial mix, I was like, "Oh… where'd the final "s" in "arms" go…?" Turns out, the plug-ins he was using had erased some rather important final consonants from a number of words that we had to manually restore. It was something he hadn't been expecting since Japanese doesn't have closing consonants (apart from "n") and certainly none that can make the difference between a singular "arm" and multiple "arms" as in English.
Finally, I just have to say that Kitagawa-san's music is amazing fun to sing, but some of those jumps required some crazy vocal acrobatics! It's been a while since I've had such a challenging song to sing that wasn't from an opera. Yeah, operas. That was the other thing I discovered: pop singing is VERY different from classical singing, and I have had to find my "pop sound" as it were. I hope you like the results!
*Trivia side note: the title is "RE;FUTURE" with a semicolon because you can't use a colon in a file name on a Windows machine, and Kitagawa-san wanted the title to be authentically Mega Man X style.
Patrick Kulikowski (Capcom USA Customer Service Representative)
Favorite Mega Man X track: "X vs. Zero" – Mega Man X5, Composed by Naoto Tanaka
Each Mega Man X soundtrack has earned its rightful place in the pantheon of amazing game music, so it's incredibly difficult to pick just one favorite track.
I've drummed to my fair share of Mega Man X , Mega Man X3 , and Mega Man X6 tunes throughout the years, so some stand-outs include "Armored Armadillo", "Spark Mandrill", and "Storm Eagle" from Mega Man X. I also gotta hand it to the "Opening Stage" themes in Mega Man X – Mega Man X4 for sending shivers down my spine and instilling in me the impetus to blast everything in my way .
"Overdrive Ostrich Stage" from Mega Man X2 feels like an extended guitar solo, which increased my enjoyment of popping "wheelies" ("hoveries?") with the jet bike, and "Crystal Snail Stage" gives me all the feels with its heavily emotive guitar melodies. I also love how"Gravity Beetle Stage" from Mega Man X3 solidifies itself as an instant classic within the first few seconds with its super-catchy guitar hook. "X vs. Zero" from Mega Man X5 takes the cake for being one of the hypest Mega Man boss tracks of all time; when the guitar riffage, bass licks, double bass kicks and orchestral hits graced my TV speakers, I knew I was in for a REALLY climactic battle.
One final shoutout to Akemi Kimura's "Sigma 2" from Mega Man X6, which fuses the Sigma boss themes from Mega Man X + Mega Man X2 into one incredibly furious arrangement. DAYUM!!
Tim Turi (Capcom USA Brand Manager)
Favorite Mega Man X track: "Spark Mandrill Stage" – Mega Man X, Composed by Makoto Tomozawa
I fell madly in love with Mega Man X from the moment I saw a postage stamp-sized screenshot of X fight the Thunder Slimer mid-boss in an issue of Game Informer. After that I mowed enough lawns to buy a Super Nintendo, get the game, and the rest is wall-jumpin' history.
The overall Mega Man X music has all the catchiness of the classic 8-bit Mega Man games, but with a borderline heavy metal edge that masterfully suits the game's darker tone. Spark Mandrill's stage theme hits on all cylinders from the word "Ready". A wailing melody, galloping bassline, and aggressive percussion greet X as he infiltrates the electric primate's deadly lair. The experience feels so appropriately bad-ass that you don't even realize that the feeling is evoked with a tight, sub-one minute loop. So efficient!
To me, Spark Mandrill's theme is the perfect encapsulation of Mega Man X's key vibe: determination and adventure. The melody takes you for a ride of ups and downs while the reliable bass and drums keep the pace moving ever forward. It's a spark that lights a fire in my soul!
—
Mega Man X Legacy Collection 1 and 2 are available digitally on PlayStation 4, Xbox One, Nintendo Switch, and PC for $19.99 each, and as part of a retail bundle in North America for $39.99!
Mega Man X Legacy Collection (Steam)
NOTE: These Steam OSTs are available in all territories except Asia & Japan

Mega Man X Legacy Collection Soundtrack – $17.99 USD (NOTE: requires the base game Mega Man X Legacy Collection on Steam)
Composed, arranged, and performed by Yasumasa Kitagawa
Additional performances by Taisuke Fujisawa, Yasuyuki Tsujino, ERICA, Janet Hsu
01 – The World of X – 1:52 – Yasumasa Kitagawa
02 – Orbit – 2:29 – Yasumasa Kitagawa
03 – Gallery (Relaxed) – 2:19 – Yasumasa Kitagawa
04 – Give It a Shot – 2:34 – Yasumasa Kitagawa, Taisuke Fujisawa
05 – Presage – 0:51 – Yasumasa Kitagawa
06 – Gravity – 2:41 – Yasumasa Kitagawa
07 – Stage Start – 0:11 – Yasumasa Kitagawa
08 – X – Boss 2 – 2:39 – Yasumasa Kitagawa
09 – X2 – Boss 2 – 2:43 – Yasumasa Kitagawa
10 – X3 – Boss 2 (Extended) – 2:38 – Yasumasa Kitagawa
11 – X4 – Boss – 2:51 – Yasumasa Kitagawa
12 – X5 – Boss (Extended) – 2:44 – Yasumasa Kitagawa, Yasuyuki Tsujino
13 – X6 – Boss – 2:37 – Yasumasa Kitagawa
14 – Game Over – 0:09 – Yasumasa Kitagawa
15 – Warning – 0:43 – Yasumasa Kitagawa
16 – RE;FUTURE – 3:18 – Yasumasa Kitagawa, Taisuke Fujisawa
17 – Give It a Shot (Extended) – 4:24 – Yasumasa Kitagawa, Taisuke Fujisawa
18 – Stage Clear – 0:11 – Yasumasa Kitagawa
19 – Gravity (Result) – 0:46 – Yasumasa Kitagawa
20 – Overcome – 2:32 – Yasumasa Kitagawa
21 – RE;FUTURE feat. ERICA – 3:25 – Yasumasa Kitagawa, ERICA
22 – Total Result – 2:22 – Yasumasa Kitagawa
23 – Gallery – 2:18 – Yasumasa Kitagawa
24 – The Crisis Continues – 1:23 – Yasumasa Kitagawa
25 – End of File – 3:01 – Yasumasa Kitagawa
26 – Break Out – 3:40 – Yasumasa Kitagawa
27 – RE;FUTURE feat. JANET – 3:25 – Yasumasa Kitagawa, Janet Hsu
28 – Orbit (Nostalgic) – 1:25 – Yasumasa Kitagawa
Mega Man X Sound Collection – $9.99 USD (NOTE: requires the base game Mega Man X Legacy Collection on Steam)
Composed by Capcom Sound Team (Setsuo Yamamoto, Makoto Tomozawa, Toshihiko Horiyama, Yuki Iwai, Yuko Takehara)
01 – Capcom Logo – 0:06 – Yasuaki "Bun Bun" Fujita
02 – Title – 0:27 – Capcom Sound Team
03 – Password – 1:26 – Capcom Sound Team
04 – Opening Stage – 1:40 – Capcom Sound Team
05 – Vile 1 – 0:45 – Capcom Sound Team
06 – Vile 2 – 1:09 – Capcom Sound Team
07 – Zero – 0:46 – Capcom Sound Team
08 – Cutscene – 1:15 – Capcom Sound Team
09 – Stage Select 1 – 1:00 – Capcom Sound Team
10 – Stage Start – 0:10 – Capcom Sound Team
11 – Launch Octopus Stage – 1:50 – Capcom Sound Team
12 – Chill Penguin Stage – 1:36 – Capcom Sound Team
13 – Flame Mammoth Stage – 2:05 – Capcom Sound Team
14 – Boomer Kuwanger Stage – 2:21 – Capcom Sound Team
15 – Sting Chameleon Stage – 1:20 – Capcom Sound Team
16 – Spark Mandrill Stage – 1:54 – Capcom Sound Team
17 – Storm Eagle Stage – 1:20 – Capcom Sound Team
18 – Armored Armadillo Stage – 2:03 – Capcom Sound Team
19 – Boss 1 – 0:25 – Capcom Sound Team
20 – Boss 2 – 1:10 – Capcom Sound Team
21 – Stage Complete – 0:09 – Capcom Sound Team
22 – You Got a New Weapon – 0:43 – Capcom Sound Team
23 – Stage Select 2 – 0:47 – Capcom Sound Team
24 – Sigma Stage 1 – 2:03 – Capcom Sound Team
25 – Sigma Stage 2 – 2:16 – Capcom Sound Team
26 – Sigma Stage 3 – 1:53 – Capcom Sound Team
27 – Sigma Stage 4 – 0:49 – Capcom Sound Team
28 – Sigma 1 – 0:48 – Capcom Sound Team
29 – Sigma Rebirth – 0:10 – Capcom Sound Team
30 – Sigma 2 – 2:00 – Capcom Sound Team
31 – Dr. Light Capsule – 0:43 – Capcom Sound Team
32 – Ending – 1:48 – Capcom Sound Team
33 – Cast Roll – 2:00 – Capcom Sound Team
34 – Staff Credits – 1:55 – Capcom Sound Team
35 – SE – 3:25 – Capcom Sound Team
Mega Man X2 Sound Collection – $9.99 USD (NOTE: requires the base game Mega Man X Legacy Collection on Steam)
Composed by Yuki Iwai
01 – Capcom Logo – 0:06 – Yasuaki "Bun Bun" Fujita
02 – Opening Theme – 0:53 – Yuki Iwai
03 – Title – 0:19 – Yuki Iwai
04 – Password – 0:34 – Yuki Iwai
05 – Opening Stage – 1:25 – Yuki Iwai
06 – Sub-Boss 1 – 0:36 – Yuki Iwai
07 – Sub-Boss 2 – 0:38 – Yuki Iwai
08 – Cutscene – 0:28 – Yuki Iwai
09 – Stage Select 1 – 0:38 – Yuki Iwai
10 – Stage Start – 0:08 – Yuki Iwai
11 – Wire Sponge Stage – 1:52 – Yuki Iwai
12 – Morph Moth Stage – 1:44 – Yuki Iwai
13 – Flame Stag Stage – 1:32 – Yuki Iwai
14 – Magna Centipede Stage – 1:32 – Yuki Iwai
15 – Overdrive Ostrich Stage – 1:31 – Yuki Iwai
16 – Bubble Crab Stage – 1:46 – Yuki Iwai
17 – Wheel Gator Stage – 1:04 – Yuki Iwai
18 – Crystal Snail Stage – 1:36 – Yuki Iwai
19 – Boss 1 – 0:23 – Yuki Iwai
20 – Boss 2 – 0:58 – Yuki Iwai
21 – Stage Complete – 0:08 – Yuki Iwai
22 – You Got a New Weapon – 0:41 – Yuki Iwai
23 – Laboratory – 0:36 – Yuki Iwai
24 – Stage Select 2 – 1:05 – Yuki Iwai
25 – X-Hunter Stage 1 – 1:06 – Yuki Iwai
26 – X-Hunter Stage 2 – 0:59 – Yuki Iwai
27 – Zero – 0:39 – Yuki Iwai
28 – Sigma 1 – 0:34 – Yuki Iwai
29 – Sigma 2 – 0:45 – Yuki Iwai
30 – Dr. Light Capsule – 0:35 – Yuki Iwai
31 – Ending – 1:53 – Yuki Iwai
32 – Staff Credits – 1:15 – Yuki Iwai
Mega Man X3 Sound Collection – $9.99 USD (NOTE: requires the base game Mega Man X Legacy Collection on Steam)
Composed by Kinuyo Yamashita
01 – Capcom Logo – 0:06 – Yasuaki "Bun Bun" Fujita
02 – Opening Theme – 0:53 – Kinuyo Yamashita
03 – Title – 0:12 – Kinuyo Yamashita
04 – Password – 0:41 – Kinuyo Yamashita
05 – Opening Stage – 1:35 – Kinuyo Yamashita
06 – Zero – 0:56 – Kinuyo Yamashita
07 – Stage Select – 0:35 – Kinuyo Yamashita
08 – Stage Start – 0:14 – Kinuyo Yamashita
09 – Blast Hornet Stage – 1:31 – Kinuyo Yamashita
10 – Blizzard Buffalo Stage – 1:34 – Kinuyo Yamashita
11 – Gravity Beetle Stage – 1:54 – Kinuyo Yamashita
12 – Toxic Seahorse Stage – 1:43 – Kinuyo Yamashita
13 – Volt Catfish Stage – 1:52 – Kinuyo Yamashita
14 – Crush Crawfish Stage – 1:31 – Kinuyo Yamashita
15 – Tunnel Rhino Stage – 1:57 – Kinuyo Yamashita
16 – Neon Tiger Stage – 2:09 – Kinuyo Yamashita
17 – Vile Stage – 1:27 – Kinuyo Yamashita
18 – Boss 1 – 0:39 – Kinuyo Yamashita
19 – Boss 2 – 0:35 – Kinuyo Yamashita
20 – Stage Complete – 0:06 – Kinuyo Yamashita
21 – You Got a New Weapon – 0:35 – Kinuyo Yamashita
22 – Laboratory – 0:40 – Kinuyo Yamashita
23 – Stage Select 2 – 0:32 – Kinuyo Yamashita
24 – Doppler Stage 1 – 1:18 – Kinuyo Yamashita
25 – Doppler Stage 2 – 2:30 – Kinuyo Yamashita
26 – Doppler Stage Boss – 0:41 – Kinuyo Yamashita
27 – Sigma 1 – 0:48 – Kinuyo Yamashita
28 – Sigma 2 – 1:11 – Kinuyo Yamashita
29 – Doppler Cutscene – 1:09 – Kinuyo Yamashita
30 – Dr. Light Capsule – 0:49 – Kinuyo Yamashita
31 – Ending – 2:31 – Kinuyo Yamashita
32 – Cast Roll – 2:29 – Kinuyo Yamashita
33 – Mega Man X3 Opening Theme – 2:22 – Capcom Sound Team
34 – Mega Man X3 Ending Theme – 4:33 – Capcom Sound Team
Mega Man X4 Sound Collection – $9.99 USD (NOTE: requires the base game Mega Man X Legacy Collection on Steam)
Composed by Toshihiko Horiyama
01 – Title – 0:15 – Toshihiko Horiyama
02 – Player Select – 0:24 – Toshihiko Horiyama
03 – Stage Select – 1:07 – Toshihiko Horiyama
04 – Opening Stage (X) – 2:02 – Toshihiko Horiyama
05 – Opening Stage (Zero) – 1:39 – Toshihiko Horiyama
06 – Eregion – 1:14 – Toshihiko Horiyama
07 – Stage Start – 0:16 – Toshihiko Horiyama
08 – Web Spider Stage – 2:49 – Toshihiko Horiyama
09 – Cyber Peacock Stage – 2:33 – Toshihiko Horiyama
10 – Storm Owl Stage – 2:21 – Toshihiko Horiyama
11 – Magma Dragoon Stage – 1:58 – Toshihiko Horiyama
12 – Jet Stingray Stage – 1:54 – Toshihiko Horiyama
13 – Split Mushroom Stage – 2:44 – Toshihiko Horiyama
14 – Slash Beast Stage – 2:47 – Toshihiko Horiyama
15 – Frost Walrus Stage 1 – 2:14 – Toshihiko Horiyama
16 – Frost Walrus Stage 2 – 2:35 – Toshihiko Horiyama
17 – Boss Theme – 1:16 – Toshihiko Horiyama
18 – Stage Complete (X) – 0:11 – Toshihiko Horiyama
19 – Stage Complete (Zero) – 0:11 – Toshihiko Horiyama
20 – You Got a New Weapon – 0:39 – Toshihiko Horiyama
21 – Stage Select 2 – 0:45 – Toshihiko Horiyama
22 – Space Port Stage – 1:33 – Toshihiko Horiyama
23 – Colonel & General – 1:11 – Toshihiko Horiyama
24 – Final Weapon Stage – 2:50 – Toshihiko Horiyama
25 – Double – 1:47 – Toshihiko Horiyama
26 – Iris – 1:52 – Toshihiko Horiyama
27 – Sigma 1 – 2:07 – Toshihiko Horiyama
28 – Sigma 2 – 1:36 – Toshihiko Horiyama
29 – Dr. Light Capsule – 0:46 – Toshihiko Horiyama
30 – Cutscene 1 – 0:48 – Toshihiko Horiyama
31 – Cutscene 2 – 0:33 – Toshihiko Horiyama
32 – Sigma Cutscene – 0:44 – Toshihiko Horiyama
33 – Independence – 0:34 – Toshihiko Horiyama
34 – Double's Betrayal – 0:31 – Toshihiko Horiyama
35 – Ending (X) – 0:24 – Toshihiko Horiyama
36 – Memories of the Past 1 – 0:39 – Toshihiko Horiyama
37 – Memories of the Past 2 – 0:22 – Toshihiko Horiyama
38 – Colonel vs. Zero – 0:24 – Toshihiko Horiyama
39 – Zero's Past – 1:42 – Toshihiko Horiyama
40 – Ending (Zero) – 0:32 – Toshihiko Horiyama
41 – Mega Man X4 Opening – 1:32 – Toshihiko Horiyama
42 – Mega Man X4 Staff Credits – 2:55 – Toshihiko Horiyama
Mega Man X Legacy Collection 2 (Steam)
Mega Man X5 Sound Collection – $9.99 USD (NOTE: requires the base game Mega Man X Legacy Collection 2 on Steam)
Composed by Naoto Tanaka
01 – Opening Theme – 0:56 – Naoto Tanaka
02 – Character Select – 0:41 – Naoto Tanaka
03 – Opening Stage (X) – 2:25 – Naoto Tanaka
04 – Opening Stage (Zero) – 2:32 – Naoto Tanaka
05 – Sigma 1 – 2:17 – Naoto Tanaka
06 – Stage Select 1 – 1:22 – Naoto Tanaka
07 – Stage Start – 0:10 – Naoto Tanaka
08 – Crescent Grizzly Stage – 2:25 – Naoto Tanaka
09 – Volt Kraken Stage – 2:30 – Naoto Tanaka
10 – Shining Firefly Stage – 2:36 – Naoto Tanaka
11 – Tidal Whale Stage – 2:09 – Naoto Tanaka
12 – Dynamo – 1:58 – Naoto Tanaka
13 – Stage Complete (X) – 0:08 – Naoto Tanaka
14 – Spiral Pegasus Stage – 2:19 – Naoto Tanaka
15 – Spike Rosered Stage – 2:47 – Naoto Tanaka
16 – Dark Necrobat Stage – 2:58 – Naoto Tanaka
17 – Burn Dinorex Stage – 2:58 – Naoto Tanaka
18 – Boss Theme – 2:04 – Naoto Tanaka
19 – Stage Complete (Zero) – 0:07 – Naoto Tanaka
20 – Mission Report – 0:42 – Naoto Tanaka
21 – Zero Stage 1 – 3:18 – Naoto Tanaka
22 – Shadow Devil – 0:40 – Naoto Tanaka
23 – Rangda Bangda W – 1:17 – Naoto Tanaka
24 – Zero Stage 2 – 3:27 – Naoto Tanaka
25 – X vs. Zero – 2:43 – Naoto Tanaka
26 – Sigma 2 – 3:14 – Naoto Tanaka
27 – Dr. Light Capsule – 0:49 – Naoto Tanaka
28 – Cutscene – 1:36 – Naoto Tanaka
29 – Stage Select 2 – 2:05 – Naoto Tanaka
30 – Death of Zero – 1:28 – Naoto Tanaka
31 – Stage Select (Unused Track) – 1:13 – Naoto Tanaka
32 – Deep Sea (Unused Track) – 2:26 – Naoto Tanaka
33 – Dr. Light Capsule (Unused Track) – 1:16 – Naoto Tanaka
34 – Mission Report (Unused Track) – 0:53 – Naoto Tanaka
35 – Armageddon (Unused Track) – 1:12 – Naoto Tanaka
36 – Death of Zero (Unused Track) – 1:18 – Naoto Tanaka
37 – Mega Man X5 Opening Theme – 1:07 – Naoto Tanaka
38 – Mega Man X5 Ending Theme – 3:23 – Naoto Tanaka
Mega Man X6 Sound Collection – $9.99 USD (NOTE: requires the base game Mega Man X Legacy Collection 2 on Steam)
Composed by Akemi Kimura
01 – Opening Stage – 2:46 – Akemi Kimura
02 – D-1000 – 1:08 – Akemi Kimura
03 – Stage Select – 1:41 – Akemi Kimura
04 – Stage Start – 0:11 – Akemi Kimura
05 – Commander Yammark Stage – 2:47 – Akemi Kimura
06 – Rainy Turtloid Stage – 2:36 – Akemi Kimura
07 – Shield Sheldon Stage – 2:36 – Akemi Kimura
08 – Blizzard Wolfang Stage – 2:25 – Akemi Kimura
09 – Blaze Heatnix Stage – 2:12 – Akemi Kimura
10 – Infinity Mijinion Stage – 2:23 – Akemi Kimura
11 – Metal Shark Player Stage – 2:20 – Akemi Kimura
12 – Ground Scaravich Stage – 1:59 – Akemi Kimura
13 – Boss Theme – 1:40 – Akemi Kimura
14 – Stage Complete (X) – 0:08 – Akemi Kimura
15 – Mission Report – 0:47 – Akemi Kimura
16 – Gate's Laboratory – 2:05 – Akemi Kimura
17 – High Max – 1:15 – Akemi Kimura
18 – Gate – 1:35 – Akemi Kimura
19 – Stage Complete (Zero) – 0:08 – Akemi Kimura
20 – Sigma 1 – 2:22 – Akemi Kimura
21 – Sigma 2 – 1:48 – Akemi Kimura
22 – Dr. Light Capsule – 0:51 – Akemi Kimura
23 – Alia & Gate – 1:39 – Akemi Kimura
24 – Zero – 1:34 – Akemi Kimura
25 – Ending Theme – 2:31 – Akemi Kimura
Mega Man X7 Sound Collection – $9.99 USD (NOTE: requires the base game Mega Man X Legacy Collection 2 on Steam)
Composed by Capcom Sound Team (Yuko Komiyama, Shinya "Midnight" Okada, Seiko Kobuchi), Valuewave (Akemi Kimura, Makoto Asai, Teruo Konishi, Shuichi Mizohata, Noriyuki Iwadare, Takuya Miyawaki)
01 – Title Call – 0:39 – Capcom Sound Team, Valuewave
02 – Conflict â€- Escape Stage – 2:17 – Capcom Sound Team, Valuewave
03 – Awake Road Again â€- Highway Stage – 2:39 – Capcom Sound Team, Valuewave
04 – Burning Water â€- Lava Factory Stage – 2:14 – Capcom Sound Team, Valuewave
05 – Underground â€- Tunnel Base Stage – 2:13 – Capcom Sound Team, Valuewave
06 – Mod Electric Wave â€- Radio Tower Stage – 3:15 – Capcom Sound Team, Valuewave
07 – Naval Battle â€- Battleship Stage – 2:02 – Capcom Sound Team, Valuewave
08 – Ruins 'n' Vines â€- Deep Forest Stage – 2:06 – Capcom Sound Team, Valuewave
09 – Higher the Air â€- Air Forces Stage – 3:36 – Capcom Sound Team, Valuewave
10 – Cyber Geometry â€- Cyber Field Stage – 1:50 – Capcom Sound Team, Valuewave
11 – Bomb Recovery â€- Central Circuit Stage – 1:50 – Capcom Sound Team, Valuewave
12 – Just Before Red â€- Palace Road Stage – 2:17 – Capcom Sound Team, Valuewave
13 – Infiltration â€- Crimson Palace Stage 1 – 3:18 – Capcom Sound Team, Valuewave
14 – Soul Asylum â€- Crimson Palace Stage 2 – 3:28 – Capcom Sound Team, Valuewave
15 – Combination â€- vs. Mega Scorpio – 2:53 – Capcom Sound Team, Valuewave
16 – Decisive Battle â€- vs. Boss – 1:48 – Capcom Sound Team, Valuewave
17 – Relation â€- vs. Red – 2:03 – Capcom Sound Team, Valuewave
18 – Our Blood Boils â€- vs. Sigma 1st – 2:40 – Capcom Sound Team, Valuewave
19 – Conclusion â€- vs. Sigma Final – 2:41 – Capcom Sound Team, Valuewave
20 – Stage Select 1 – 0:32 – Capcom Sound Team, Valuewave
21 – Stage Start – 0:10 – Capcom Sound Team, Valuewave
22 – Stage Complete – 0:07 – Capcom Sound Team, Valuewave
23 – Result – 0:34 – Capcom Sound Team, Valuewave
24 – Options – 1:06 – Capcom Sound Team, Valuewave
25 – Stage Select 2 – 0:47 – Capcom Sound Team, Valuewave
26 – Provocation – 0:49 – Capcom Sound Team, Valuewave
27 – Signas' Theme – 1:18 – Capcom Sound Team, Valuewave
28 – Beginning â€- Red's Theme – 1:06 – Capcom Sound Team, Valuewave
29 – Revealing – 2:00 – Capcom Sound Team, Valuewave
30 – Suffering – 1:23 – Capcom Sound Team, Valuewave
31 – Black Plotting – 0:53 – Capcom Sound Team, Valuewave
32 – Fate â€- Sigma's Theme – 2:24 – Capcom Sound Team, Valuewave
33 – Alia's Theme – 0:33 – Capcom Sound Team, Valuewave
34 – X's Theme – 0:42 – Capcom Sound Team, Valuewave
35 – Tragedy – 1:28 – Capcom Sound Team, Valuewave
36 – Thorny Path – 1:46 – Capcom Sound Team, Valuewave
37 – Nightmare â€- Zero's Ending – 1:16 – Capcom Sound Team, Valuewave
38 – Rookie Punk â€- Axl's Theme – 1:35 – Capcom Sound Team, Valuewave
39 – Opening – 1:57 – Capcom Sound Team, Valuewave
40 – Ending – 1:11 – Capcom Sound Team, Valuewave
41 – X SE – 0:17 – Capcom Sound Team, Valuewave
42 – Axl SE – 0:14 – Capcom Sound Team, Valuewave
43 – Zero SE – 0:11 – Capcom Sound Team, Valuewave
44 – Sigma SE – 0:27 – Capcom Sound Team, Valuewave
45 – No Holdin' Back â€- Mega Man X7 Cutscene – 1:21 – Capcom Sound Team, Valuewave
Mega Man X8 Sound Collection – $9.99 USD (NOTE: requires the base game Mega Man X Legacy Collection 2 on Steam)
Composed by Capcom Sound Team (Yuko Komiyama, Shinya Okada), Valuewave (Akemi Kimura)
Additional performances by Yasuyuki Tsujino
01 – Theme of Mega Man X8 – 1:49 – Capcom Sound Team, Valuewave
02 – Noah's Park – 3:28 – Capcom Sound Team, Valuewave
03 – Intrusion Crabs-Y – 1:37 – Capcom Sound Team, Valuewave
04 – Vs. Maverick – 3:17 – Capcom Sound Team, Valuewave
05 – Troia Base â€- Passage – 0:39 – Capcom Sound Team, Valuewave
06 – Troia Base â€- Progress – 2:41 – Capcom Sound Team, Valuewave
07 – Primrose – 2:40 – Capcom Sound Team, Valuewave
08 – Pitch Black â€- Sneaking – 1:53 – Capcom Sound Team, Valuewave
09 – Pitch Black â€- Discovery – 0:56 – Capcom Sound Team, Valuewave
10 – Dynasty – 2:53 – Capcom Sound Team, Valuewave
11 – Inferno â€- Descending – 3:14 – Capcom Sound Team, Valuewave
12 – Inferno â€- Going Up – 0:46 – Capcom Sound Team, Valuewave
13 – Central White – 2:57 – Capcom Sound Team, Valuewave
14 – Metal Valley â€- Evade – 3:00 – Capcom Sound Team, Valuewave
15 – Metal Valley â€- Overheat – 3:09 – Capcom Sound Team, Valuewave
16 – Booster Forest – 1:54 – Capcom Sound Team, Valuewave
17 – Booster Forest â€- Ride Armor (CYCLOPS) – 2:01 – Capcom Sound Team, Valuewave
18 – Vs. Boss (Cutscene) – 0:44 – Capcom Sound Team, Valuewave
19 – Vs. Maverick Boss – 2:55 – Capcom Sound Team, Valuewave
20 – Angry Maverick Boss – 0:39 – Capcom Sound Team, Valuewave
21 – Jakob – 3:19 – Capcom Sound Team, Valuewave
22 – Vs. Vile – 1:40 – Capcom Sound Team, Valuewave
23 – Gateway – 1:40 – Capcom Sound Team, Valuewave
24 – Gateway â€- Escape – 1:12 – Capcom Sound Team, Valuewave
25 – Vs. Copy Sigma – 2:17 – Capcom Sound Team, Valuewave
26 – Sigma's Palace – 2:03 – Capcom Sound Team, Valuewave
27 – Vs. Sigma (Cutscene) – 0:34 – Capcom Sound Team, Valuewave
28 – Vs. Sigma – 2:09 – Capcom Sound Team, Valuewave
29 – Vs. Lumine â€- First Form – 1:56 – Capcom Sound Team, Valuewave
30 – Vs. Lumine (Cutscene) – 0:47 – Capcom Sound Team, Valuewave
31 – Vs. Lumine â€- Second Form – 2:47 – Capcom Sound Team, Valuewave
32 – Paradise Lost – 0:36 – Capcom Sound Team, Valuewave
33 – Intermission – 1:34 – Capcom Sound Team, Valuewave
34 – Dr. Light Capsule – 0:27 – Capcom Sound Team, Valuewave
35 – Title – 0:29 – Capcom Sound Team, Valuewave
36 – Hunter Base â€- Going to the Front – 1:00 – Capcom Sound Team, Valuewave
37 – Hunter Base â€- Doubt – 1:09 – Capcom Sound Team, Valuewave
38 – Hunter Base â€- Wickedness – 1:29 – Capcom Sound Team, Valuewave
39 – Stage Start – 0:11 – Capcom Sound Team, Valuewave
40 – Stage Complete – 0:08 – Capcom Sound Team, Valuewave
41 – You Got a New Weapon – 0:12 – Capcom Sound Team, Valuewave
42 – Result – 0:34 – Capcom Sound Team, Valuewave
43 – Menu – 0:27 – Capcom Sound Team, Valuewave
44 – Save & Load – 0:26 – Capcom Sound Team, Valuewave
45 – Options – 0:27 – Capcom Sound Team, Valuewave
46 – Cutscene â€- Deepening Mystery – 0:37 – Capcom Sound Team, Valuewave
47 – Cutscene â€- Sorrow – 0:31 – Capcom Sound Team, Valuewave
48 – Cutscene â€- Perplexity – 0:35 – Capcom Sound Team, Valuewave
49 – Cutscene â€- Advancement – 0:45 – Capcom Sound Team, Valuewave
50 – Cutscene â€- With the Hunter Base – 0:27 – Capcom Sound Team, Valuewave
51 – Ending – 1:39 – Capcom Sound Team, Valuewave