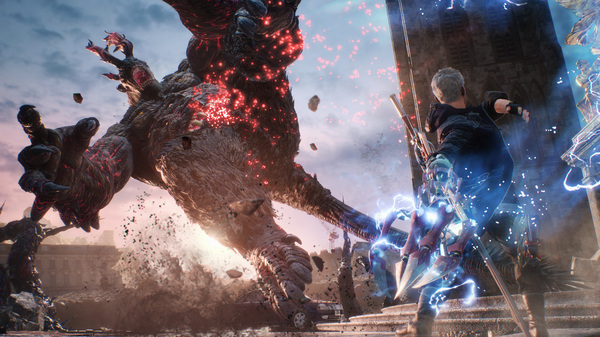 It's been a little over two months since our initial reveal of Devil May Cry 5, and we've been itching to share more just as much as you've been wanting to know more. You may have seen we just released a brand new trailer on the latest episode of Inside Xbox… but that's not all, so buckle up and get ready for crazy DMC5 news!
Let's get this party started with the big news… Devil May Cry 5 now has an official release date: March 8 th , 2019!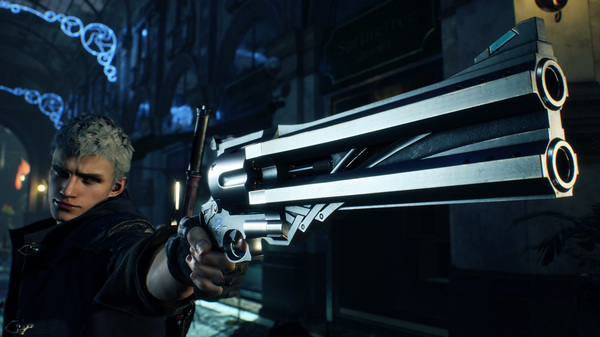 And since we know you're salivating for more details, here's the aforementioned trailer that you can dissect to piece together and analyze all the returning and new tricks you (and your enemies!) can do in battle: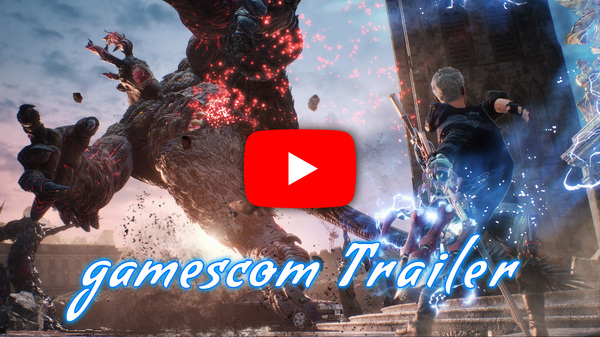 By the way, here are some thought-starters to get your gears going:
Each Devil Breaker arm sports a unique look and their set of attacks may vary depending on Nero's position and input. For example, Gerbera can be used to deflect enemy projectiles, or to propel Nero in an evasive maneuver if you add a directional input.
Devil Breakers can… well… break. You can see Nero do that earlier in the trailer ("Sorry, Nico!"), and you do it intentionally, as tactical move to fend off enemies that get a little too close for comfort, or as a tradeoff to each arm's ultimate move!
And to formalize what you just saw at the very end of the trailer, the legendary demon hunter Dante is indeed a playable character in Devil May Cry 5! What do you think of his insane new weapon? 😉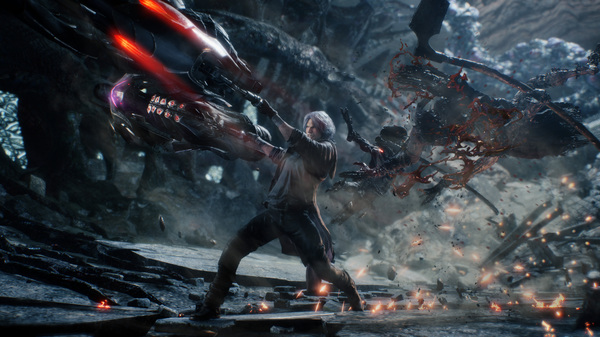 Next up, we're taking a playable demo of Devil May Cry 5 with us to major events in the coming weeks, which started with a global debut at gamescom today! Here's a short list of when and where you can find us for now:
Gamescom , Xbox booth – Cologne, Germany; August 22 nd through August 27 th
PAX West, booth #2109 – Seattle, Washington, USA; August 31 st through September 4th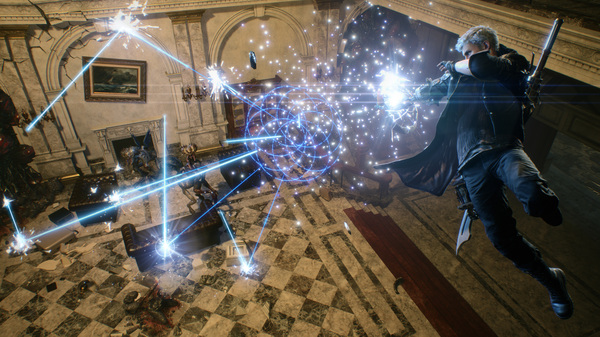 On the topic of PAX West, we have two very special DMC5 events in the works for you!
Panel: The SSStylish gameplay of Devil May Cry 5
On Friday, August 31 st , from 1:30pm to 2:30pm (Pacific), at the Wyvern Theater, we'll have our legendary director Hideaki Itsuno, along with producers Michiteru Okabe and Matt Walker give us a special talk on what makes the gameplay of Devil May Cry 5 so smokin', sick, and stylish! This panel will also be live streamed on Twitch ( twitch.tv/PAX3 ).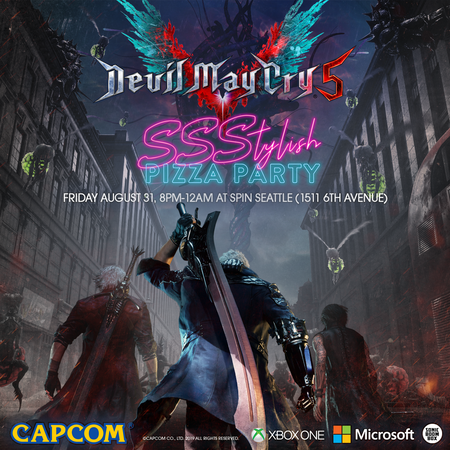 Then later that evening (Aug. 31), we have a lil' party for our fans (Ages 21+)… but not just any party… it's the Devil May Cry 5 SSStylish Pizza Party! Featuring Dante's favorite pizza: Pepperoni. But we're kicking it up a stylish rank or two, and bringing you fancy flatbread pepperoni slices.
The party will run from 8pm until 12am (Pacific) at SPiN Seattle (1511 6 th Ave. Seattle, WA 98101), a very short walk from the convention center, and you don't even need a PAX badge to get in! We're working closely with Sonic Boombox to make it the most kickass DMC party ever. We're even enlisting the help of DMC fan and cosplay extraordinaire VampyBitMe to host the party (btw, keep an eye out on her Twitch channel as she gears up for the occasion)! Speaking of cosplay, we'd love to see more awesome DMC cosplay, so if you've got some of your own, please do come in as your favorite DMC character.
Of course, our special guests from the dev team in Japan, director Hideaki Itsuno and producers Michiteru Okabe and Matt Walker will be at the party for autograph sessions (+ free posters) and photos with insane poses, so make sure you don't miss it.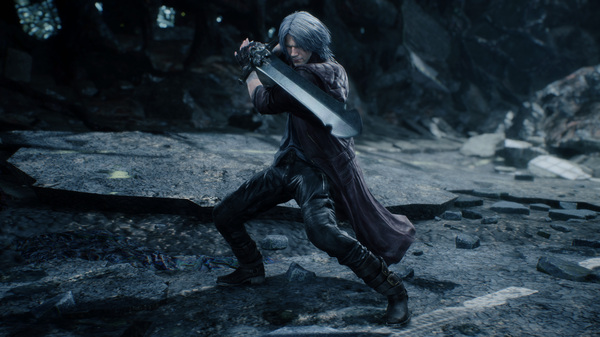 As you can see, we have lots of great stuff in the works, and even more craziness on the way! To stay up to date with all things Devil May Cry 5, follow our social media channels on Twitter , Facebook and Instagram .