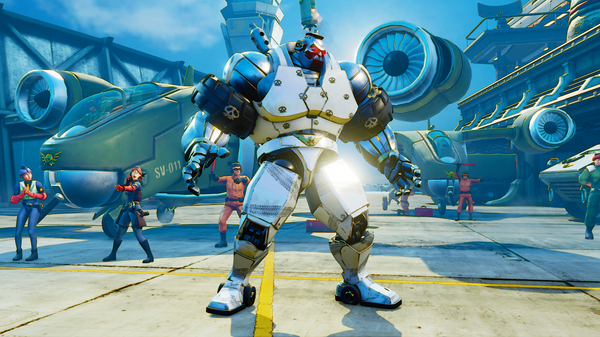 Make room in your closet because we have a flurry of costumes and bundles coming your way in Extra Battle Mode and in-store.
EXTRA BATTLE
Mech Abigail – Mech Zangief, F.A.N.G, and Juri have brought a robotic rush to Street Fighter V: Arcade Edition, but we're not done yet! Mech Abigail is the next costume in Extra Battle Mode running from December 21 to January 17!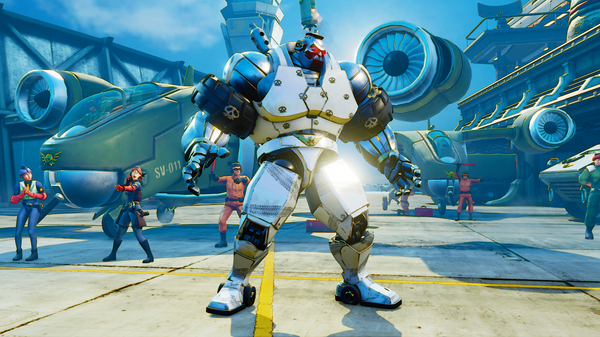 Jin Saotome for Ryu – Going one step further with the robots, the next Crossover Costume after Mech Abigail is no other than Jin Saotome! Jin hails from the Capcom fighting game, Cyberbots, which features explosive fights between different mechas. As a playable character, Jin seeks to honor his father's memory by being the best pilot alive. Seeing as how Jin can be seen as the protagonist of Cyberbots, it's only fitting to have Ryu don his likeness.
You can also obtain the Cyberbots background music during this time in Extra Battle Mode!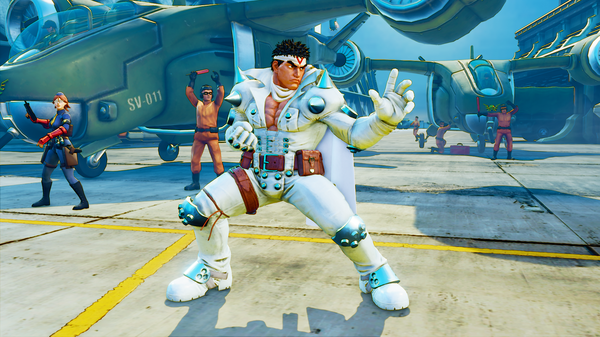 You asked and we're more than happy to keep delivering. Extra Battle Challenges for the following Crossover Costumes are currently ongoing from November 30 to December 27!
Viewtiful Joe for Rashid

(Viewtiful Joe)

June for Chun-Li

(Star Gladiator)

Captain Commando for Nash

(Captain Commando)

Nameless Super Soldier for Guile

(Forgotten Worlds)

Fiona for Cammy

(Haunting Ground)
BUNDLES GALORE
A whopping 11 bundles are going to be on sale on December 11 with various themed costumes being offered. You don't want to miss them! All of these prices and bundles are for North America. For any sales going on in other regions, please see their respective channels.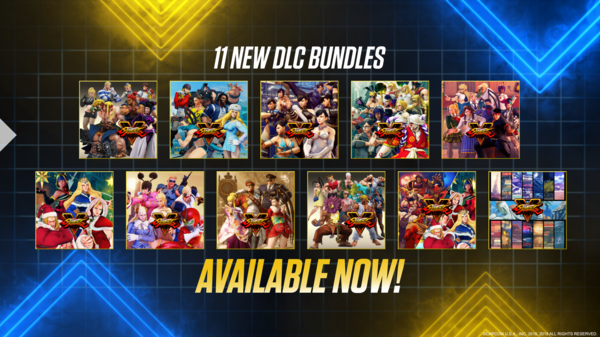 Capcom Legends Bundle (6 costumes, $9.99) – Five of these costumes are currently undergoing their second run in Extra Battle Mode, but if you'd rather purchase these – along with the Ingrid costume – this is your chance!
Karin Ingrid

Rashid Viewtiful Joe

Chun-Li June

Nash Captain Commando

Guile Forgotten Soldier

Cammy Fiona
2017 Holiday Costume Bundle (4 costumes, $5.99) – Last year's Holiday costumes are on sale for a special price! Individually, they'll now cost $2.99, but you can purchase all four in a bundle for even cheaper.
Holiday Alex

Holiday Cammy

Holiday Kolin

Holiday Menat
Story Costume Bundle (32 costumes, $19.99)
Story Costumes and colors for launch roster and Season 1-3

Note: Since Ryu and Chun-Li's Story Costumes are already free, they are not included in this bundle
Stage Bundle (17 stages, $19.99)
Air Force Base

Shadaloo Base at Night

Mysterious Cove

High Roller Casino

Estate at Noon

Kanzuki Beach

Skies of Honor

Temple Hideout

Flamenco Tavern

Metro City Bay Area

Suzaku Castle

English Manor

Temple of Ascension

Kasugano Residence

King's Court
Professional Costume Bundle (10 costumes, $14.99)
Alex

R. Mika x2

Chun-Li

Karin

Vega

Kolin

Menat

Zeku

Falke
Sports Costume Bundle (6 costumes, $9.99)
Ibuki

Karin

Kolin

Zangief

Rashid

Laura
School Costume Bundle (9 costumes, $14.99)
Ibuki

Ed

Cammy

Juri

Nash

R. Mika

Menat

Ryu

Chun-Li
2017 Halloween and Holiday Bundle (9 costumes, $9.99)
o Dhalsim
o Birdie
o F.A.N.G
o M. Bison
o Urien
o Alex
o Cammy
o Kolin
o Menat
Nostalgia Costume Bundle (15 costumes, $19.99)
Karin

Cammy

Birdie

Chun-Li

Alex

Ibuki

Juri

Balrog

Akuma

Kolin

Zeku

Sakura

Blanka

Cody

Sagat
Street Fighter 30th Anniversary Costume Bundle (4 costumes, $9.99)
Ibuki

Guile

Karin

M. Bison
Akiman Chun-Li Bundle (7 costumes, $14.99)
Covert Operations

Pajamas

Wedding

Vacation

Undercover Cop

Special Forces

Training
Don't forget the free trial running from December 11-19 where all PlayStation 4 and Steam users can try out Street Fighter V: Arcade Edition for free!
And remember, Capcom Cup takes place at Esports Arena Las Vegas from December 14-16!