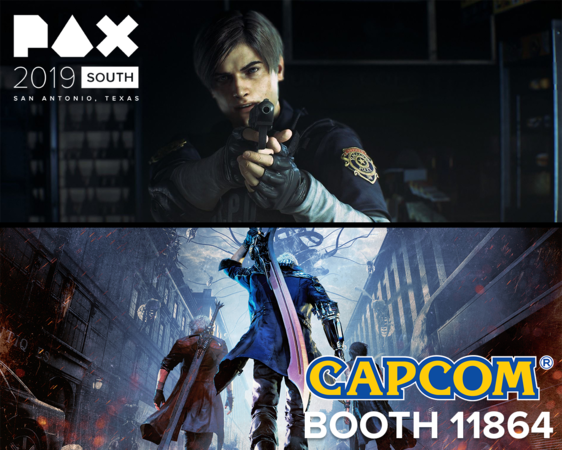 Demons and zombies will invade San Antonio, Texas when Capcom arrives at PAX South 2019 from January 18-20 at booth #11864! In addition to action-packed demos, we also have a photo booth this year where you have the chance to win copies of some of our games!
Demos
Resident Evil 2 – Play Resident Evil 2 before it launches only a few days after PAX South 2019 on January 25! Gameplay for both Leon and Claire are selectable in this demo, so choose whose slice of living nightmare you'll live…or die through.
Devil May Cry 5 – The super stylish gameplay of Devil May Cry returns in this demo for Devil May Cry 5! Rev up Nero's familiar sword, the Red Queen, blast your enemies from afar with his firearm, the Blue Rose, and take his "Devil Breaker" arms for a spin – or a kick flip – in this slice of the full game. The demo for PAX South 2019 is different than the one that is currently downloadable on Xbox One, so you won't want to miss out! Devil May Cry 5 arrives on PlayStation 4, Xbox One, and Steam on March 8!
Photo Booth
We have a special photo booth this year to celebrate three beloved series of ours that are making their way to new platforms this year! We'll have props and backgrounds for you to choose from, so stop on by to show your love – and to win prizes, of course.
Onimusha: Warlords – Releasing on January 15, Samanosuke's quest arrives on PlayStation 4, Xbox One, Nintendo Switch, and PC. This iconic game was first released on PlayStation 2 almost 18 years ago and took the world by storm. Relive the epic sword battles, malevolent plot, and mind-numbing puzzles.
Dragon's Dogma: Dark Arisen – Set forth, Arisen! Explore the vast world of Gransys when Dragon's Dogma: Dark Arisen comes to Nintendo Switch on April 23. Now, you can recruit pawns wherever you go!
Phoenix Wright: Ace Attorney Trilogy – Come back to the court room in early 2019 when the first three games in the Ace Attorney series bundle together and makes their entrance on PlayStation 4, Xbox One, Nintendo Switch, and PC!
The best news? You can win a digital copy of one of these games by participating in the photo booth! Here's how:
Stop by the photo booth at the expo hall booth #11864
Choose which one of the three games above you want to celebrate. We'll give you the relevant props and backgrounds!
Share the photos that are taken on Twitter and/or Instagram using #CapcomPAX and one of the following: #AceAttorney, #DDDA, #Onimusha.
Follow @CapcomUSA_ on Twitter and/or @CapcomUSA on Instagram
We'll choose one winner at the end of each day and contact you through Direct Message. If you're chosen, simply tell us which game you prefer and which platform.

Dragon's Dogma: Dark Arisen on Nintendo Switch and Phoenix Wright: Ace Attorney Trilogy have not been released yet. If you choose one of these as your prize, we'll give you a digital download code once they have launched!

General contest rules: www.capcom.com/capcom/legal_privacy/cont…
We hope to see y'all at PAX South 2019!