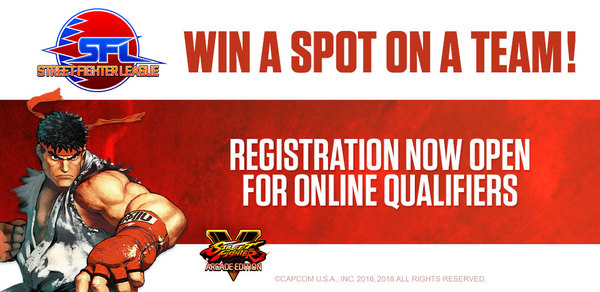 Prospective pro Street Fighter V: Arcade Edition players, the time has come to prove you belong in the upcoming Street Fighter League: US-Pro 2019 (SFL)!
Recently, we introduced the new 3v3 teams league and while we're finalizing our team captains, we're ready to roll out the next phase of the first season.
Six total winners (one from each online tournament) will qualify for SFL's first draft. In addition to the team captains, we'll be holding a community vote for the final six players going into the draft. Check back here for more details on both the voting and draft process soon.
The SFL Online Qualifiers format will be double elimination and best 2-out-of-3 format up to Top 8, and best 3-out-of-5 through Top 8. Each weekend will feature an Online Qualifier event for East and West Coast regions, respectively, with a player cap of 256.
Online qualifiers are broken down into three phases:
Phase 1 will begin with the West Coast qualifier on March 1, 2019 and the East Coast qualifier on March 2, 2019.
Phase 2 West Coast qualifier takes place on March 8 and the East Coast qualifier on March 9.
Finally, Phase 3 concludes with the West Coast qualifier on March 15 and East Coast qualifier on March 16.
Players who want to compete in the SFL Online Qualifiers can visit the Smash.gg page and register now!
No purchase is necessary and you must be a U.S. citizen and be at 16 years or older to compete. Players will be able to enter multiple events once the registration opens upon the conclusion of the weekend's tournaments. Read more about the rules and regulations for the online qualifiers on the Smash.gg page .
Stay tuned as we have more information coming on the SFL!