Today, the Director of the Ace Attorney Trilogy is discussing the Turnabout Tunes soundtrack , including creating one of the two brand-new songs included! Hit the jump for how it all came together.
* * * * *
Hi, everyone. It's the director of Ace Attorney Trilogy, Shinsuke Kodama. I'm back to talk a little about how we created the Turnabout Tunes soundtrack, available on Steam as a part of the Turnabout Tunes Bundle.
On the Road to a New Song Arrangement
This stellar soundtrack consists of 14 in-game background music (BGM) tracks, as well as 8 special arrangements from previous Japanese releases and two all-new, exclusive tracks created especially for this game's release. It's one of these two new tracks, "Turnabout Sisters – Seaside Swing", that I'd like to introduce you to today.
Turnabout Tunes Soundtrack Sampler
(Jump to 0:28 for Turnabout Sisters – Seaside Swing)
Yes, it's a vocal version of everyone's favorite, "Turnabout Sisters". One of my personal goals with this game was to use it as a chance to make Ace Attorney an even bigger franchise all over the world. That's what led me to wanting the lyrics to be in English. I asked Mr. Shu Takumi and Ace Attorney series Localization Director Janet Hsu to take care of the lyrics while I left the arrangement in the skilled hands of veteran series composer Mr. Yasumasa Kitagawa. What an incredible line-up of talent for this one piece, huh!
On the advice of Mr. Kitagawa, we went with a lot of acoustic instruments in this arrangement. Among them, he wanted to use something called a "cajón." I had no idea what it was, only that it was some sort of percussion instrument. Having never seen one and based entirely on the sound of its name, I thought I could feel an ancient rhythm. My imagination took off and I envisioned an instrument that maybe a medicine person of the Great Plains would play at the beginning of a sacred ceremony. But all of that went out the window the instant I laid eyes on it.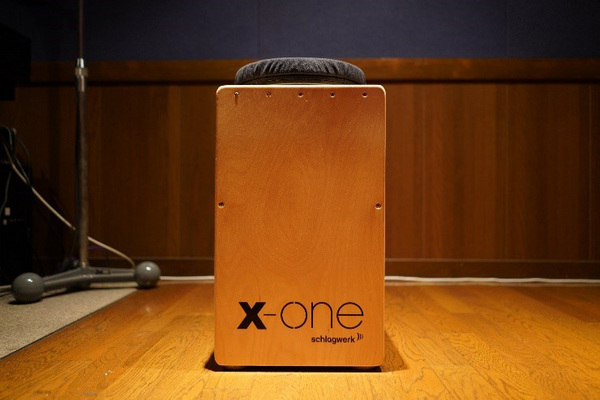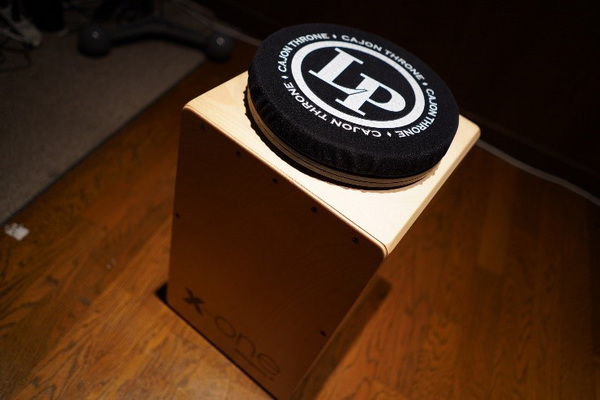 "Oh, this is nothing like what I'd imagined!" I thought. "It's so modern in design!" If no one had told me that this was an instrument, I would've never known! Are you supposed to hit the black circular part, I wondered. While I was busy churning over the possibilities, its player came into the studio and started playing it like this.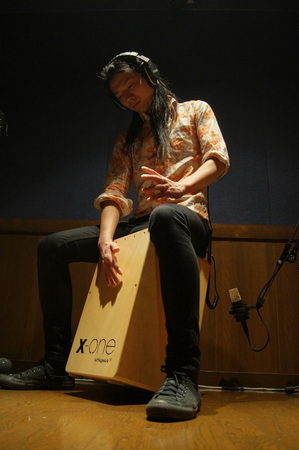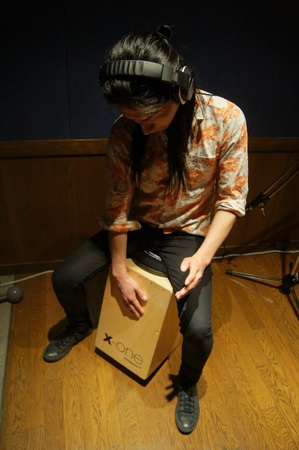 "Oh, no! My expectations have been subverted once again! You're supposed to sit on it?! And like a middle-schooler sitting backwards in their chair, no less! I'm sorry I don't know anything!!!" Once I'd finally calmed down from the excitement of learning what a cajón is, we got down to the main event.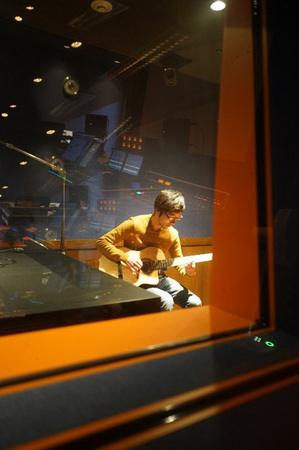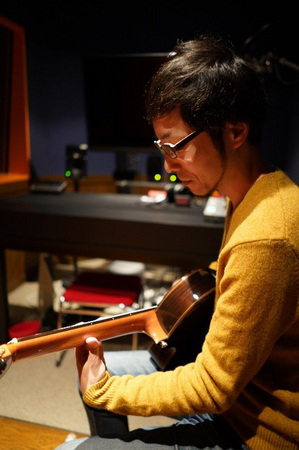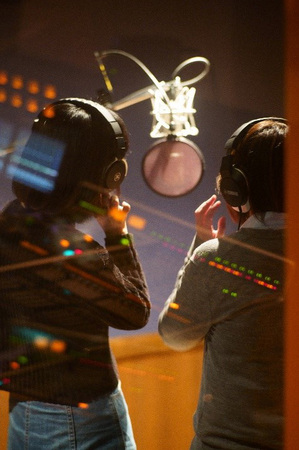 Wow! I was all set to take a ton of stunning pictures, but…! The cajón still had me under its spell. And then, Mr. Kitagawa was in the booth recording the acoustic guitar track. Turns out, he's not just a composer but a guitarist as well. His glasses were also too cool. And then it was our mysterious divas' turn.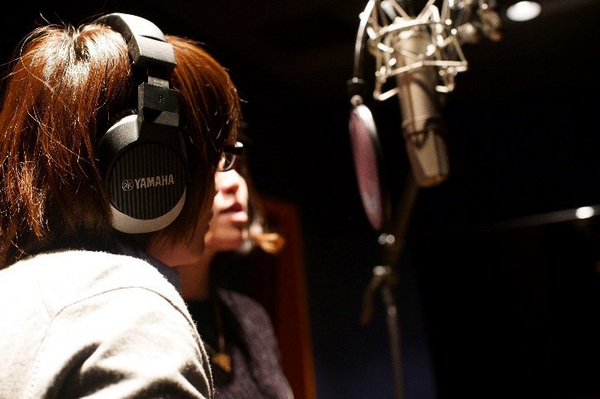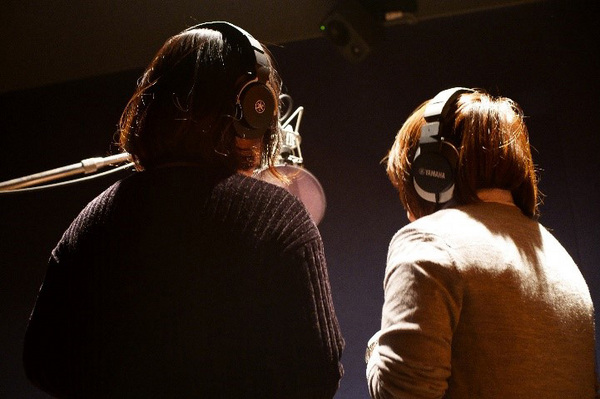 Through many takes, discussions, and a little reworking of things on the fly, we wrapped up our recording session 4 hours later. All that remained was for Mr. Kitagawa to remove any extraneous noises one by one (we call this "cleaning up" a track). Analogue instrument recordings sure are a lot of work.
By the way, on the day before he was supposed to finalize the whole song, I got a request from Mr. Kitagawa for a one-day extension. When I asked him why, he said, "I was super in the zone just now and I heard some noises I didn't pick up on before that I'd like to get rid of." That's right, Mr. Kitagawa also has super sharp ears. He is simply amazing.
The only place you can check out the super-polished "Turnabout Sisters – Seaside Swing" is on the Turnabout Tunes soundtrack! I hope you'll give it a listen! There's another new song, "Eternal Victory – Endings and Beginnings", that I wasn't able to tell you about today, but maybe someday!
Making this wonderful new arrangement was quite the task, but all I could do was cheer everyone on from the sidelines and cater the recording sessions with snacks… but talk is easy, and the staff working on it were the ones hard at work writing and practicing away. You can hear the fruits of their labor for yourself with Phoenix Wright: Ace Attorney Trilogy, out now for PS4, XB1, Switch, and Steam! Hope to see you there!