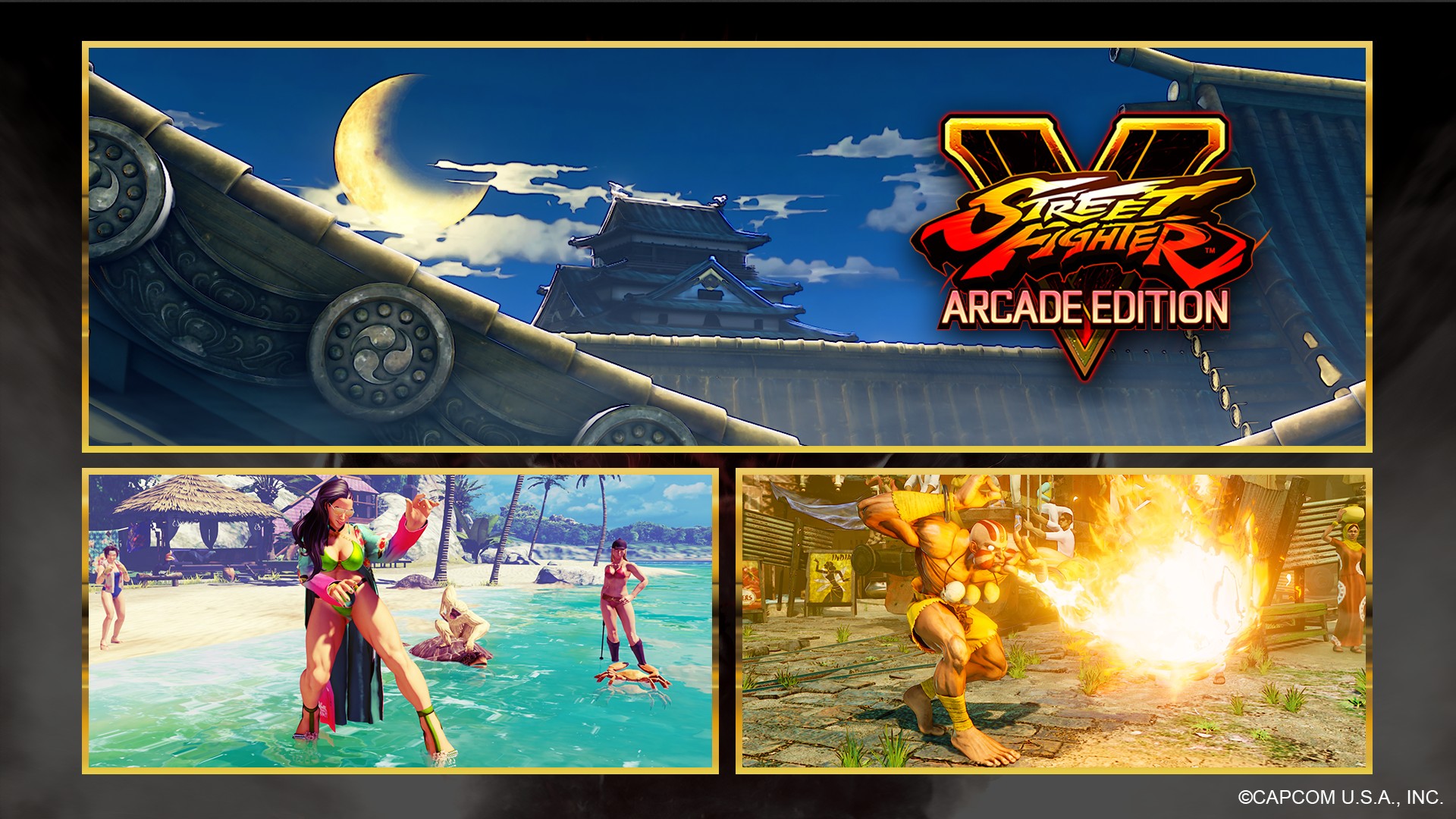 Summer is almost here, so cool off with a new stage and meet the heat with a bevy of blazing hot new looks for your favorite SFV characters. Beginning June 25th, Street Fighter V: Arcade Edition will be adding a new stage and heaps of new costumes, including two new Extra Battle offerings and one new Fighting Chance opportunity you won't want to miss.
SUZAKU CASTLE AT NIGHT STAGE
To start things off, in case you missed the news last week at E3, the Suzaku Castle at Night stage will be coming soon to Street Fighter V: Arcade Edition! All of you Ryu players will feel right at home here, as you enjoy the cool twilight breezes atop this majestic rooftop sanctuary.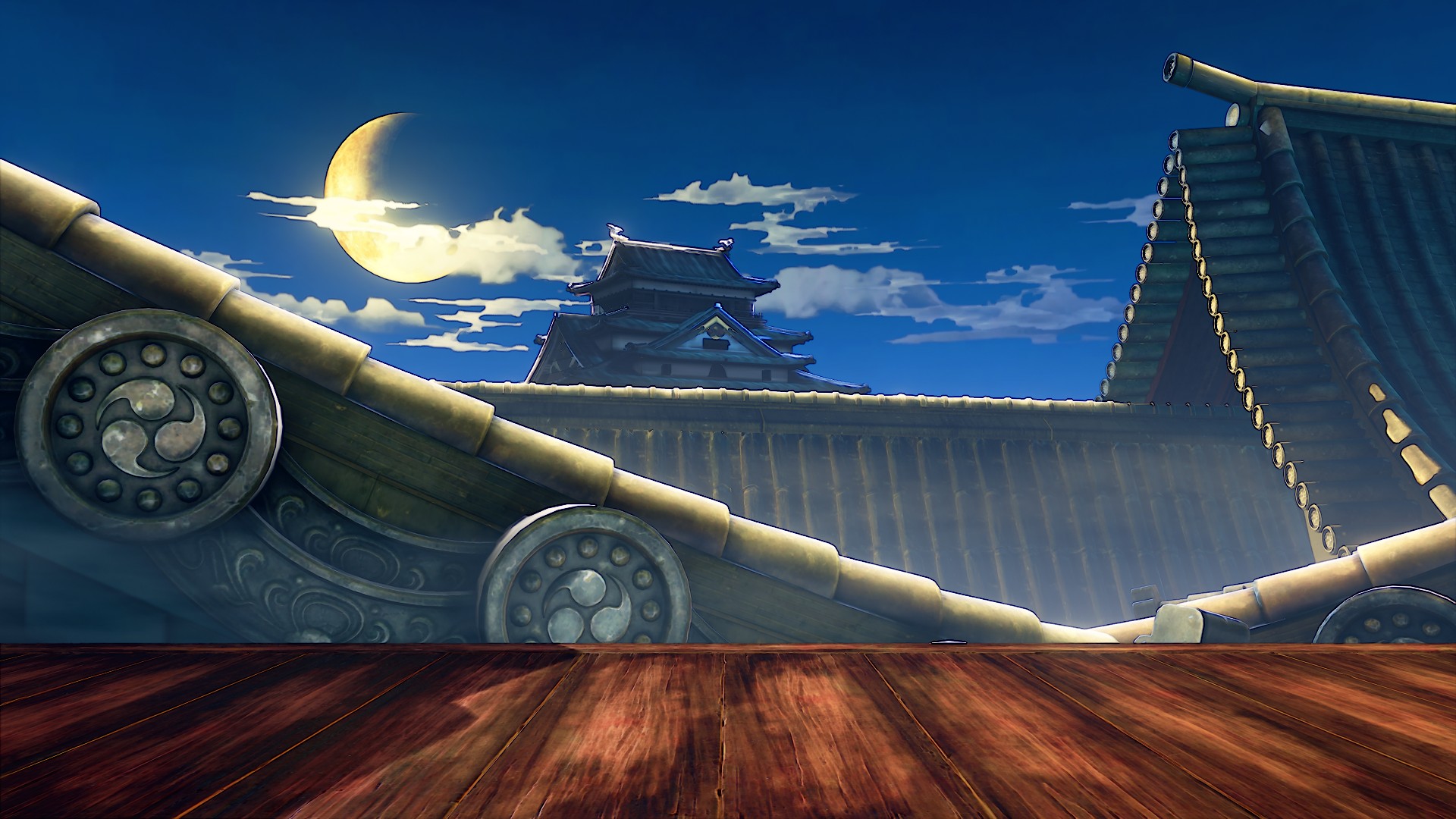 Debuting in Street Fighter II: Champion Edition, the nighttime version of this classic stage has been beautifully re-created for SFV players and will be available for purchase starting on June 25th for just MSRP $1.99 or 40K Fight Money.
LAURA SWIMSUIT COSTUME 2
Summer is almost here and Laura is ready to hit the beach in style! Her new Swimsuit Costume including stunner shades and a breezy robe will be available for purchase starting on June 25th for MSRP $3.99.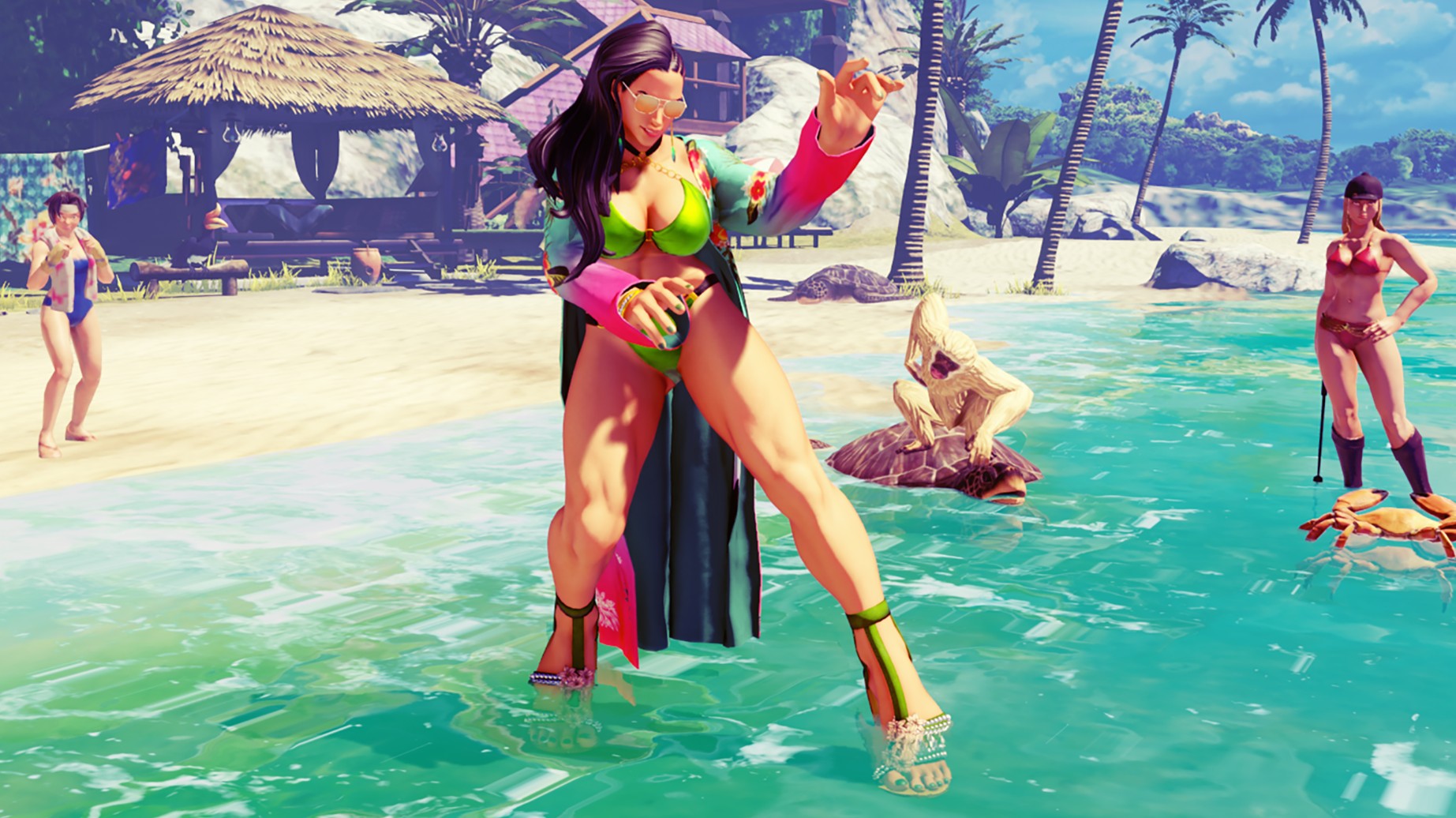 DHALSIM'S SFII COSTUME COMES TO FIGHTING CHANCE

Who doesn't agree that Dhalsim's Street Fighter II costume is pure fire? Well, turn back the clocks and set your SFV opponents ablaze as lady luck (aka Menat) offers the yoga master this flaming hot throwback look.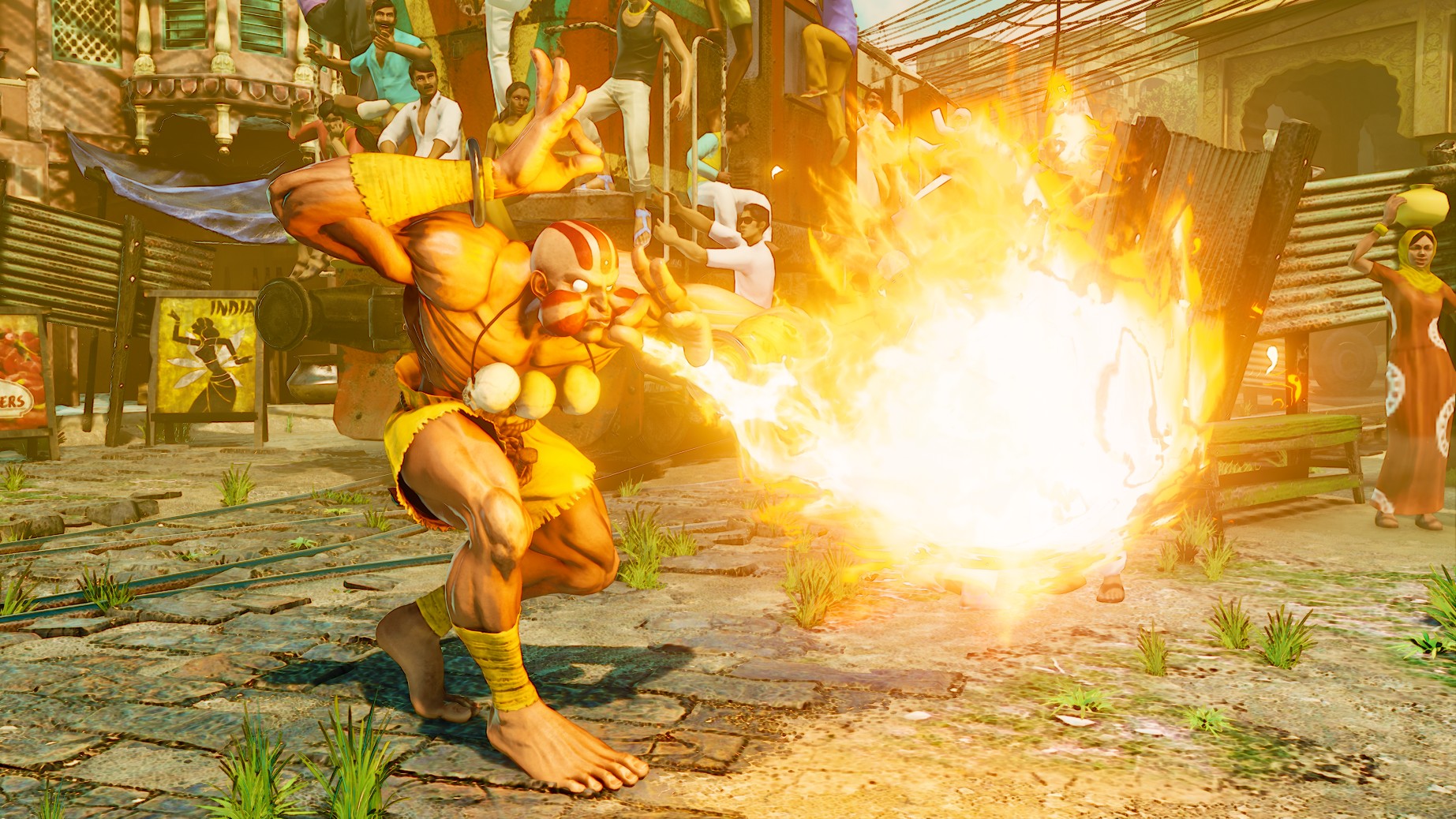 Dhalsim's classic SFII costume will be available in Fighting Chance starting on June 25th!
MENAT EXTRA BATTLE (PRINCESS DEVILOTTE)
In case Sagat's Shade costume wasn't enough, we've got even more Cyberbots coming to Street Fighter V: Arcade Edition! Menat is up next, as she dons an all-new Princess Devilotte costume, inspired by the character from Cyberbots: Fullmetal Madness. In addition to her new royal garbs, Menat's crystal ball also gets a makeover by turning into Super-8, Devilotte's octopus-shaped robot that can be controlled by the "the real queen of evil" herself.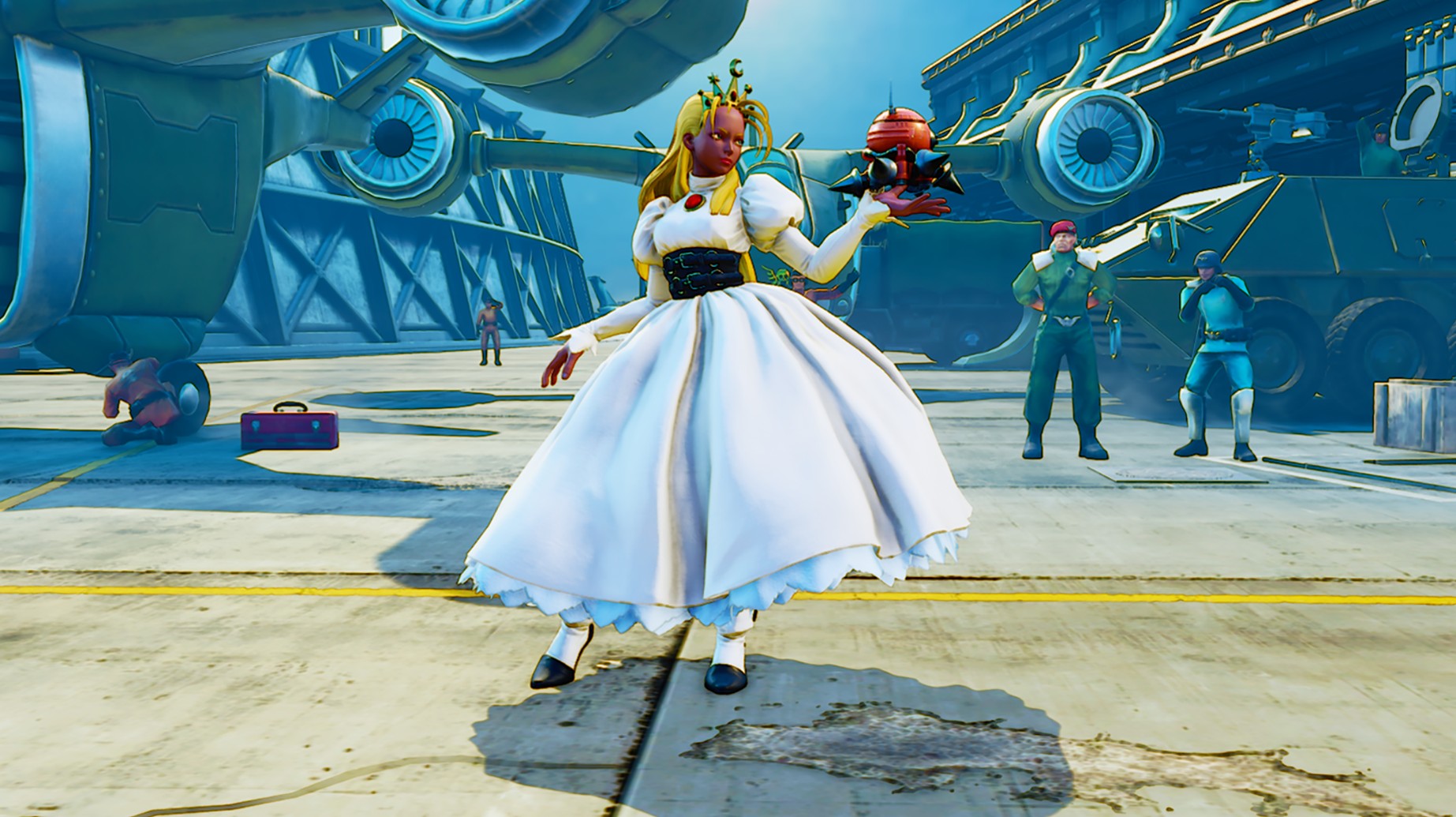 Menat can transform into Devilotte Princess soon, as this new costume and accompanying soundtrack appear in Extra Battle mode from July 5th through August 2nd.
IBUKI EXTRA BATTLE (AKANE YAGYU)
Not to be outdone, Ibuki can channel her own inner warrior when she equips this Akane Yagyu costume inspired by the Onimusha series. Akane is the granddaughter of the main protagonist in Onimusha 2 and is a highly skilled warrior who always fights for her clan's honor. Ibuki must represent this costume well, as she has a lot to live up to and fight for when she enters a battle dressed as Akane.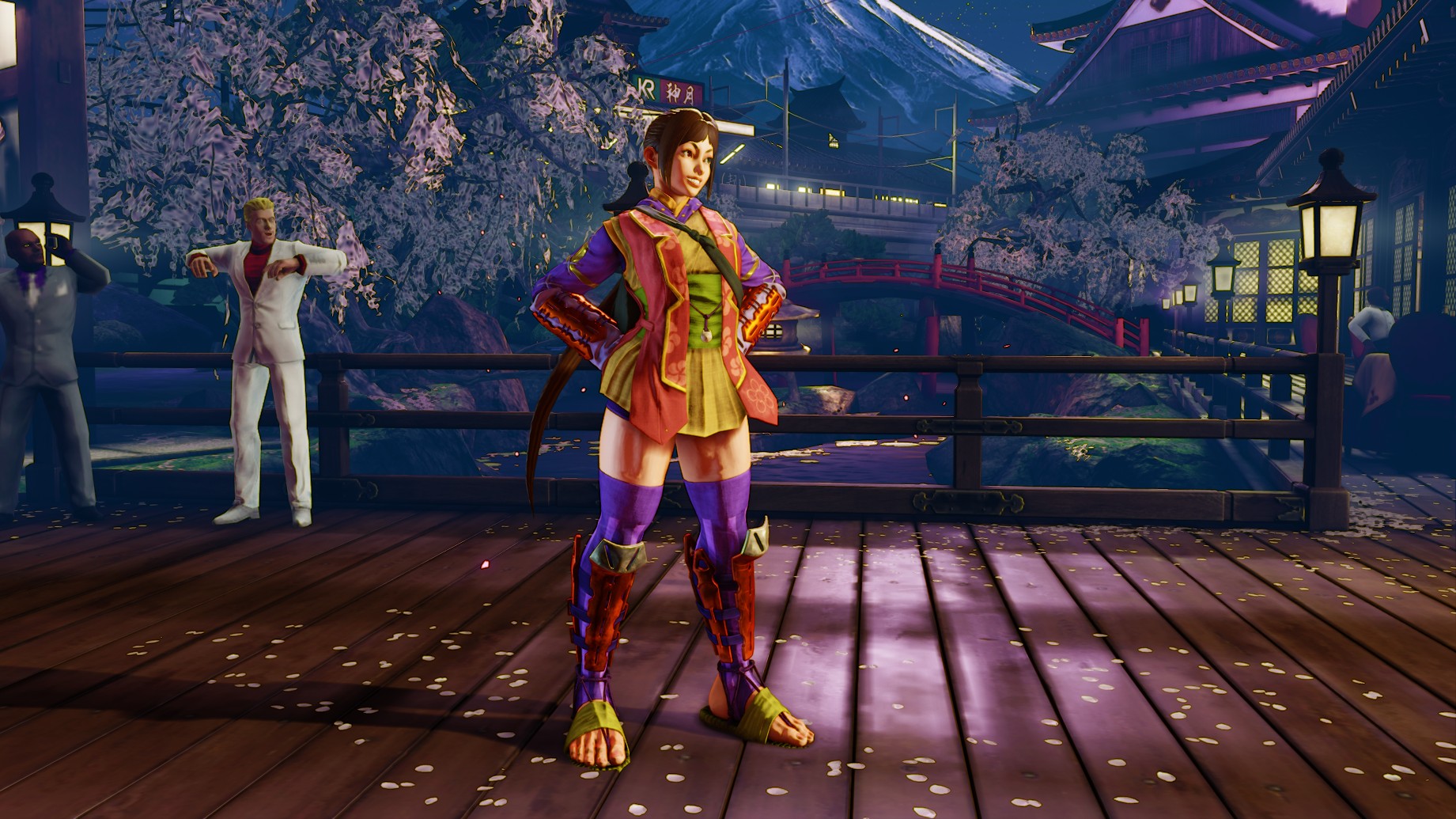 Akane's Onimusha-inspired costume for Ibuki will arrive in SFV's Extra Battle mode from August 2nd through August 30th.
COSTUME BUNDLES
And finally, beginning on June 25th, Capcom will offer an assortment of Street Fighter V: Arcade Edition costume bundles featuring some of the game's most popular characters. Please note, all of the listed prices and bundles below are for North America. For sales happening in other regions, please see their respective channels.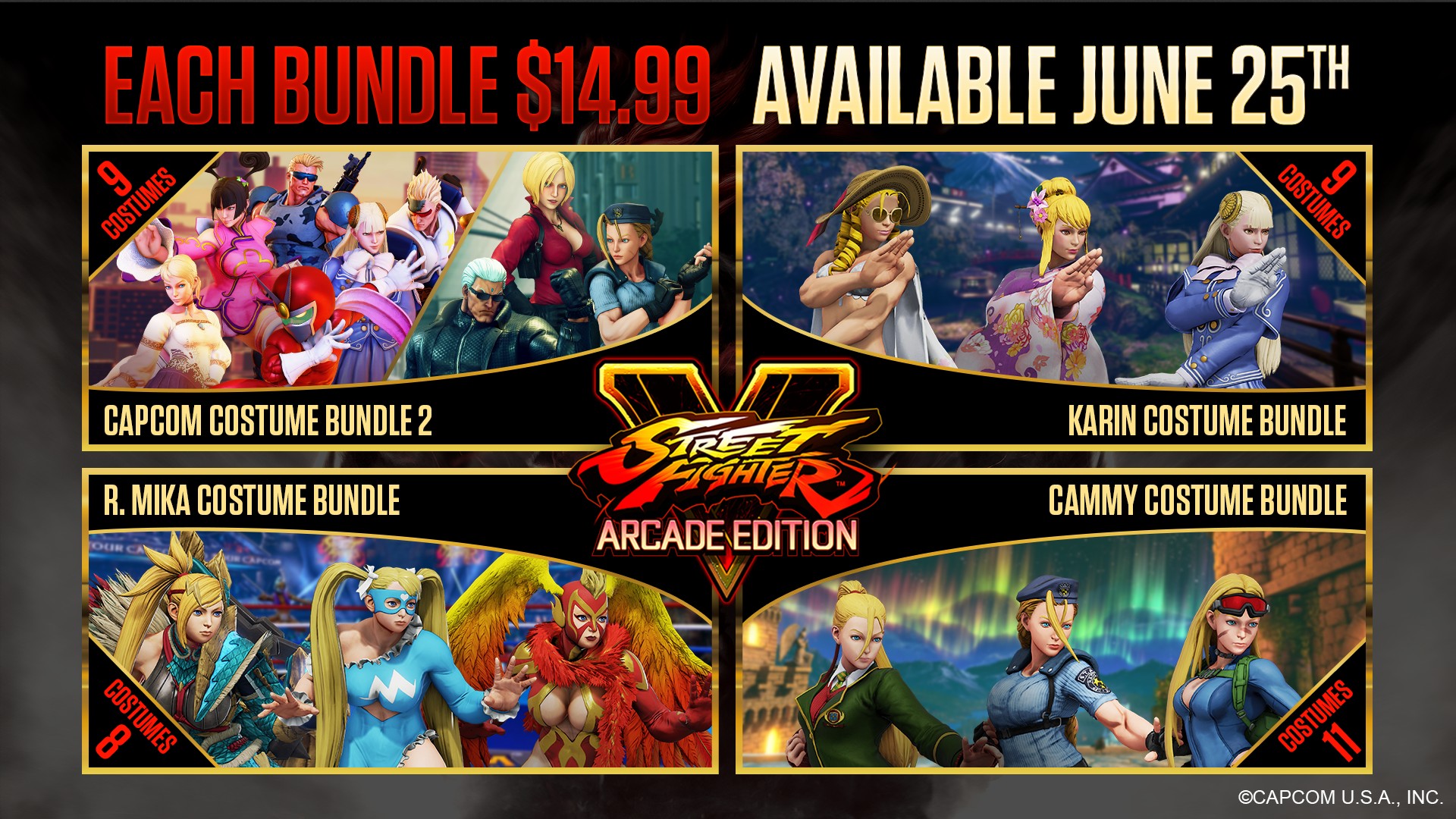 Capcom Costume Bundle 2 (9 costumes, plus all color variations, MSRP $14.99)

Karin – Ingrid
Rashid – Viewtiful Joe
Chun-Li – June
Nash – Captain Commando
Guile – Nameless Super Soldier
Cammy – Fiona
Cammy – Jill
Kolin – Ada
Urien – Wesker

Karin Costume Bundle (9 costumes, MSRP $14.99)
R. Mika Costume Bundle (8 costumes, MSRP $14.99)
Cammy Costume Bundle (11 costumes, MSRP $14.99)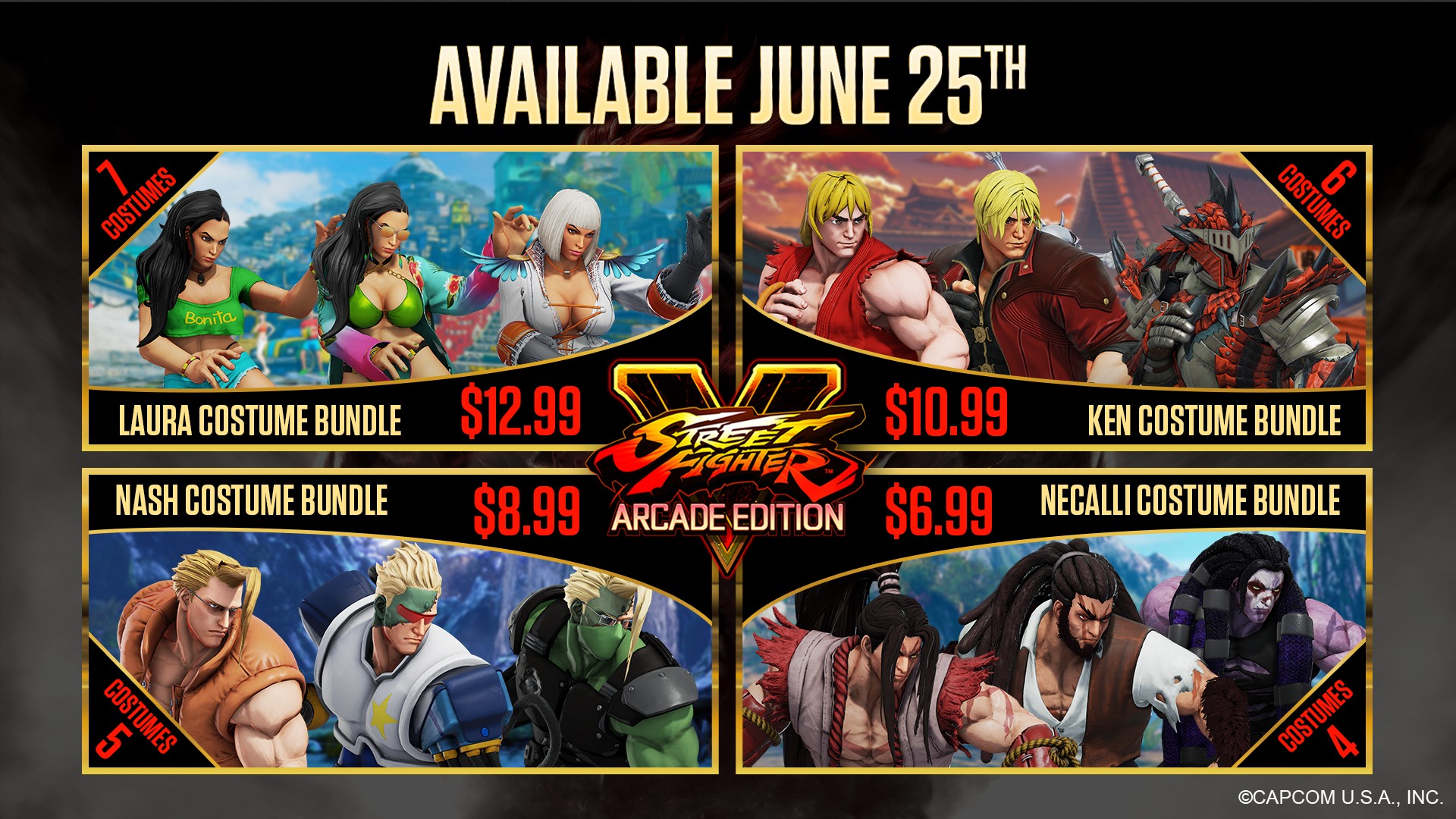 Laura Costume Bundle (7 costumes, MSRP $12.99)
Ken Costume Bundle (6 costumes, MSRP $10.99)
Nash Costume Bundle (5 costumes, MSRP $8.99)
Necalli Costume Bundle (4 costumes, MSRP $6.99)
That's all for now, but we'll be back again soon with more updates. Until then, stay cool and beat the heat with Street Fighter V: Arcade Edition!