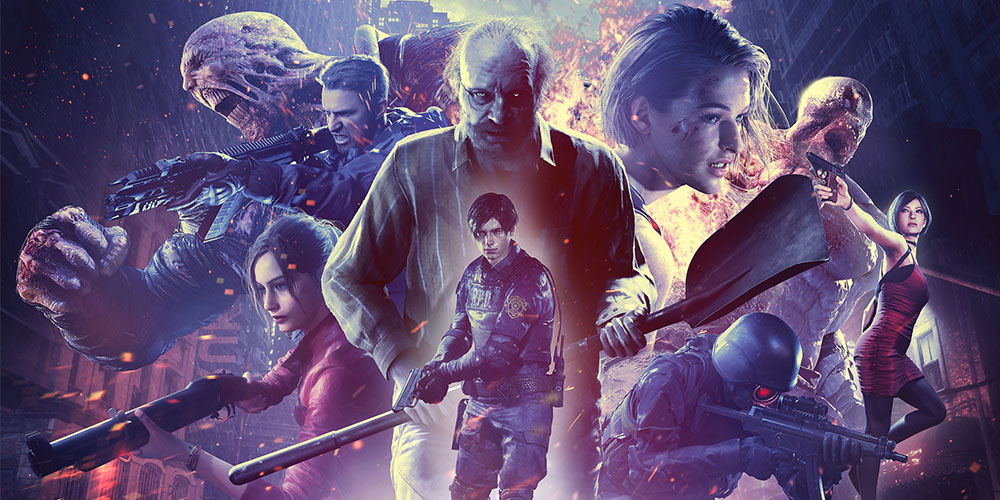 Wow, what a milestone! It's official – Resident Evil is 25 years old! That's old enough to rent a car without an additional fee, but more importantly, it's a huge landmark for our beloved survival horror franchise. Today is just the start of the celebration, too. We have lots to look forward to over the next few weeks! Here's just a slice of what to expect.
Resident Evil April Showcase
First up, we have a major announcement to kick things off: A new Resident Evil Showcase will be dropping this April! We don't want to spoil any surprises, so we'll leave it to all of you to speculate on what this upcoming presentation might contain. If you're itching for tasty new info, keep an eye on Resident Evil social channels on Facebook, Twitter, and Instagram for all the latest. If you need something to hold you over, why not watch, or re-watch, the January Showcase from earlier this year?
Resident Evil Re:Verse Open Beta
The high-octane action of Resident Evil Re:Verse is getting an open beta, as well! If you missed the closed beta or simply want to know what the game is all about, this new open beta will be coming to PlayStation 4, Xbox One, and Steam from April 7th to April 11th. If you still have a beta download from the closed beta test, all you need to do is download an automatic update when the beta goes live, and you're all set. If you're just jumping in, you can begin pre-loading the open beta starting on April 5th. Newcomers should also register a Capcom ID today so that you're all set for the open beta once it begins!
In Resident Evil Re:Verse you'll play as iconic Resident Evil characters, including Chris and Claire Redfield, Jill Valentine, Ada Wong, and Hunk as they clash in multiplayer battles across memorable Resident Evil locations. Take down opposing players with your chosen character's unique weapons and skills to earn points, and string together takedowns to build up your point score – but beware that you'll have a target on your back as a result! Being defeated in combat is not the end, however. Whenever you're taken down, you'll rise up again as a bioweapon with powerful new abilities. Based on how many vials of virus samples you managed to collect in human form, you'll transform into some of the Resident Evil franchise's most memorable enemies. Welcome other players to the family as Jack Baker, or hunt down a few S.T.A.R.S. team members as the hulking Nemesis. If you're skilled – and lucky – enough, you can take revenge on the player who took you out!
The open beta is completely free to download and play, and a purchase of Resident Evil Village will entitle you to download Resident Evil Re:Verse once it's available. Be sure to check out the open beta while it's live and get in on the action!
Resident Evil Village and Resident Evil 7 biohazard Gold Edition come to Stadia
We're also happy to confirm that Resident Evil Village will be launching on Stadia day and date with other platforms on May 7th, 2021! Pre-orders are available now, so pre-order today and be ready to play the second that the game launches.
You'll also be able to see how Ethan's adventure into horror started with his struggles against the Baker family, too. Resident Evil 7 biohazard Gold Edition is also coming to Stadia, and will be available for free with Stadia Pro beginning on April 1st, or as a stand-alone purchase. With both the original Resident Evil 7 biohazard and plenty of extra content included, it's perfect for holding you over until the launch of Resident Evil Village.
***
While today marks the day the original Resident Evil launched in Japan back in 1996, this is just the start of the celebration, and, on behalf of everyone at Capcom, I'd like to say thank you to all fans of Resident Evil the world over. The franchise wouldn't be what it is today without your support! What started out as a single mysterious incident in the Arklay Mountains has since seen a myriad of games that showcase stories of survival, horror, and, occasionally, hope. Stories of dread unfolding in nearby Raccoon City. A tale of survival and sibling bonds in far-off, isolated research facilities. Sinister plots involving the president's daughter, complete with a suplex or two. Globe-trotting adventures in Africa, China, the United States, and beyond. Complete. Global. Saturation. A ship like a floating mansion and a city on the sea wiped off the map. Punching boulders in volcanoes. Twisted experiments in fear. A story of family tragedy in Dulvey, Louisiana. A warm welcome to the family. No matter where you started with Resident Evil, we hope you're looking forward to what comes next.
We have a whole lot more planned on top of all the activities above, so make sure you're locked in to the Resident Evil Facebook, Twitter, and Instagram pages for all the latest. We've got more surprises for Resident Evil Village in store that you won't want to miss at the Resident Evil Showcase, so keep an eye on our social channels and be ready to mark your calendar, set an alarm on your phone, and take the day off this April – you won't want to miss a second of the latest Showcase!
As a reminder, Resident Evil Village is coming to PlayStation 5, PlayStation 4, Xbox Series X|S, Xbox One, Steam, and Stadia on May 7th, 2021! As a reminder, PlayStation 4 purchases will be eligible for a free digital upgrade to the PlayStation 5 version of the game in North America, and Xbox One purchases will support Smart Delivery so you can play the game on Xbox Series X|S at no additional cost, as well.