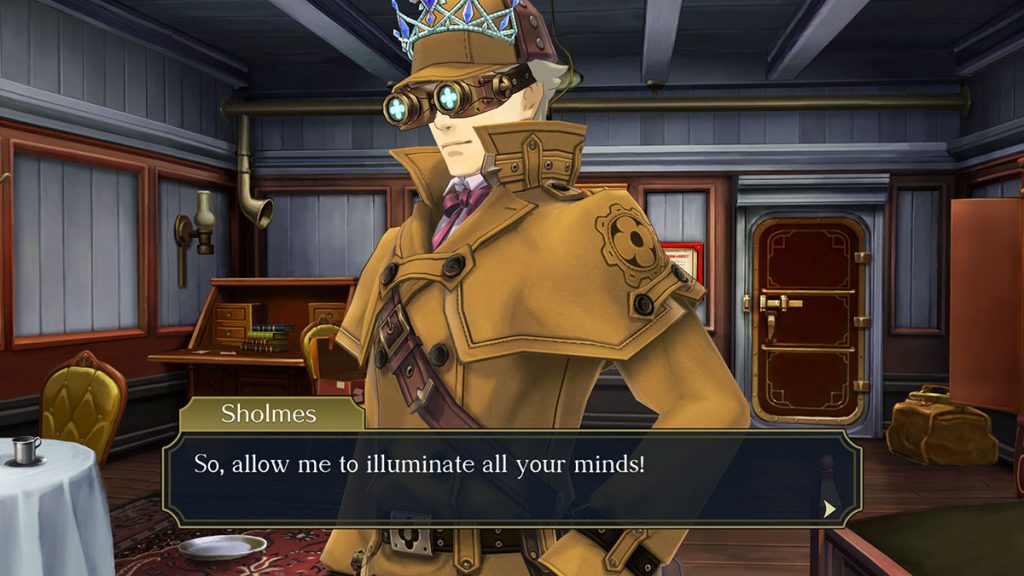 Hi Everyone! I'm Janet Hsu, the English text writer of The Great Ace Attorney series, and one of the scripters of the Nintendo 3DS version of The Great Ace Attorney 2: Resolve… No, wait, that's not right…
*ahem* Let's try that again.
I'm Janet Hsu, and this time around, I'm the Localization Director of The Great Ace Attorney Chronicles. (Yes, there we go!) Welcome to the first in a series of behind-the-scenes articles about both games in The Great Ace Attorney duology – The Great Ace Attorney: Adventures and The Great Ace Attorney 2: Resolve. As this is a new game outside of Japan, I suppose it's a bit strange to introduce 'new features', but even for long-time fans of the series, there are a few firsts in here to help make your experience even more enjoyable. And I should know – I've worked on every iteration of this game and in both languages, after all!
So, let's strap on our goggles and take a look at what awaits in The Great Ace Attorney Chronicles!
Title Screen
First up, the title screen! This is what it will look like if you have a save file.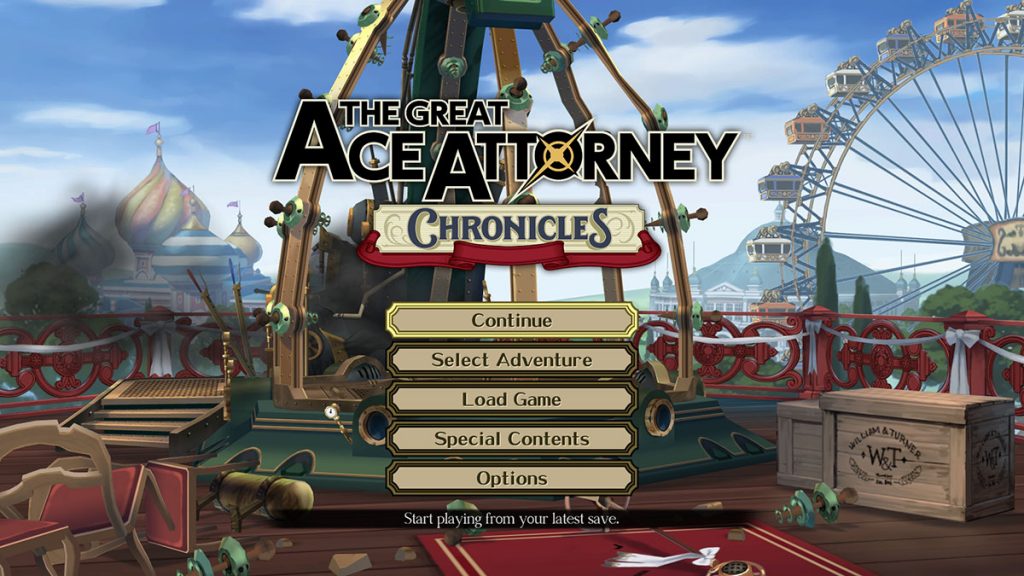 While it might look like your typical title screen, there are actually a few little features to make your life easier. Among these are the 'Continue', 'Select Adventure', and 'Load Game' selections. While 'Continue' and 'Load Game' seem to be the same thing at first glance, there is one key difference. 'Continue' automatically loads your latest save file, allowing you to effortlessly slip right back into the game from where you'd left off. Meanwhile, 'Load Game' allows you to manually choose which save data you'd like to start from. As for 'Select Adventure', this allows you to pick the game and episode – down to the chapter – from which to play. You can even do this the very first time you turn on the game! With these three options, it's easier than ever to start playing from where you intend.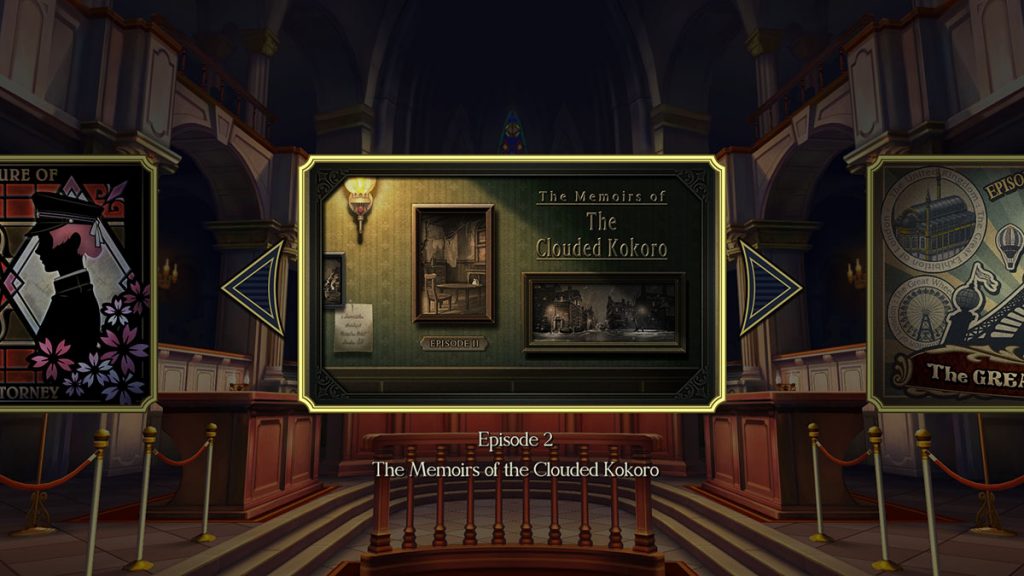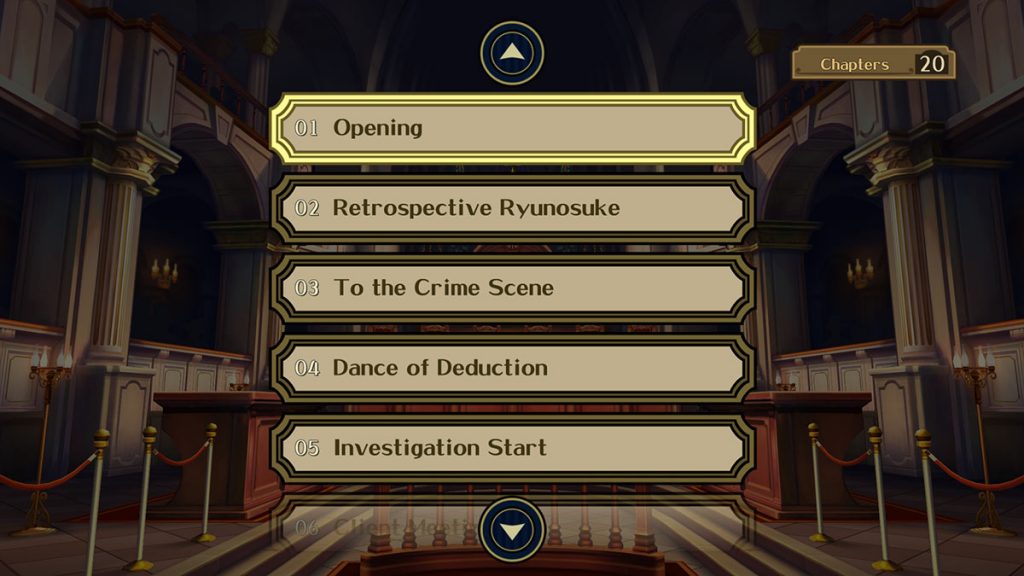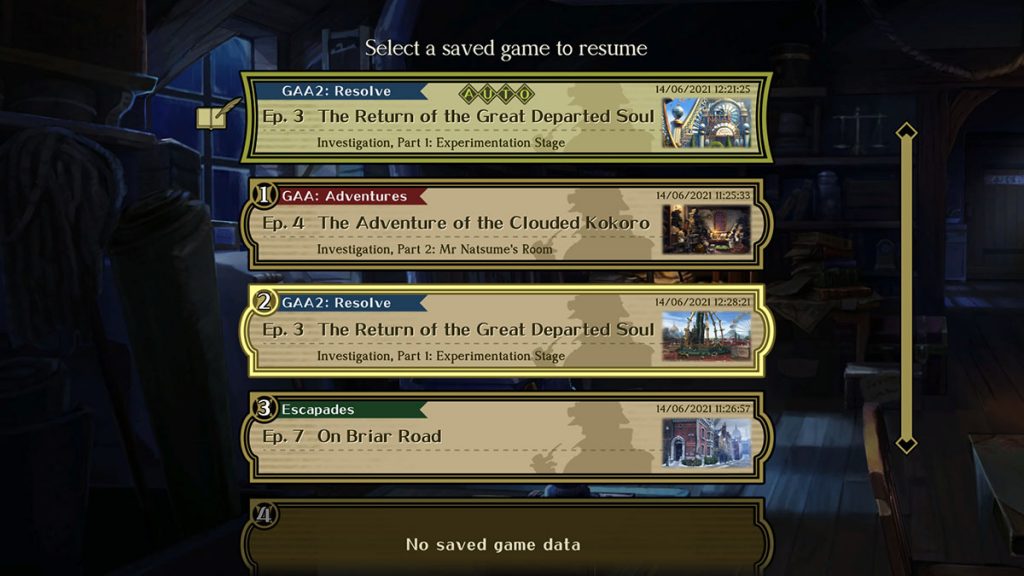 Now, eagle-eyed fans may have already spotted something else that's new to this series in that Load Game screenshot above – an autosave slot! Yes, this game features an autosave function, so even if you forget to save (and you can save anywhere in the game, including the Escapades mini-episodes), there shouldn't be too much gnashing of teeth involved…
'Wait, what are the Escapades, ' you ask? Well, they happen to be a part of the next stop on our tour!
From the Title screen, a plethora of Special Contents are available for you to peruse.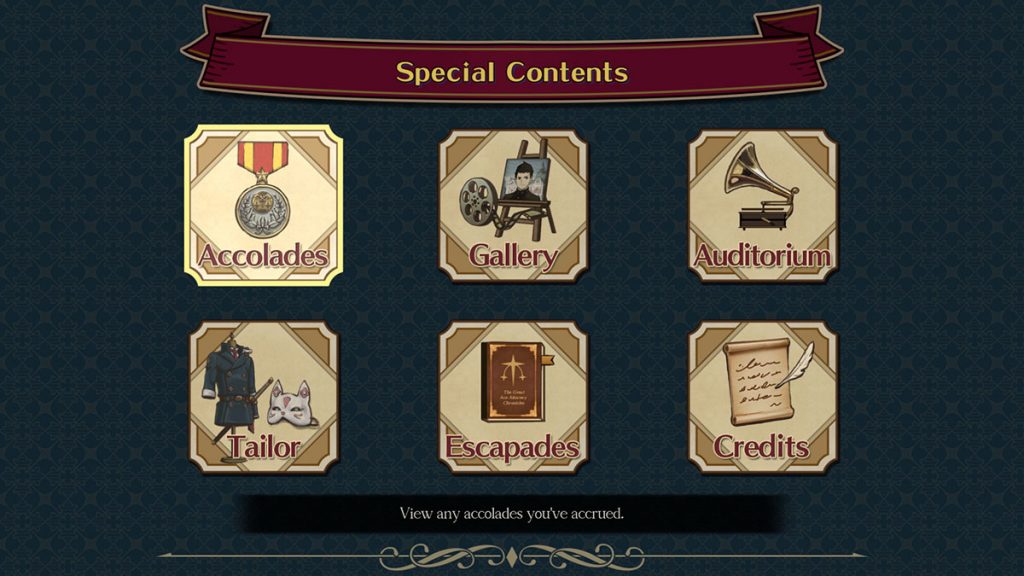 There's the Gallery and the Auditorium, where you can view and listen to the gorgeous art and music of The Great Ace Attorney, but that's not all. You can also sneak a peek at the various accolades we're challenging you to collect, apply special costumes to Ryunosuke, Susato, and Sholmes, and play the 8 slice-of-life 'Escapades' stories.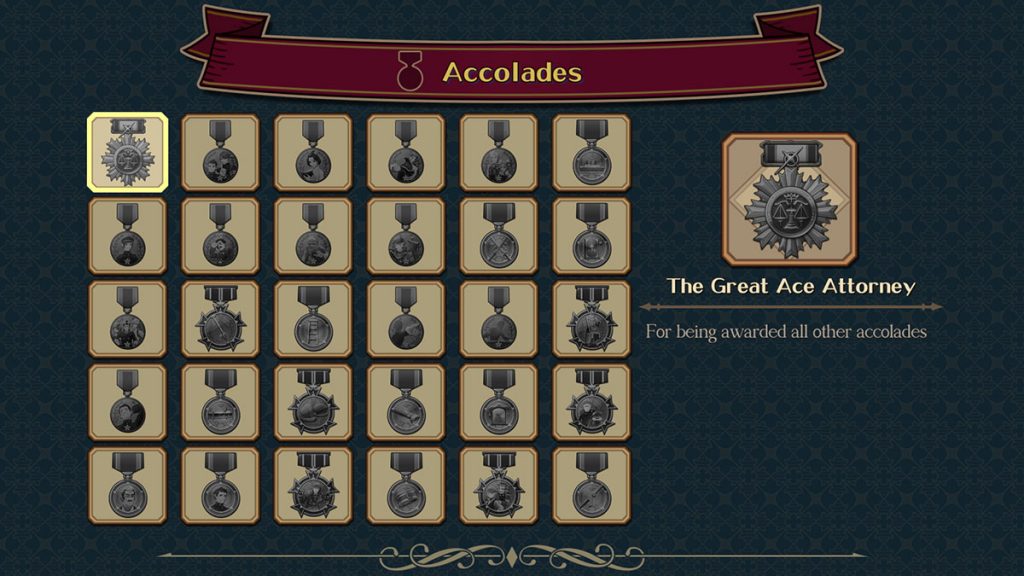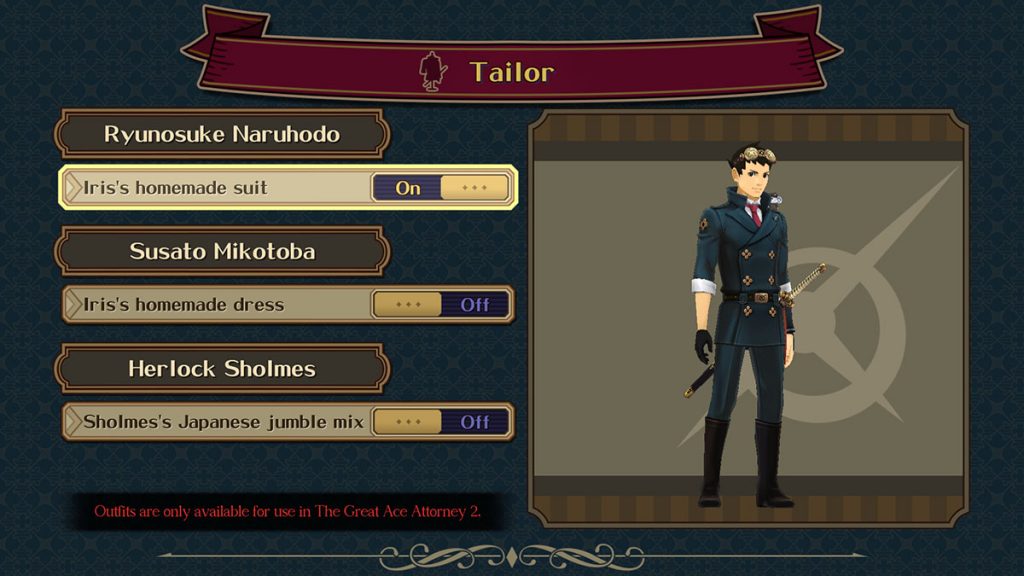 But fair warning: if you're the type to avoid spoilers, then maybe you should hold off on the Gallery and the Auditorium until after you've finished the two main games. The Escapades also contain small spoilers for the first game, The Great Ace Attorney: Adventures, so proceed with caution.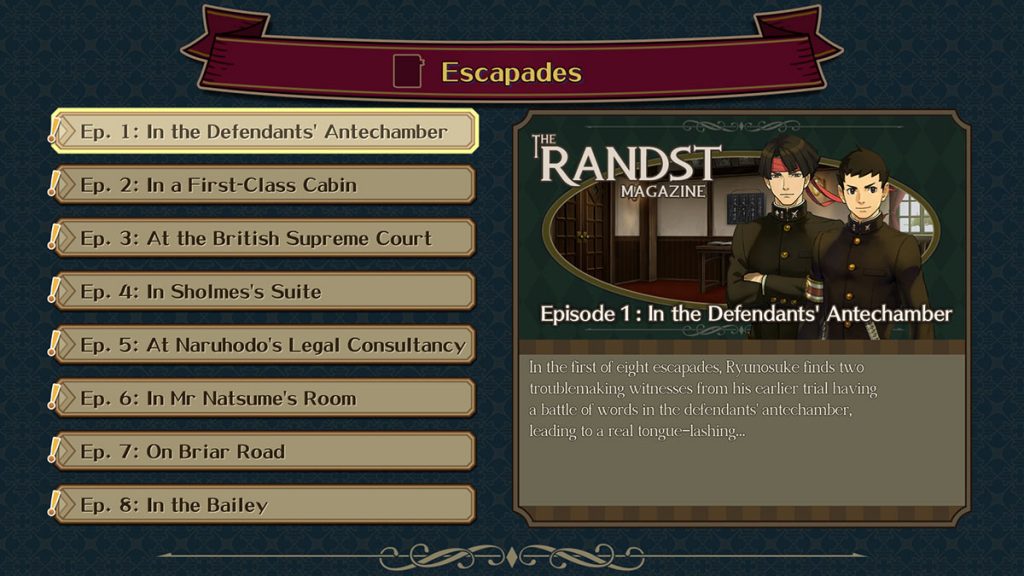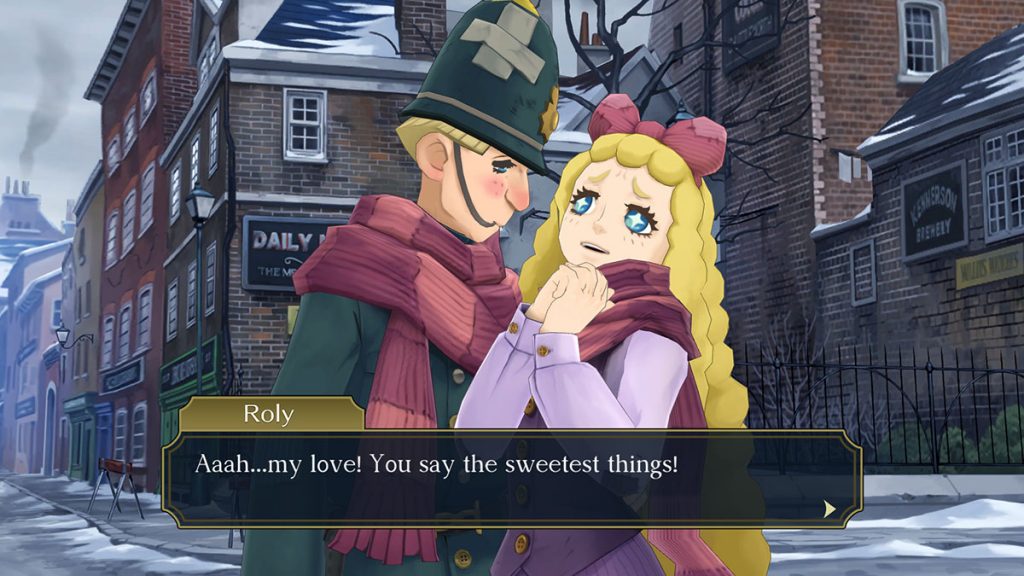 Options
Next, let's look at some options.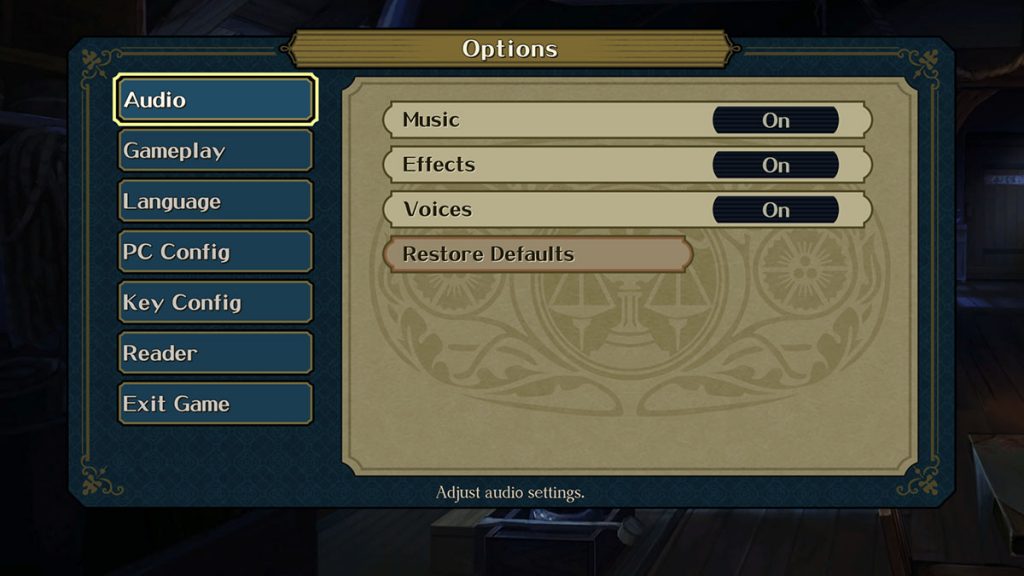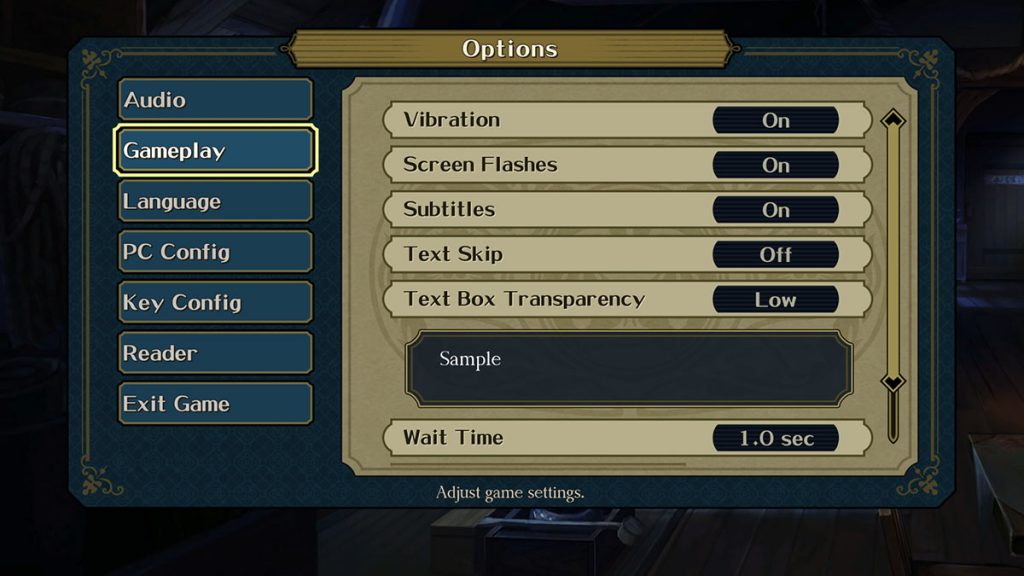 As you can see, we've added a number of options to this version including individual on/off settings for things like background music, sound effects, and voices. We've also got options for controller vibrations, screen flashes, and even an option to set how long the game waits between each line of dialogue in Autoplay and Story Mode.
By the way, you're not limited to using just your controller – you can play using the touch screen on the Nintendo Switch version and your mouse in Steam by interacting with the key guide that appears in the bottom right of the screen in-game.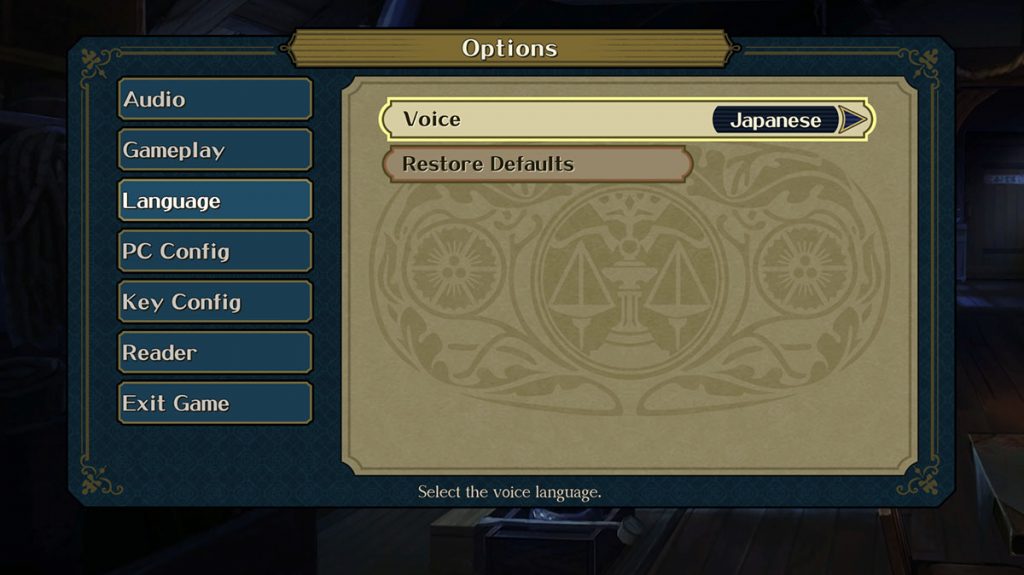 When it comes to the voice language for cutscenes and interjections, you can change them at any time through the Title screen's Options menu. Mix and match to experience the game in a way that's authentic to you. Play with Japanese voices during the episodes set in Japan and English when the story moves to London, or stick with the amazing English dub all the way through – it's completely up to you.
Now for some PC specific settings for Steam players.
In addition to key configuration options, I'm pleased to announce that 'The Great Ace Attorney Chronicles' supports 4K monitors. I hope you'll enjoy the game in all its glorious beauty…if you can handle it!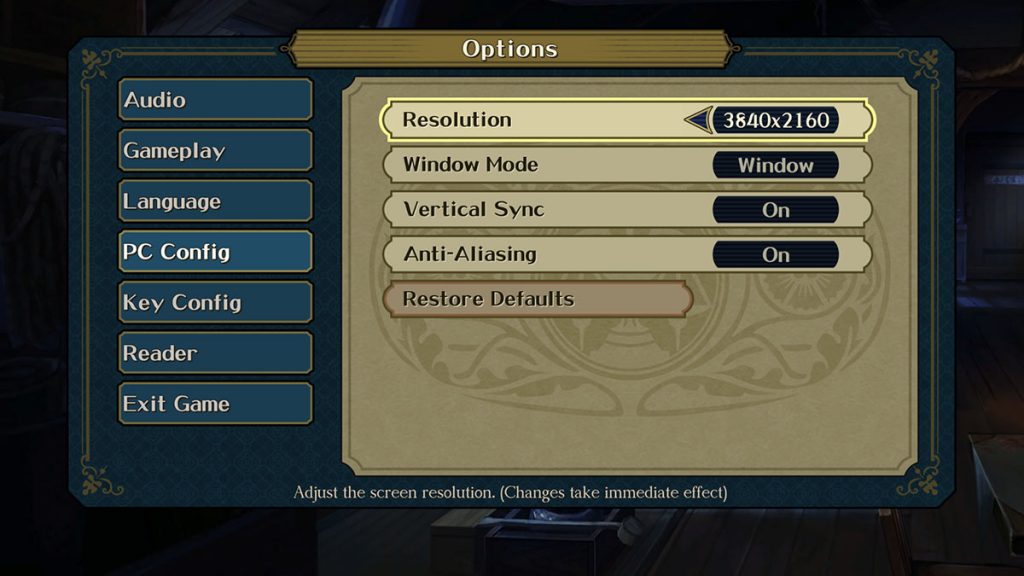 In addition, we've created a bunch of goodies exclusive to Steam including trading cards and badges, as well as emoticons, profile and mini-profile backgrounds, and animated avatars, avatar frames, and animated stickers that will be available for purchase in the Steam Points Shop.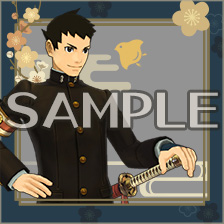 Autoplay and Story Mode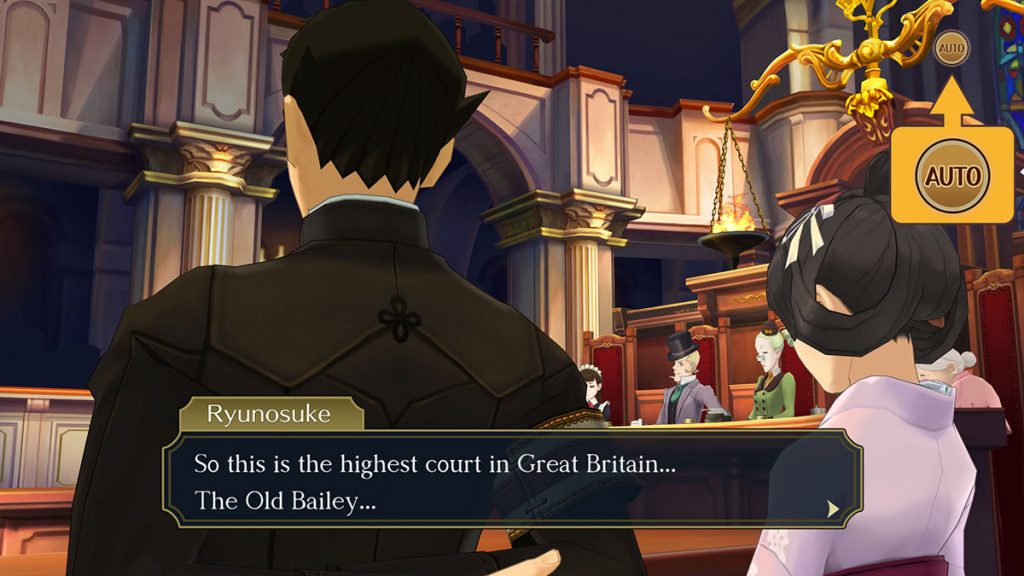 Many fans of the visual novel genre will already be familiar with the Autoplay feature, wherein the game will advance the text for you until you come to the end of a conversation or have to make a choice, but we've also created a clever little ''Story Mode" for people who just want to sit back and enjoy the story. Story Mode will do everything in the game for you, but beware! If you're out to collect all the accolades, you'll have to be a little clever yourself and consider carefully when and how to use Story Mode; there are certain accolades you won't be able to obtain during that one playthrough if you do use it. For example, turn on Story Mode even once, and you won't be able to obtain the accolade for clearing that episode.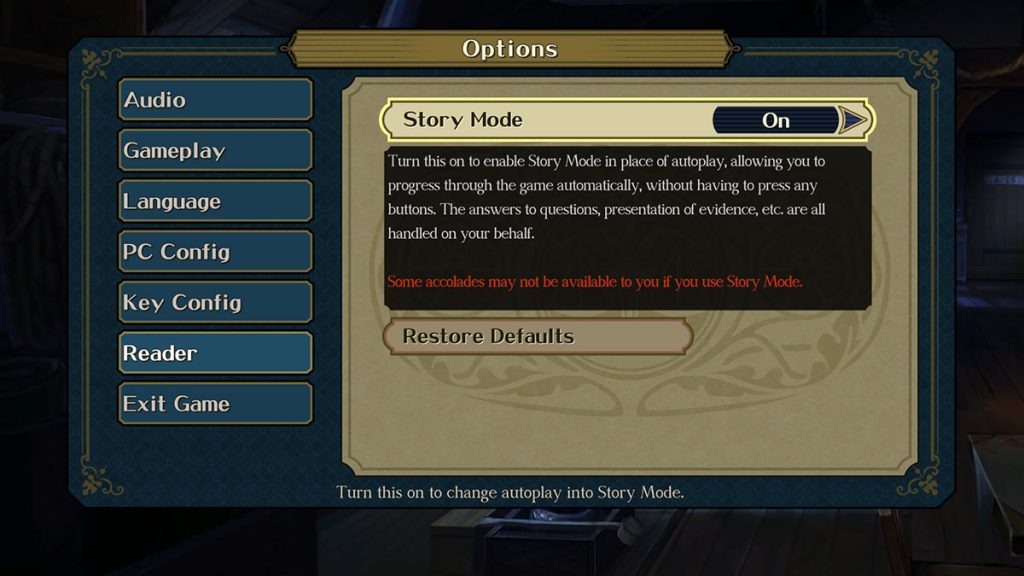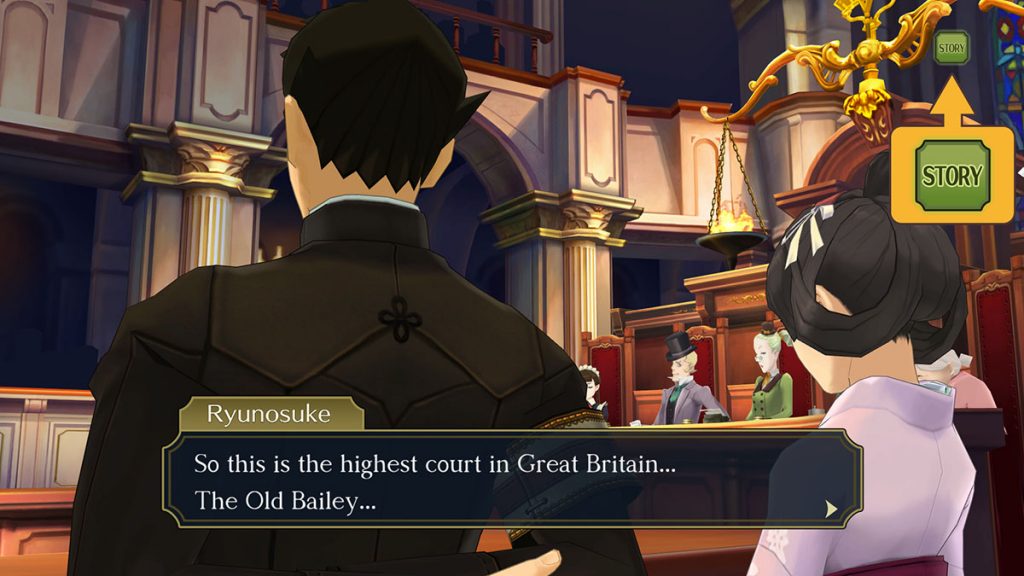 That said, the game is set to Autoplay by default, so you can't accidentally turn Story Mode on. Rather, you'll need to go to the Options screen and then 'Reader' to manually turn Autoplay Mode into Story Mode. What a relief, right?
And that's it in a nutshell! I hope you've enjoyed your first look under the hood, but there's plenty more to discover. Join me next time on a deep dive about the localization of The Great Ace Attorney Chronicles.
Until then!