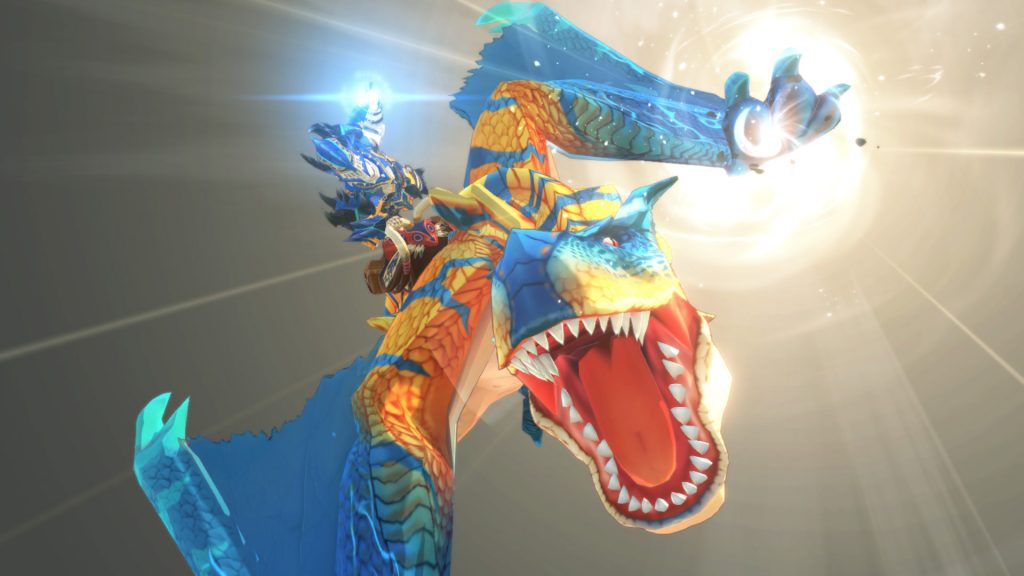 Monster Hunter Stories 2 is so close to releasing, we can almost smell it! Ahead of next week's launch, we have a carton-full of egg-citing news that just hatched today: a new trailer, info on post-launch updates, a co-op gameplay video, and more!
If you didn't catch our live Monster Hunter Stories 2 Special Pre-Launch Program and want to watch it, here's the archive video recording. It's a 40-minute show, and there's a really fun behind-the-scenes talk between producer Ryozo Tsujimoto and director Kenji Oguro; I definitely recommend checking it out:
Watch the whole thing yet? Cool, now you're fully caught up. If you want, you can "make like a tree and leave" anytime. Before you go though, we also have a survey for this event, so if you have a few minutes to spare, please fill it out and let us know your thoughts. Click here to start the survey.
But if you want to see just a bit more, or simply like to read the news instead, stick around for a breakdown of the highlights.
Opening Theme Song
We opened the live show with what we thought to be the most fitting opening segment: the opening theme song of the game: "Scarlet Land Lit Up By The Heavens". In the live stream, we played the Japanese version, but we also uploaded the English version to our YouTube channel.
Check out the video description for the lyrics, or just sing along with the subtitles.
---
Launch Trailer
The next big reveal was our launch trailer. Can you spot any exciting Monsties you'd want to add to your party? I can see a pretty strong Elder Dragon near the end there…
At the end of the trailer, you'll also see a quick sizzle reel of the upcoming post-launch content we have planned, which happens to be our next topic so… maybe pause the video once the game logo comes up near the end?
---
Post-Launch Content
Alright, there's a lot to cover here, so let's get to it. And to help visualize things, here's our Post-Launch Content Roadmap calendar: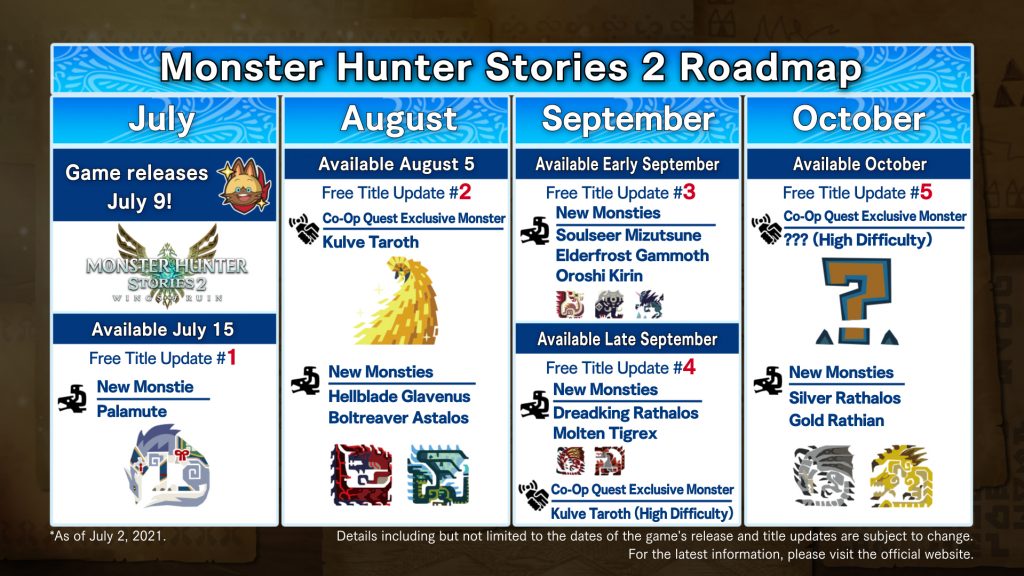 Just one week after launch, on July 15th, the Palamute from Monster Hunter Rise will be joining in as a Monstie. This trusty companion will join you in battle with its signature Canyne Kamura Blade and Kamura Armor. And, of course, you can ride it outside of battle too, just like you would in MH Rise.
On August 5th, our second update will herald the arrival of Kulve Taroth, the Mother Goddess of Gold, from Monster Hunter: World. Much like her origins as a Siege Quest in MH: World, Kulve Taroth will be the target of a co-op Quest in MH Stories 2. You won't be able to raise her as Monstie, but victory against her will eventually get you some dazzling and powerful equipment.
We know you like to collect and raise Monsties, though, so in that same update, you'll be able to chase the Hellblade Glavenus and Boltreaver Astalos, returning Deviant Monsters from Monster Hunter Generations Ultimate.
In September, we're scheduled to get two more updates. One coming early in the month, featuring more Deviant Monsters: Soulseer Mizutsune and Elderfrost Gammoth, in addition to the subspecies Oroshi Kirin. And the other update, coming later in the month, will up the stakes of Kulve Taroth quests by adding the High Difficulty version. That same update will also add the deviant Dreadking Rathalos and the rare Molten Tigrex.
And in October, the royal couple Silver Rathalos and Gold Rathian will join in as Monsties! There's also one more co-op quest added, to take on a mysterious High Difficulty ??? Monster… get ready!
That's quite a bit to chew on for now, and if you want to catch a glimpse of these updates in action, go back to our Launch Trailer and watch it to the end.
---
Co-Op Gameplay
In the post-launch content section, I mentioned "co-op quests" a bunch of times… wanna see what that's all about? Pawsome! We got you covered then. Socks and I got our hands on some co-op gameplay footage from our teams in Japan and talked about what's going on. In this co-op quest, our Riders set out to hunt a Tigrex (pronounced tee-greks) as they look for Palamute eggs (Yes, you read that right). Of course, that quest won't be available until July 15th (see roadmap above), but there will be other co-op quests for you to take on in the base game.
Quick note about the Tickets that come up in the beginning: Only the host of the quest needs to use them in order to take on the quest. If you're simply joining your questing partners, you can save your tickets for when it's your turn to host.
---
Wrapping Up
That's pretty much all we've got for today. Thanks for joining us in this journey. We hope you enjoyed all the news, and we're looking forward to seeing all of you set out on your own grand adventures next week when Monster Hunter Stories 2 launches on Nintendo Switch and PC via Steam on July 9th!