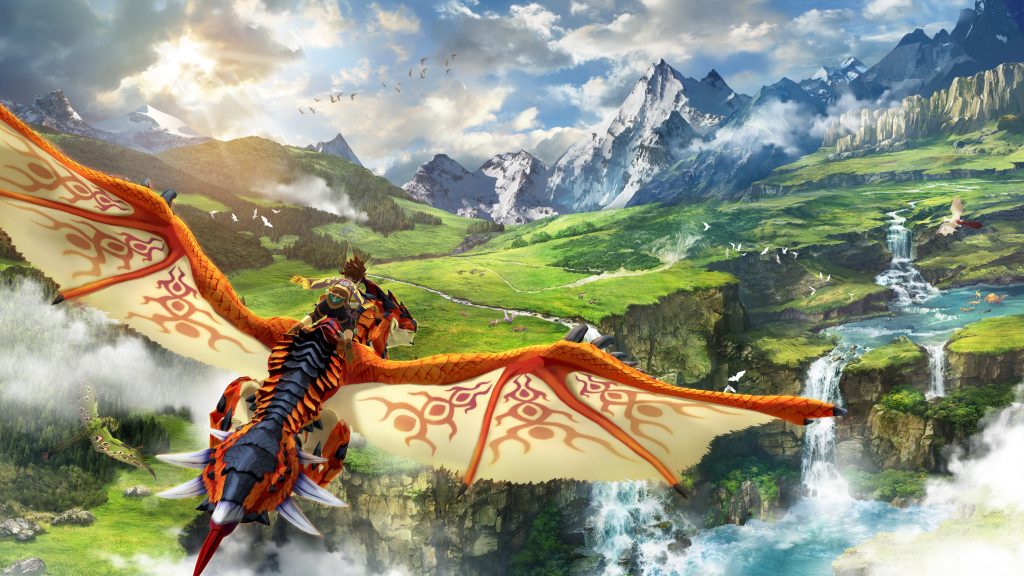 Saddle up and get ready to embark on an unforgettable adventure! Your journey in Monster Hunter Stories 2: Wings of Ruin starts today on Nintendo Switch and PC!
Here's everything you need to know to make the most out of your life as a Monster Rider:
Trial Version Save Data Progress
So first up, technically… you could've started your journey a few days ago with the Trial Version on Nintendo Switch, and have your progress carry over to the full game. So let's start there.
Once you load up the full game for the first time, just select "Transfer from the Demo" and you should be good to go! Your story progress, Monsties, gear, etc. should all be there with you!
A couple of important things to note:
Some options settings (camera, language, etc.) may not transfer over, so please double-check those once you load into the full game.
On Nintendo Switch, please make sure you have downloaded the Trial Version and full game from the same eShop region to ensure save data compatibility.
On PC (Steam), the

Trial Version just launched today

; it works the same way as the Nintendo Switch version.
---
Game Size and Installation
Now let's talk some important logistics for the full game.
On Nintendo Switch, if you get the physical version of the game, you can actually start playing straight away. Just pop in the cartridge and set out on your grand adventure. If you're getting the digital version, however, you'll need approximately 13.5GB of free space to download and install the game.
There is also a Day-1 Patch of approximately 0.5GB (500MB) in size, so be sure to connect to the internet and download that as well.
On Steam / PC, the file size is approximately 28GB. And since we're talking PC, please be sure to review the Minimum Specs and Recommended Specs (both have been updated recently) on our Steam page.
Also: remember we have a hefty number of free post-launch content updates planned for Monster Hunter Stories 2, so keep some extra room open for them. If you wanna know what's in the works, check out our Special Pre-Launch Program blog.
---
Launch Starter Pack
Alright! So you've got the game installed, got your Trial Version progress transferred over and are ready to get started in the full game. How about we give you a little extra boost?
To celebrate the game's launch, we've prepared a handy Item Pack that you can get for free, just by talking to the helpful Felyne NPC, named Connecticat, and selecting "Downloadable Content." This Item Pack can only be claimed once per character and contains 10 Potions, 3 Gathering Charms, 3 Lucky Charms and 10 Mahana Dunkers! Pawsome!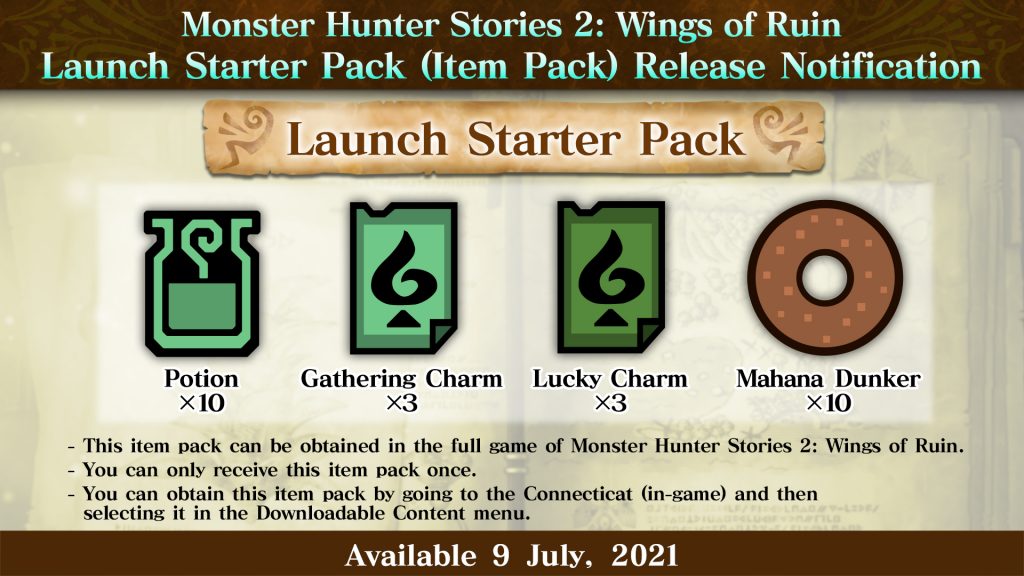 ---
Deluxe Edition and DLC
By the way, while you're talking to your friendly Connecticat, you'll see our latest selection of DLC items as well, including the Deluxe Kit contents. If you've purchased the Deluxe Edition or any other DLC, that's where you'll go to claim it.
---
amiibo Crossover Content
If you've got the Nintendo Switch version of Monster Hunter Stories 2 and happen to have any of the Monster Hunter Rise amiibo, you're in luck! Just scan any of those amiibo and you'll get a sweet sticker set featuring Hunters, Palicoes and Palamutes from MH Rise. You can use these to communicate with your Co-Op partners and coordinate strategies in battle with a fun Kamura flair to them.
And as you'll see in the video below, you can also get MH Stories 2 themed stickers in MH Rise if you scan any of the MH Stories 2 amiibo.
---
Monster Hunter Rise Crossover Content
Speaking of Kamura, if you have save data of Monster Hunter Rise and Monster Hunter Stories 2 in the same Nintendo Switch, you'll get a special bonus layered armor in each game. In MH Stories 2, you'll get the stylish Kamura Garb, and in MH Rise, you'll get the traditional Rider Armor. Both of these look really good in each game, and you can even customize their key colors to your liking!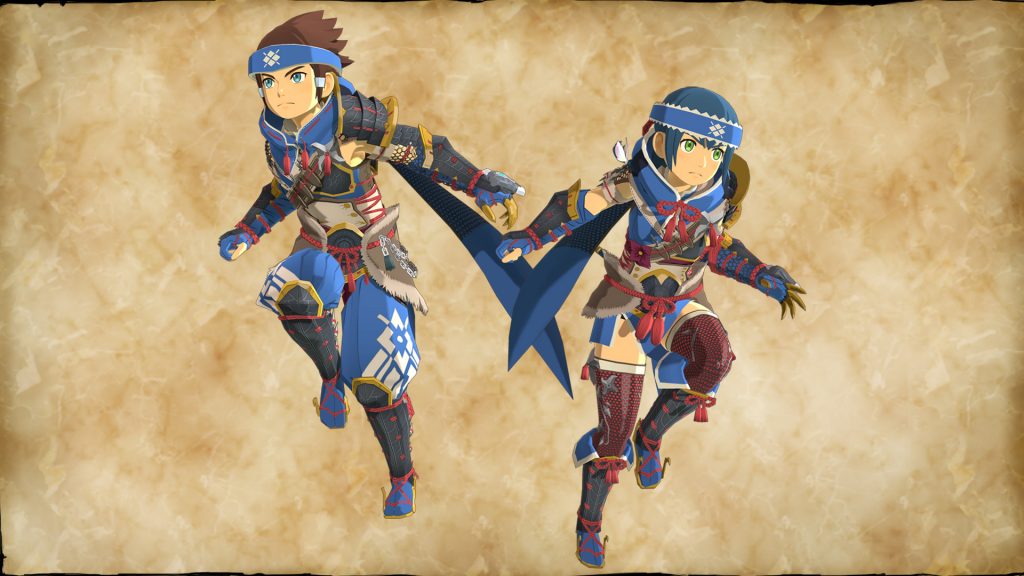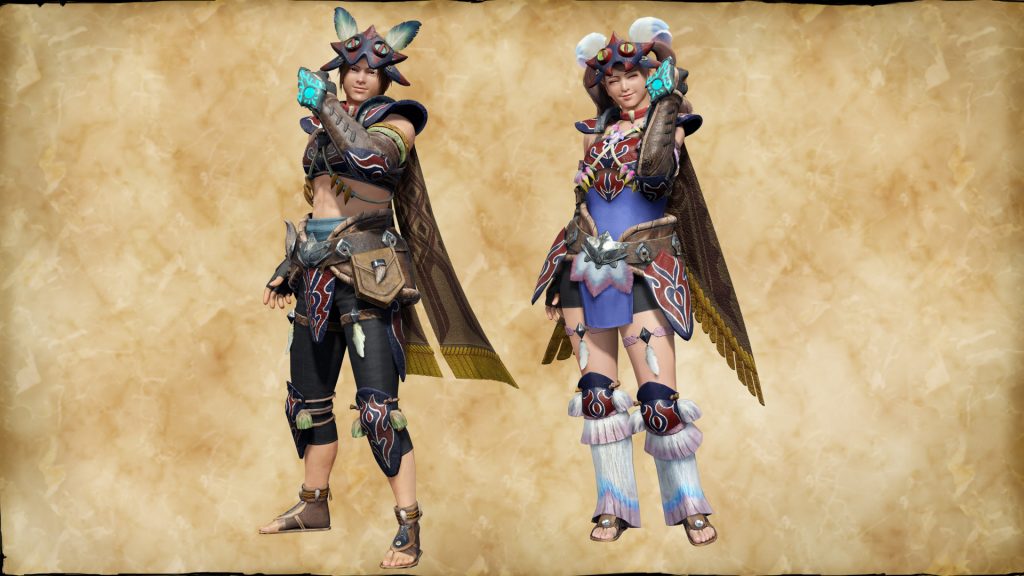 Camera Options
We've heard feedback surrounding camera behavior in the Trial Version and wanted to suggest trying to adjust options within the Camera menu. You'll find it under the "Options Menu," then "Camera."
What is Monster Hunter Stories 2 anyway?
Hey! I see you out there, reading this as your first blog on Monster Hunter Stories 2. It's cool; I got you covered! Here's a quick summary of what this game is all about:
Monster Hunter Stories 2 is a story-driven RPG set in the world of Monster Hunter, where you play as a Rider (not a Hunter!) who can form bonds with monsters (called Monsties) and take them with you on your adventure and into battle. The gameplay looks very different from traditional Monster Hunter games, as it takes the form of turn-based combat. However, the Monster Hunter roots are still very much present throughout: you have to learn monsters' behaviors, tendencies and weaknesses to come out victorious. It's the perfect game if you're brand new to Monster Hunter, or a series fan looking to dive deeper into the world from a new perspective.
Sounds good so far? Check out our game trailers below to really soak it all in, and if you want to take the game for a spin, we have a free Trial Version waiting for you on Nintendo Switch and PC.
That's all for now. At this point, you should be ready to go and uncover the mysteries behind Razewing Ratha and the "wings of ruin!" Best of luck to all of you, young Riders!
Monster Hunter Stories 2: Wings of Ruin is available now on Nintendo Switch and PC, via Steam. Happy Egg Hunting!