Hot on the heels of our 30th Anniversary stream announcing Mega Man 11 and the return of Capcom's gaming icon, we've teamed up with Game Informer magazine to offer a glimpse into the near future of 2018. GI has exclusive behind-the-scenes insights on the development of Mega Man 11, and they'll be featuring stories about the resurrection of the Blue Bomber all month long.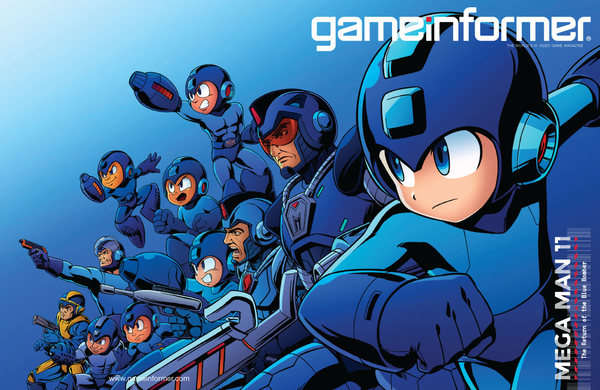 Game Informer traveled to Capcom's headquarters in Osaka, Japan to chat with the development team of Mega Man 11 about a variety of topics. They'll have interviews about bringing back a legend, stories of their hands-on time with two full stages from Mega Man 11, and a look back on 30 years of the Blue Bomber's adventures with the dev team. To get you started, check out this article highlighting eleven things Game Informer learned from playing Mega Man 11 !
The Game Informer team will have plenty to share over the next few days and weeks, so head over to the Game Informer Mega Man 11 hub to keep up with the greatest on Mega Man's latest!
What do you think of the issue's cover art? Can you identify all the Mega Men?