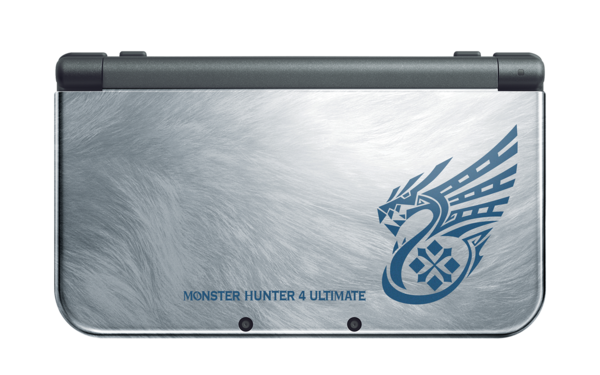 Big news, hunters! Today we are finally granting your top three Monster Hunter 4 Ultimate requests: the release date, a demo and a MH4U limited edition New Nintendo 3DS XL !
First of all, let's just get this out there: Monster Hunter 4 Ultimate will be available on Friday, February 13 th, 2015. Sorry to have kept you waiting so long for this bit of news, but I bet it's earlier than you were expecting, right? =)
And to help with the wait, we're pleased to announce that a special demo version of the game is coming soon including:
– Tutorial on basics and weapon controls;
– All 14 weapon classes;
– 3 unique monsters;
– Single player plus Local and Online Multiplayer options!
Now, the one thing we, Monster Hunter fans, have been triple-carting to see for a very long time… a limited edition Monster Hunter themed New Nintendo 3DS XL bundle!
This bundle features a slick design with an MH4U emblem on a classy silver background. Simply beautiful! And because it's a New Nintendo 3DS XL, it also features additional ZL and ZR buttons, which can be mapped in a variety of ways, as well as the handy C-Stick , so you can have full camera control during intense hunts.
The bundle will also include a digital version of Monster Hunter 4 Ultimate pre-installed so you can start hunting immediately after purchase!
So I know you're excited but please sit down again so we can recap the news:
1) Release date: February 13 th , 2015
2) Demo: beginner tutorials, Single plus Local and Online Multiplayer options (coming soon!)
3) MH4U New Nintendo 3DS XL bundle: also available on Feb. 13 th , 2015 !
There's never been a better time to hop aboard the hype caravan!