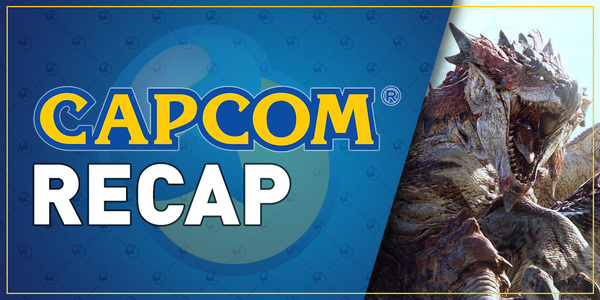 Press and fans go hands-on for the first time with Monster Hunter: World, Resident Evil characters put on proper sailing attire, Jedah shows off some killer combos , and more!

Game on the go with the Capcom Summer Sale in the Nintendo eShop
——————————

As the celebration of Street Fighter's 30 th anniversary continues, we've added four Street Fighter II dioramas from Big Boy Toys to our Capcom Store. Right now, you'll find Ryu, Ken, Chun-Li and Guile; all of them light up and feature sound effects straight from the classic fighting game series we all know and love.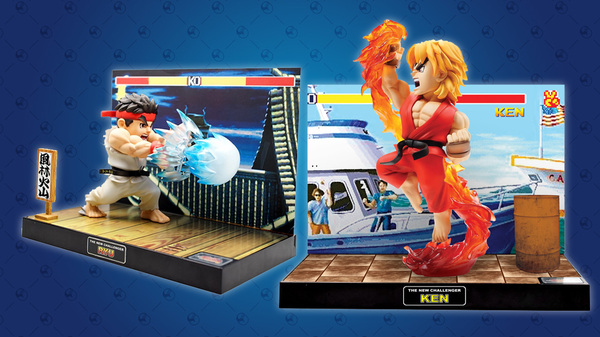 ——————————

[PAST]
[FUTURE]
UPDATE: Dead Rising 2 live stream had to be rescheduled; Street Fighter V live stream added.
All times listed are Pacific Time:
Tuesday , August 29th @ 3PM – Resident Evil Revelations
Wednesday , August 30th @ 3PM – Dead Rising 2
Thursday , August 31st @ 3PM – Street Fighter V
Remember to FOLLOW our Twitch channel to get email reminders whenever we go live.
——————————

Resident Evil 7 biohazard Dev Interviews: The Influence of Revelations
We've already delved into part 1 and part 2 of our character introduction series for Resident Evil Revelations, but once you've finished the game's story, there's plenty more to dive into with the game's highly replayable Raid Mode feature! There's tons of customization for weapons and unique costumes for some of your favorite characters that also modify their abilities, including their knife and melee attacks… Keep reading
——————————

Monster Hunter brought joy to fansat gamescom in Germany this week. Last week we released two featured videos, and this week, we showed live gameplay of the game's new Wildspire Waste ecosystem and hosted the first public playable demo of Monster Hunter: World. New players and veterans alike were excited to see for themselves what a current gen console Monster Hunter experience feels like. But hey, don't take my word for it; check out these gameplay sessions posted by our friends in the press below:
IGN – A Veteran and a Noob Take on Multiplayer
Polygon – Phil and Griffin Talk Monster Hunter: World
Game Informer – Hands-On Impressions of Monster Hunter: World
——————————

Yuri Araujo: And if you're in the mood for more deep dive videos, our YouTuber buddy Arekkz recorded breakdowns of some of the weapons and other new features. Check out his take on the Glider Mantle, one of my favorite new features:
Patrick Kulikowski: We've got a very cool remix of music from Resident Evil 4, Resident Evil 5, and Resident Evil: The Umbrella Chronicles, courtesy of our friends over at OverClocked ReMix . Remixers David L. Puga and Mak Eightman wove Jun Fukuda and Masafumi Takada's "Wesker's Beginnings," Misao Senbongi and Shusaku Uchiyama's "The Mercenaries: Wesker" and Kota Suzuki's "Wind of Madness" into one big arrangement entitled "(Progeny) of a Frail Humanity." The chilling piano strokes and ambient twang of the guitars, followed by a crescendo of drums and electric guitar noodling are sure to conjure up some bleak and sinister images of the cold and calculating Resident Evil supervillain. Give it a listen!
——————————
STICKY NOTE: Did you make something cool? Send us a note or drop a comment below; we would love to feature your work here! Same goes for any awesome stuff you may see in the wild; we always welcome more fantastic fan work. =)
——————————
See you next week!
-Yuri