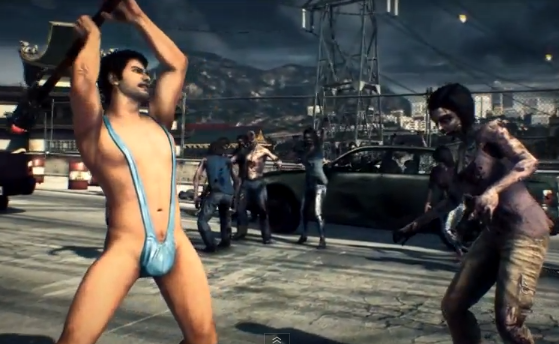 Greetings once again from San Diego Comic Con 2013! Today I had the privilege of attending an enlightening panel– The Video Game Culture of Zombies: How "Dead Rising 3" on Xbox One Kicks Off a New Generation of Mayhem. Within, Dead Rising 3's Executive Producer and creative lead Josh Bridge joined Art Director Alan Jarvie and a number of other zombie and games aficionados ( details here ) to show how Dead Rising 3 will be evolving the zombie apocalypse concept for the coming generation.
The panel was not only a rousing good time for all; it also marked the release of the following vidoc, which gives a fun peek into some of the ways the gameplay and zombies have evolved since past games in the series, while also reassuring us that the funny stuff is still in there! Hit the jump to watch it and see pics from the event!
Moderated by Jessica Chobot, the panel featured two speakers from Capcom Vancouver, along with World War Z author Max Brooks and Jeff Cork of Game Informer.
Capcom Vancouver's Josh Bridge (Executive Producer/Creative Lead) and Alan Jarvie (Art Director).
The shambling, assembled horde of attendees.
Zombie firemen confirmed. This is just one of the many types of "specialized" zombie types we can expect to see lurching around in Los Perdidos.
SmartGlass will allow you to receive contact from an in-game character with access to some serious firepower. Also note that I used a smartphone to take this picture OF a smartphone.
Some pictures really are worth 1000 words. I, for one, consider this a cause for celebration. If you get it, you get it.
Wrestling in a luchador mask?! Is there anything Nick can't do?
Why not don some knight's armor and this futuristic implement of death for a change of pace?
So there you have it, guys. We can all rest assured that the funny is back in full force and that this will be the sandboxiest Dead Rising yet. Look forward to it in November!!