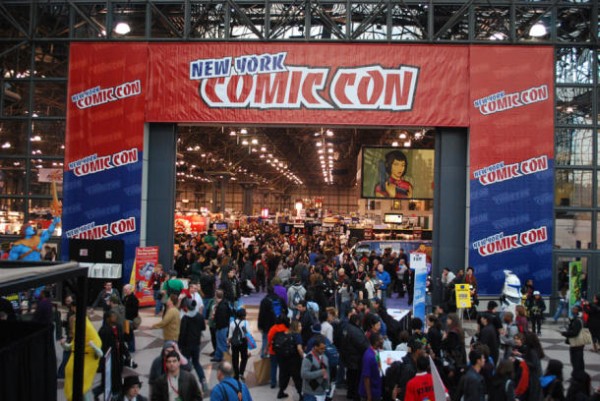 ::UPDATE:: Added info on Monster Hunter signing with Fujioka-san!

Calling all New Yorkers and people who just like hanging out there! Capcom will once again be at New York Comic Con this year, and here's what we'll have to offer.

First and most importantly, we'll have games! Come by the Capcom booth and check out the latest playable builds of Monster Hunter 4 Ultimate, Phoenix Wright: Ace Attorney Trilogy, and Resident Evil Revelations 2, all of which are certifiably awesome. You may find yourself playing through these demos more than once.
MONSTER HUNTER SIGNING (with Fujioka-san)
Date: Friday, Oct 10
Time: 11:00am–12:30pm
Location: 1363, Broadway and 33rd
A rare opportunity to meet and have something signed by Monster Hunter series director Kaname Fujioka! Posters will be available, but you can also bring you personal Monster Hunter items to have signed!

CAPCOM STORE

We'll also be bringing the Capcom Store back to NYCC for the first time in 4 years! Unfortunately it'll be a little smaller than past Capcom Store booths due to space restrictions, but that doesn't mean we won't have tons of cool stuff for sale.
First and foremost, we have some stock of our hit Mega Man Replica Helmet.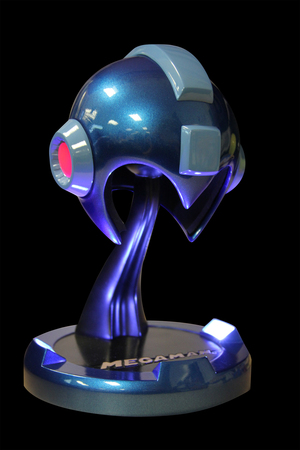 These babies stand about 10″ tall, made of solid chrome resin, helmet detaches easily from the base, and the included USB power cord and adaptor enable the base and helmet to light up when plugged in! Each unit is individually numbered for collector's cred. This is unquestionably the coolest Mega Man collectible ever made.
That said, stock will be very limited! We will have both blue and red variant versions available–$80 each–but supplies won't last long.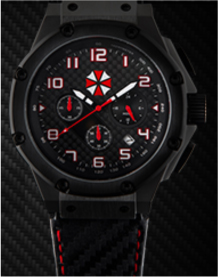 NYC is known for high fashion, and we'll be catering to those cultured fans with two exclusive high-end watches – the STREET FIGHTER watch with Shadaloo symbols on the face and the RESIDENT EVIL watch with the Umbrella Corporation logo at the "12" spot. Each watch is a high-end collectible made by quality watch maker Meister, made of stainless steel, water resistant up to 10M, individually numbered and comes in a quality collector's case. Only 250 made of each design – so when they are gone, they're gone. They go for $250 each but worth it as an investment that you can wear and enjoy for a lifetime.
For the monster hunting element, we will have our exclusive Monster Hunter plushies available! Take home either an adorable Rathian or Yian Kut-Ku, and you don't even have to worry about potty training them. These soft and cuddly versions of the beloved in-game monsters come in their own egg shell packaging with a balanced bottom so they can sit in their shell on display after you have cracked them open. Each one will go for 20 bucks.
PANELS
Thursday, October 9th
The World of Capcom (4:15-5:00pm, Room 1A06)
Come find out the latest updates on all the new Capcom games including Monster Hunter 4 Ultimate, Resident Evil Revelations 2, the newly remastered version of the 2002 GameCube remake of Resident Evil, Dead Rising 3 for PC, Phoenix Wright: Ace Attorney Trilogy and Ultra Street Fighter IV. Plus, sneak peeks at all the latest, cool Capcom merchandise and maybe a surprise or two.

Friday, October 10th

Resident Evil REturns (7:15-8:00pm, Room 1A24)
Come join members of the Resident Evil team and get the latest news "bites" on the upcoming Resident Evil Revelations 2 and the newly remastered version of the 2002 GameCube remake of Resident Evil. Resident Evil Revelations 2 Producer Michiteru Okabe will also be on hand to showcase the game and provide an overview of what players can expect from this next chapter in the RE series. There will be plenty of content to sink your teeth into as well as some new game details to share, so we'll see you there!
Saturday, October 11th

Monster Hunter (12:00-12:45pm, Room 1A24)
Monster Hunter is one of the most popular video game franchises in Japan and the excitement is catching in the West! Join a Panel of Capcom staff members including special guest, Monster Hunter director Kaname Fujioka, as they share the brand new features and exclusive insights from Monster Hunter 4 Ultimate (coming Early 2015 on the Nintendo 3DS). The game features all new weapons, monsters and native online support. The panel will include gameplay footage, as well as some special surprises, so this is one you won't want to miss! Followed by a Q&A session.

Sunday, October 12th

Street Fighter (2:00-2:45pm, Room 1A10)
A Panel of Street Fighter experts share the latest news on the greatest fighting game franchise in the world! Find out about the latest updates for Ultra Street Fighter IV and how you can earn big money and everlasting fame by competing in the Capcom Pro Tour culminating in the Capcup Finals in December. Special Guest Joey Ansah – Writer, Director and Actor – of the smash hit Street Fighter: Assassin's Fist web series makes an exclusive appearance to share behind-the-scenes details of making the excellent film, share a sneak peek at Funimation's upcoming Blu-Ray/DVD release as well as answer Q&A.