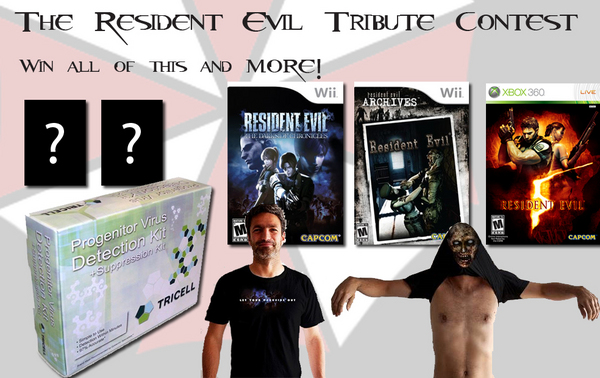 The Great Mega Man Tribute Contest was such a resounding success, that we've decided to create a sequel, only this time, the call for submissions is for the Resident Evil franchise, just in time to celebrate the launch of Resident Evil: The Darkside Chronicles next week on November 17th.
We've got a great prize package that we've put together that includes copies of RE5 (PC, PS3, or 360), Resident Evil Archives: Resident Evil, and Resident Evil: The Darkside Chronicles. We've also got the awesome progenitor virus detection kit and the zombie transformation t-shirt as part of the package. PLUS, we've got some mystery RE-related prizes to include as well.
There will also be prizes for 2nd and 3rd place that we will announce once we get all submissions.
Now, how do you get to win these awesome prizes? As we did with the Mega Man Tribute Contest, all you have to do is create something to show how passionate you are about Resident Evil: baked goods, home-made models, music, videos, art, costumes, etc. Please be sure that it is something new that we haven't seen before OR something that has been improved upon. Your goal should be to warm our cold, jaded hearts on the panel because here at Unity, we've seen tons of fan made Resident Evil stuff. If you're not sure if something has been done or not, do a quick search on the site.
To enter, send a link to your tribute project to this account with a message with the Subject Line: "Resident Tribute Contest"
The contest ends November 30th, 2009 at 11:59PM PST and we will announce winners shortly afterwards.
Good luck!