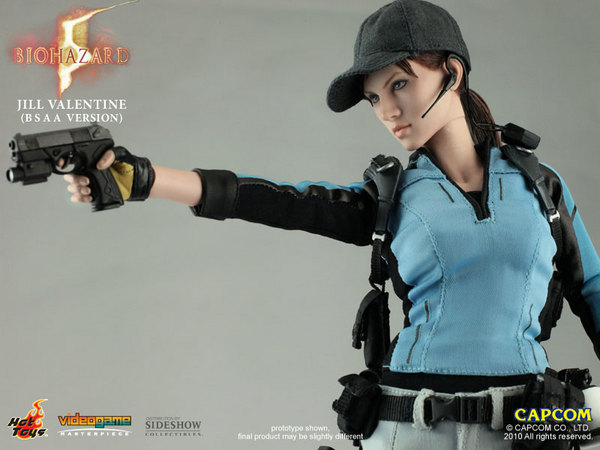 Everyone's favorite master of unlocking gets a brand new 12″ figure this fall, via Sideshow Collectibles' Hot Toys' Video Game Masterpiece line . This high end figure of Jill Valentine will set you back $149.99, so be very sure that you want it!
Sideshow Collectibles is proud to bring you the Jill Valentine 12-inch Figure, the latest from Hot Toys' Video Game Masterpiece line of 12-inch figures from the hit video game series Resident Evil, known internationally as Bio Hazard! Each figure features Hot Toys' fully articulated female 12-inch figure body and a generous number of accessories. These are some of the finest 12-inch figures ever created, featuring incredible likenesses and amazingly detailed costumes.
The figure has TONS of accessories, which you can read about after the break!
The Jill Valentine 12 inch Figure features: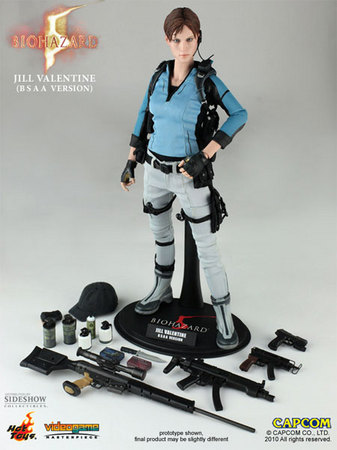 * Hand-painted and Detailed likeness of Jill Valentine in the video game Biohazard 5 (Resident Evil) in her B.S.A.A. Version
* Approximately 28 cm tall
* Newly developed female TrueType body with over 30 points of articulations
* Realistic hair sculpture with ponytail
* Three (3) pieces of interchangeable posing palms with black gloves, including:
* + One (1) pair of left and right palm for holding gun
* + One (1) piece of right palm for holding knife
* One (1) set of real fabric B.S.A.A. uniform including: blue shirt, black tactical vest, grey pants, leather-like grey and black boots
* Dark-blue colored cap
* Headset
* Radio with pouch
* Shoulder holsters with (2) holster pouches
* Belt with two (2) pouches in the front, one (1) back pouch and one (1) aid spray pouch
* Holster
* Magazine pouch
* Knife pocket
* Handgun
* Sniper
* Two (2) machine guns
* Knife
* Flash grenade
* Aid spray
* Ammo pack
* Figure stand with Jill Valentine (B.S.A.A. Version) nameplate and video game logo