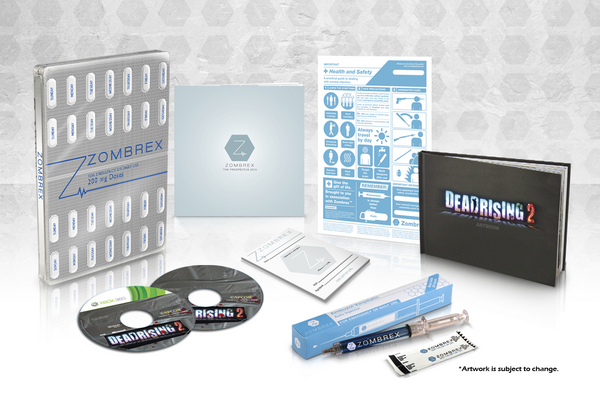 Exclusive for North America, we're very happy to announce the Dead Rising 2 Zombrex edition which will be available on day one of launch on September 28, 2010! Xbox 360 and PS3 owners can get the Zombrex Edition for $79.99.
Enclosed in a two-disc Steelbook case with its own special pack front, the Dead Rising 2—Zombrex Edition will include cool collectible items and content that will dig deep into the Dead Rising 2 experience.
Hit the jump for full details!
Available for both the PlayStation 3 and the Xbox 360, there are some variations between the two editions. For the full list of content, see below:
PS3 Dead Rising 2 – Zombrex Edition
– Exclusive Two-Disc Steelbook case includes:
– Dead Rising 2 game disc
– Blu-Ray Disc featuring a High-Definition 24 minute "Making of" featurette
– Complete box contents include:
– Steelbook case (described above)
– Zombrex "Syringe" pen
– Zombrex "Prescription" notepad (25 pages)
– Zombrex "Safety" card
– Zombrex "Prospectus" Sales Brochure (16 pages).
– Dead Rising 2 Hardback Artbook (48 pages)
– Voucher for XMB Dynamic Theme
X360 Dead Rising 2 – Zombrex Edition
– Exclusive Two-Disc Steelbook case includes:
– Dead Rising 2 game disc
– High-Definition game disc with 83 Minute "Zombrex Dead Rising Sun" motion picture and 24 minute "Making of" featurette
– Complete box contents include:
– Steelbook case (described above)
– Zombrex "Syringe" pen
– Zombrex "Prescription" notepad (25 pages)
– Zombrex "Safety" card
– Zombrex "Prospectus" Sales Brochure (16 pages).
– Dead Rising 2 Hardback Artbook (48 pages)