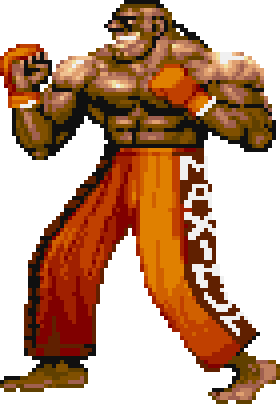 Little known fact is that I am actually on my second tour of duty with Capcom, having joined straight out of college in 1993 (yes, I am actually that old). I began my original rotation with the company shortly after the first game with the words "Super" and "Street Fighter" appeared on the SNES, and was in the office for only a few weeks when the test board for Super Turbo arrived. James Goddard (aka the creator of Dee Jay) and Dave Winstead were still with Capcom at that point, and I got to know them a little bit before they boogied.
A few days before announcing Super Street Fighter IV, I managed to track down Mr. Goddard (who is currently working on one of the two MMOs being produced in Austin, TX, worth being excited about) and asked him to share with Unity his recollections from the olden days, as well as his feelings about now seeing his creation come to life in 3D.
Take it away, Goddard:
Back in the early 90's, I managed an R&D support group comprised of myself and 2 other Capcom USA apprentice designers. Our job was to support Capcom Japan's coin-op team with getting more info on the Western players likes, localization, licensed games and any crazy ideas we could pitch them

J

.
We had great success with getting SFII Champion and Hyper editions being USA initiated and played key design support roles, but during the development of Super SFII something really rare happened- we got a chance to pitch a new Street Fighter character!
I remember receiving 4×6 pictures of 4 new characters for SSFII- Cammy, T-Hawk and 2 Chinese

(

Bruce Lee inspired

)

twins (Fei Long). Immediately we loved them but had concern about doing a head-swap for the 4th character since Ken and Ryu already owned that. Luckily Japan was open to ideas for a 4th original character and Dee Jay was born!
I was inspired by Billy Blanks in King of the Kick Boxers, and sent Japanthe movie plus a really rough sketch (I am a cartoonist at best) with a description of personality and fighting style (a mix of Western Kickboxing and Capoeira).
We received the first picture of him and he was buff and mean looking, but needed to feel a bit 'lighter/fun'. I did a revision sketch to capture the subtle happiertweaks (see pic)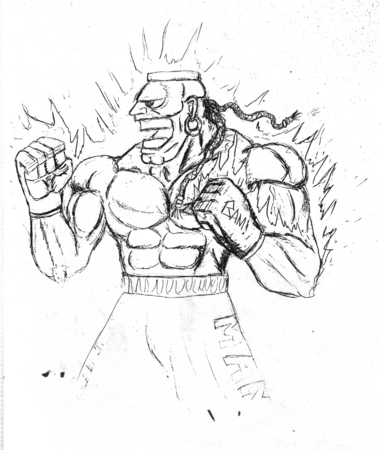 and added the "double dread tails" to allow for a bit more life in his animation. I was a total noob at this back then, I had no idea why these things seemed important but I was very fortunate to get to present these ideas in-person on a trip to Japan where Akiman (Akira Yasuda) liked the vibe and incorporated that direction into the design. The final challenge was to come up with a fitting name and after Japan thankfully shot down Mantis, JJ Bam (I know, really bad) but the loved the name Dee Jay – a spin off of my design pen name DJAMES

J
Creating a fighting character is a ton of work and I am very fortunate to be a co-creator of this character- the first USA initiated Street Fighter character.
I am so excited to see his transition to 3D coming in SSIV and his ultra looks frigging awesome (love the exaggerated standing uppercut pose!). Dee Jay looks to be even more of a high flying powerhouse than I ever dreamed possible.
My thanks to Capcom Unity for running this and I look forward to playing Dee Jay online when SSIV launches!
Principle Combat Designer |Star Wars: The Old Republic