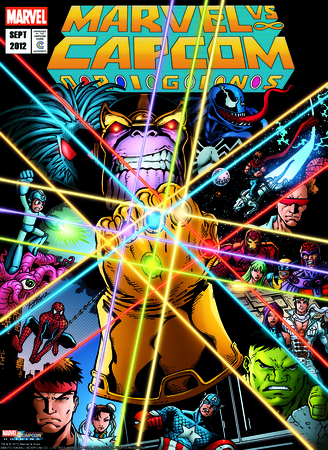 Hoo boy – as a Marvel and Capcom fan, I am extremely proud to present the first of our "Marvel vs Capcom through the ages" artwork – today's takes the iconic Infinity Gauntlet cover and re-imagines it as if Marvel and Capcom had been battling even back in the early '90s.
Notice all the loving touches added, like Strider taking the place of Silver Surfer, and Spidey cracking the exact same pose as the IG #1 cover. Love it!
Art credit goes to Ron Lim, who actually penciled Inifinty Gauntlet #4-6! Truly one of the best crossover stories, and I can safely say it made me a Marvel fan for life. Hey, 11 year olds are impressionable. 🙂
More to come, and MvC Origins (which combines '90s hits Marvel Super Heroes and the original MvC) hits PSN and XBLA next month!