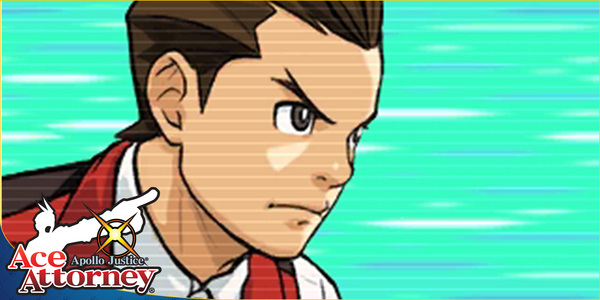 Today's the big day – Apollo Justice: Ace Attorney is out now for Nintendo 3DS in North America for just $19.99! Take on the mantle of Apollo Justice, a newcomer in this fourth entry of the series, in his search for the truth with modern conveniences, redrawn artwork, and other new features. Head over to the Nintendo 3DS eShop now to grab your copy and join Apollo in court! European attorneys won't have to wait much longer, as the game will be out on the European Nintendo 3DS eShop starting November 23 rd . With this release, the entire mainline series is now available to download from the Nintendo 3DS eShop !
Keeping with the spirit of the original release on Nintendo DS, this version of Apollo Justice: Ace Attorney features updated artwork that takes advantage of the Nintendo 3DS hardware, giving the entire cast a crisp, clean look that helps bring their detailed animations to life. For those of you who have played before (or are fast readers), there's a text skip option that allows you to skip nearly any text in the game by holding down the "B" button – even if you haven't read it before! I'd highly suggest keeping it off, though, to see how the text and animation blend together to create that uniquely Ace Attorney presentation.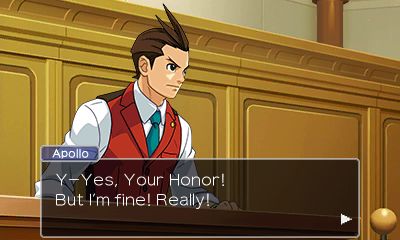 If you've been brushing up on your Japanese since the original release, you'll be able to put it to use if you select the Japanese version of the game, available right from the main menu. You have access here to both Apollo Justice: Ace Attorney and the Japanese version, Gyakuten Saiban 4. That's right – both games are included, so you can see all those interesting localization changes for yourself!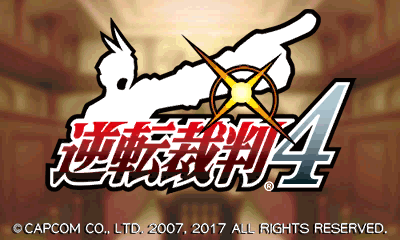 Classic courtroom gameplay, including pressing witnesses for more information and presenting evidence, are just some of the tricks Apollo has underneath his rolled-up sleeves. When Apollo's bracelet restricts around his wrist, it's a sign that the witness on the stand isn't telling the truth. Apollo has a knack for knowing when someone's lying, and when he's on to them he can narrow in on their nervous tics or habits to catch them in their lie. It gives him a powerful edge when it comes to cross-examination! Outside of the courtroom, use forensic investigation to view objects from multiple angles, dust for fingerprints, and search for clues – scientifically!
Series veterans need no introduction to the wonderful and wacky cast of characters that you'll come to know in the game, but for rookie attorneys, you can safely assume that Apollo Justice: Ace Attorney will feature, well, Apollo Justice. A greenhorn defense attorney whose only experience so far is assisting his mentor, Klavier Gavin, in court, Apollo's first case has him defending a surprising client. A former attorney and current piano player at the Borscht Bowl Club, the legendary Phoenix Wright has been accused of murder. It's up to Apollo to take up the defense and clear the ex-attorney's name.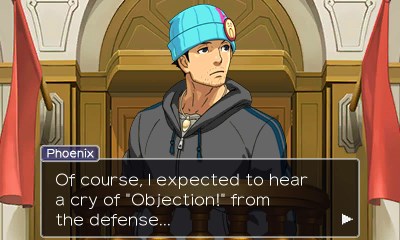 You can also expect the colorful cast of characters that Ace Attorney games are known for! Featuring new faces such as magical girl and rising magician Trucy, rock star prosecutor Klavier Gavin, and returning favorites like detective (and forensic investigator hopeful) Ema Skye, four full cases await you full of investigation, courtroom battles, and plenty of humor.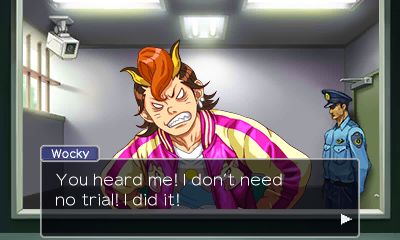 The loud lawyer's journey has only just begun in Apollo Justice: Ace Attorney. Download it today for just $19.99 on the Nintendo 3DS eShop.