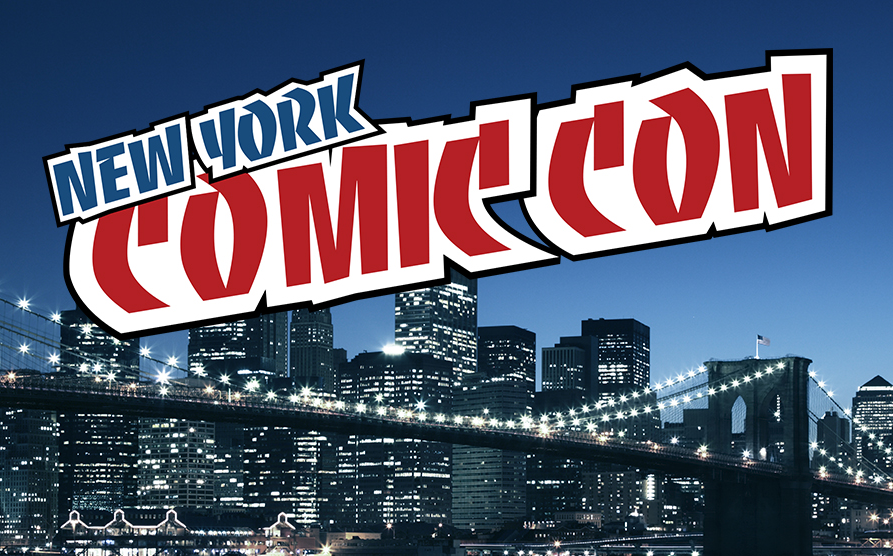 It's a matter of mere days before the undulating masses descend upon the Javitz Center for this year's New York Comic Con. Will you be among them? If so, be sure to stop by Capcom's booth (#1420), where we'll have all our latest playable demos, as well as the Capcom Store in full force. Capcom will also be holding a couple of panels in Room 1A10. Read on for full details.
GAME LINEUP
Umbrella Corps – This event marks the first time fans in North America will have the opportunity to play Umbrella Corps, the new fast-paced third-person multiplayer shooter set in the Resident Evil universe.
Street Fighter V – Yes, the latest fisticuff-fest in this favored fighting franchise will be playable on the show floor. Spend time with all the recently announced roster additions including Karin, Rashid and Zangief, and even go head-to-head with your friends or other Con-goers.
Resident Evil 0 – Relive the origins of survival horror in this gorgeous remaster of a tried and true classic.
Mega Man Legacy Collection – Play all six of the original 8-bit Mega Man games, dig through a long history of concept sketches and production art, and post your best times in more than 50 remixed challenge stages. Of course, you can also just download this game now on your Xbox One, PlayStation 4 or PC.
PANELS
World of Capcom
Thursday, Oct 8 from 6:45pm – 7:45pm in Room 1A10
Come by to get the latest news and updates on all of Capcom's highly anticipated games such as Street Fighter V, Umbrella Corps, Resident Evil 0 and Mega Man Legacy Collection. Additionally, attendees will be provided with a roundup including exclusive first looks of cool goods and collectibles based on popular Capcom IP.
Street Fighter V
Saturday, Oct 10 from 5:30pm – 6:30pm in Room 1A10
NYCC fans can get the latest news about this iconic video game franchise and the upcoming Street Fighter V. There will be a special appearance by Street Fighter executive producer Yoshinori Ono. Plus, get an insider's sneak peek at the Street Fighter collectibles currently in the works as well as a surprise or two. Some lucky fans may even be selected from the audience to battle it out for awesome prizes and bragging rights!
GOODS
The Capcom Store will have a big presence at the Capcom booth, with some rare and coveted premium items! Check out this informative graphic!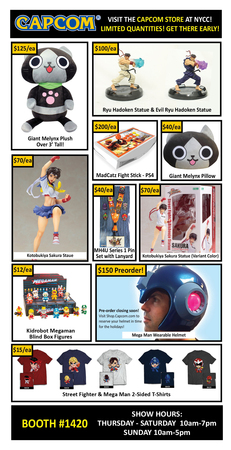 We're looking forward to an awesome event! Hope to see you there.