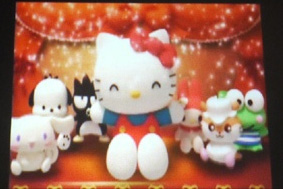 I asked Snow to post about this, but since it didn't involve Monster Hunter and/or death, it left me to write about the awesomeness that is Hello Kitty!
It looks like that in addition to having Hello Kitty appear in Monster Hunter PSP spin-off MonHun Nikki: Poka Poka Airu Mura , Capcom Japan will be creating a Hello Kitty game targeted towards their Japanese female audience. The game is called Hello Kitty Paradise Parachute and will be releasing for the iPhone. According to my horrible google translation, the game is aimed at a casual, female audience with puzzle elements and customization rewards to customize your own personal virtual room.
Additionally there is some sort of bear photo app that I'm not going to try to even translate. 🙂
Just kidding, according to Siliconera , the 2nd Capcom produced game: The second is a Relax Bear photo app, which allows you to poke and pet a virtual Relax Bear, and take pictures which you can modify with Relax Bear accessories.
So there you go! Will the games be released outside of Japan? Do you want them?