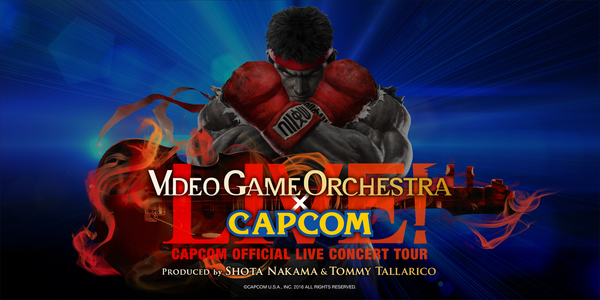 UPDATE: The tour just got a fresh new trailer! Check it out below.
One thing we can all agree is Capcom has consistently made excellent and memorable music for its games: with MM2 Dr. Wily stage being covered dozens of times, to Guile's theme going with everything, a Capcom-focused live concert series was only a matter of time… and something you don't want to miss!
Late last month, Video Game Orchestra announced their new official concert tour: CAPCOM LIVE! Produced by veterans of the concert scene, Shota Nakama ( Video Game Orchestra ) and Tommy Tallarico ( Video Games Live!), CAPCOM LIVE! brings all the excitement you'd expect, melding a high energy rock band, vocalists, and an orchestra to bring you a musical experience unlike any other.
The tour will be making their premiere in North America at the Berklee Performance Center in Boston on April 9th , so if you're in the area or can make the trip, get your tickets and get ready to rock to stellar music from the following game franchises:
Ace Attorney
Breath of Fire
Devil May Cry
Dragon's Dogma
Final Fight
Ghosts 'n Goblins / Ghouls 'n Ghosts
Mega Man and Mega Man X
Monster Hunter
Okami
Resident Evil
Street Fighter
And more!
And keep your eyes glued to the CAPCOM LIVE! website and Facebook page for updates on upcoming concerts!