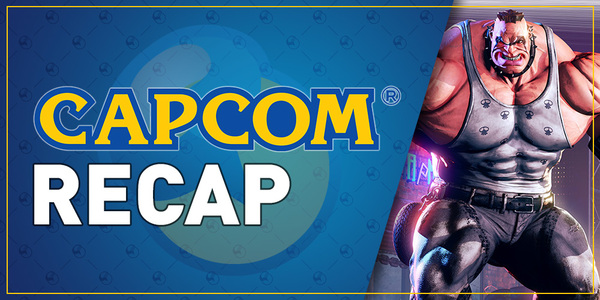 Hi everyone! Writing to you directly from the Capcom booth at San Diego Comic-Con where we're spending quality time with our fans at the show! We still have two more panels on Saturday: World of Capcom and Monster Hunter: World, so stay tuned next week for a full recap of all our SDCC activities and stellar cosplay sightings! Now, here's this past week's news and fan findings:

New content coming to Street Fighter V on July 25th:
If your spidey senses are tingling, click here for more game-related news straight from SDCC!
——————————

While we have our hands full with SDCC, we plan on getting back to streaming as soon as we return to the office, so keep an eye on our Twitch channel starting next Tuesday, July 25 at 3pm PT.
[FUTURE]
All times listed are Pacific Time:
Tuesday , July 25th @ 3PM – Dragon's Dogma: Dark Arisen
Wednesday , July 26th @ 2PM – Dead Rising 3
Remember to FOLLOW our channel to get email reminders whenever we go live.
——————————

Kellen Haney: "The owner said I could put up art, but not nail it to the wall."
While others may hear that and resign themselves to houseplants and a few posters that you hang up with that weird tacky stuff that never quite comes off cleanly, Reddit user bornonthetide saw opportunity, grabbing some sticky notes and turning an otherwise bland wall…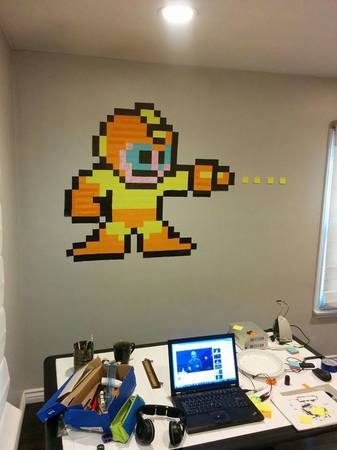 … into a bona-fide piece of art. Curious color scheme though – maybe Mega Man took down the rogue robot master who prefers to sit at a desk and put together presentations, Office Man. I wonder what kind of weapon he gets equipped with?
Also, in case you missed it, I've put together a short series of videos that cover all four of Mega Man's latest classic adventures included in Mega Man Legacy Collection 2, all wrapped up in a convenient playlist:
The fourth and final video went out last week, so if you're looking to catch up on what made Mega Man 7-10 great, take some time to check them out!
——————————

Vadrum rocks out with a Mega Man drum medley
——————————
STICKY NOTE: Did you make something cool? Send us a note or drop a comment below; we would love to feature your work here! Same goes for any awesome stuff you may see in the wild; we always welcome more fantastic fan work. =)
——————————
See you again next week!
-Yuri