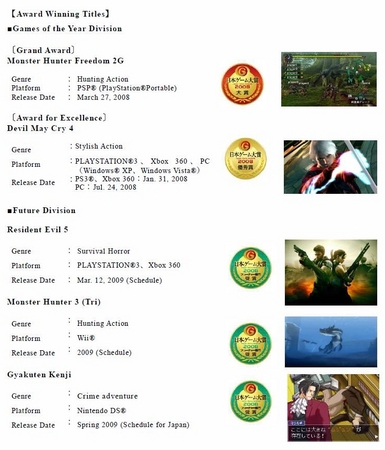 Over all we won 5 Japan Game Awards this year! Below is the official announcement.
CAPCOM's "MonsterHunter Freedom2G" won the GrandAward at the Tokyo Game Show 2008, which took place at MakuhariMesse (Chiba Prefecture) from October 9-12. The award sponsored by the Computer Entertainment SoftwareAssociation was announced on the first day of the show.
"MonsterHunter Freedom2G", an award-winning hunting game extremely popular among many age groups, creates a new play stylemade possible by communication through an ad-hoc mode of team cooperative action. The game has become so popular that it is akin to a new social phenomenon. Boasting sales of over 2.5 million copies (as of October 9, 2008) in Japan since its release in March it has become the most popular game title in Japan in 2008 both in name and reality (CAPCOMsurvey).

In addition, "Devil May Cry 4" won the Award for Excellence. The game has the most attractive graphics in its state-of-the-art series in the world and an aggressive lead character with a bold new style. The game supports the multi-platform that is based on our MT Framework. Global sales of "Devil May Cry 4" topped 2.3 million copies (as ofMarch 30, 2008).
OnOctober 12, CAPCOM's "Resident Evil 5", "Gyakuten Kenji (JAPAN)", "Monster Hunter 3 (Tri)", were chosen by TokyoGame Show attendees for the FUTURE Award, accenting the high anticipation users have for CAPCOMproducts. All the three titles quickly became extremely popular at the Tokyo Game Show.
All other awardswon by CAPCOMgames, in addition to winning theGrand Award for two years in a row, has increased recognition of our game development prowess. As always, Capcom will live up to the expectations of its customers by bringing its superior game development capabilities into full play and continuing to create original game titles.