Have you already checked out some of the great collectibles you can pre-order and pick up at UDON's San Diego Comic-Con booth? We've got one more super special item to talk about today! Yoshinori Ono, Executive Producer for Street Fighter V and a living legend in his own right, will be signing at the UDON booth (#4529) on Saturday, July 23rd from 5-6 pm, at SDCC – and UDON has made an extremely limited edition set of Premium Layered Prints to celebrate this event!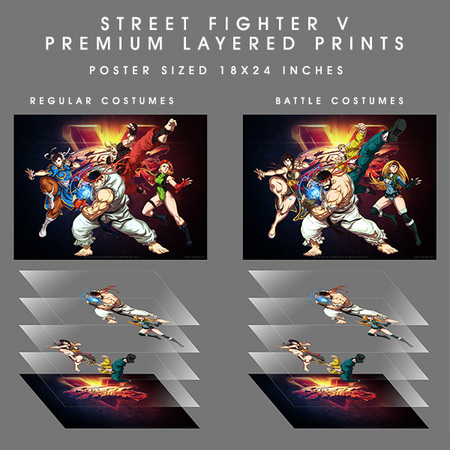 These multi-layered print sets use a top notch multi-pass printing technology on crystal clear acrylic sheets, with each character featured on a separate layer, allowing you to swap out characters from different sets. The four character layers will be backed by a Street Fighter V logo backdrop, printed on damage resistant synthetic paper. Each set of the 5-layered print measures at 18 X 24 inch size, and comes in a protective top-loader. There are two different sets available:
STREET FIGHTER V STANDARD COSTUME VERSION SET ($100)
Limited to 50 sets!
Featuring Ryu (by Long Vo), Ken (by Joe Ng), Chun-Li (by Edwin Huang) and Cammy (by Jeffrey "the Chamba" Cruz), as depicted in Street Fighter V !
STREET FIGHTER V ALTERNATE COSTUME VERSION SET ($100)
Limited to only 25 sets!
Featuring Ryu, Ken, Chun-Li, and Cammy in their alternate Street Fighter V Battle Costumes!
When you purchase a SFV Premium Layered Print Set from the UDON booth, you can also have it signed by all 4 artists, plus Ono-san himself. Not only that – Ono-san will also give you an ultra-rare Ono-san gold metal card!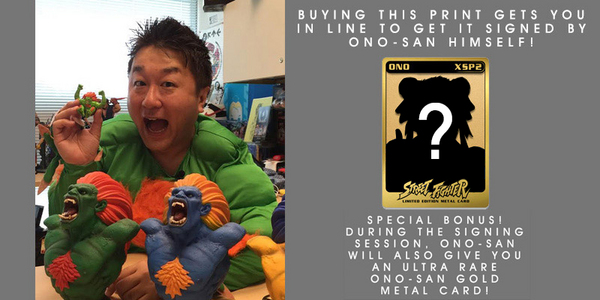 Be sure to get your pre-orders in now at www.udonexclusives.com !
As a reminder, you must attend Comic-Con 2016 for order pick up. See website for additional details.