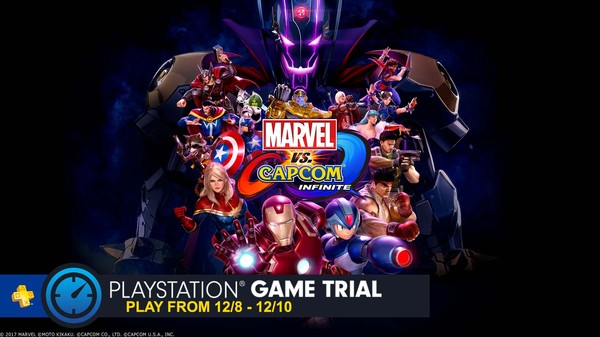 Following the successful Free Versus Demo Weekend for Marvel vs. Capcom: Infinite on November 24, we have decided to host another one from December 8-11! If you didn't get a chance to partake last time, here's your opportunity to play for an entire weekend. Continue reading for important details regarding who can participate and what the demo consists of!
Who can participate?
Only PlayStation Plus members have access to the Free Versus Mode Demo Weekend, and only on PlayStation 4. You'll be able to play against other PS Plus members and also anyone who already owns a copy of Marvel vs. Capcom: Infinite on PlayStation 4.
When does it start and end?
America – December 8 at 8AM PST until December 11 at 8AM PST
Japan – December 8 at 9pm JST until December 11 at 11:59PM JST
Europe – December 8 at 12PM GMT until December 11 at 12PM GMT
Please note that precise timing may shift without notice.
You can pre-load the Free Versus Mode Demo today from the PlayStation Store!
What modes are available?
Training Mode – This is where you can learn how to play while discovering new combos, teams, and synergies. You'll be up against a training dummy, so no need to prove yourself just yet!
Online Casual Match – The system will be searching for an Online Casual Match during your time in Training Mode. Once one is found, you can test your skills against another player!
What characters can I play?
All 30 launch characters will be available to play! This includes Thor, Gamora, Rocket Raccoon, Iron Man, Zero, Chun-Li, Chris Redfield, Frank West, and many more! What team will work for you?
Please note that Black Panther, Monster Hunter, Sigma, Venom, Black Widow, and Winter Soldier will not be playable in this demo.
Venom, Black Widow, and Winter Soldier Have Arrived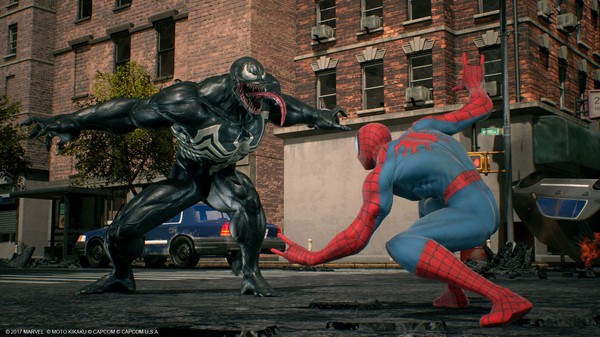 Venom – Eddie Brock returns to the Marvel vs. Capcom series with a plethora of tools at his disposal to keep the pressure going, even from across the screen. Venom Trap is a new Special Move that allows him to place a trap at any location on the ground, which will activate and grab opponents, rendering them vulnerable. Opponents will definitely be watching their step!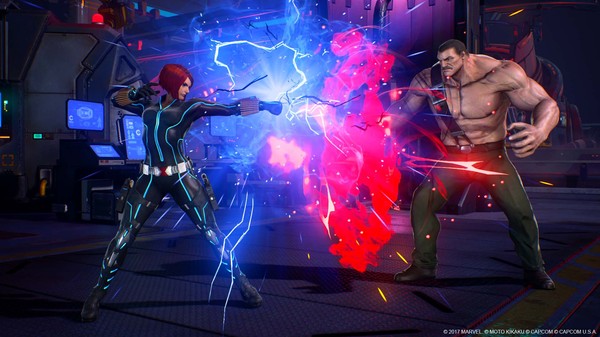 Black Widow – Natasha Romanova's intense training as a spy helps her get out of sticky situations and into favorable ones. Black Widow is exceptional in close-ranged combat, especially with Covert Catch, a versatile command throw that can also be used in the air. If you're looking for a more electrifying version, Hyper Covert Catch is a stylish Hyper Combo that only Natasha would be able to pull off.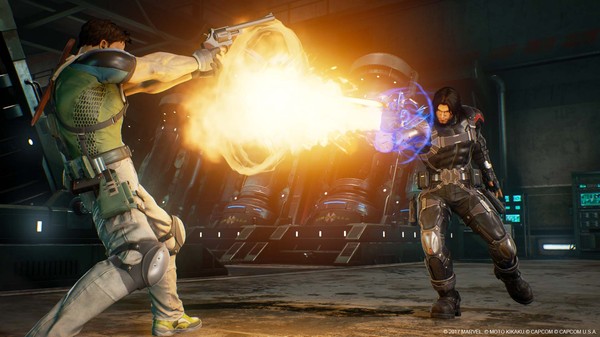 Winter Soldier – Who needs control over the screen when you can send opponents across it with ease? Bucky Barnes has multiple Special Moves like Hard Blow and Patriot, which both cause a wall bounce, extending his combo potential. It's not a coincidence his Lv3 Hyper Combo, Unyielding Justice, has the same name as Captain America's. When partnered with Steve Rogers, Unyielding Justice has a special animation that sees both soldiers showing the opponent the true meaning of authority.
All three characters are now available for purchase individually or as part of the 2017 Character Pass, which also includes Black Panther, Monster Hunter, and Sigma!
Join the epic clash now! Marvel vs. Capcom: Infinite is now available on PlayStation 4, Xbox One, and PC!
© 2017 MARVEL ©MOTO KIKAKU. ©CAPCOM