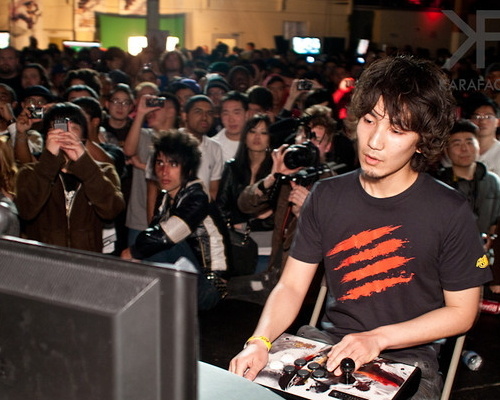 Daigo "The Beast" Umehara is a name known to almost anyone who has played Street Fighter within the last 10 years. Daigo has been scorching up the tournament scene across the globe culminating with his recent 2nd place finish in the Capcom 25th Street Fighter Anniversary event last December. See what this world warrior has to say about his performance at the event as well as what the future holds for him.
Q. What'd you think about the tournament overall?
Daigo: It was a great fun!
How do you feel about your performance throughout the tournament?
Just like at EVO, I focused on playing my game. To be true to my style was one of my top objectives for the tournament, and I met that objective. I think I did well in that regard. I would give myself 80 out of 100.
We noticed you didn't have much trouble throughout the tournament, getting into Grand Finals. Were there any touch matchups along the way? Any surprises from your competitors?
I didn't lose any single match in winning the Japanese tournament for this series. Here in the US for the Final Tournament, I also didn't lose any match upto the Grand Finals. I was in a good condition and able to play my game.
What were your thoughts with your Winner's Finals match and your Grand Finals match?
During the Winner's Finals, I was able to reflect on the previous matches and do right things. That went well, and I was pleased about that.
On Grand Finals, however, Infiltration changed his gameplay after he lost on Winner's Finals. He did very well. On the other hand, I didn't have any strategy against the change. That was my weakness, which caused me to lose. But learned from the loss. There is always something to learn, and I have found my next challenge.
What are you going to do with your winnings? Any plans to go to Disneyland? 🙂
I don't have any plan. What should I do? 😉
In years before, you used to enter multiple games at a single tournament. Were you focusing primarily on Arcade Edition this year? (I remember you were also quite the beast at 3rd Strike and Super Turbo.) 
Simply because I want to showcase my best gameplay – the very best I can do as a pro-gamer, and the gameplay only I can exhibit, in every single game. If I were to split my energy and time with many games, it would only reduce me to a good player. I feel that's not a right for me. I can't just showcase a good game, but I have to play a GREAT game, which is entertaining and inspiring. I know I can be a pro because there are great fans and supporters around in the world. It is my job to entertain and inspire them with my gameplay. I need to do the best I can, not only for myself but also for the people who support me. So the games I play at a given moment is based on a professional and moral decision. I give each game 100+% of myself to be the very best. I can't play any more number of games to stay true to my objectives.
We'd like to learn more about you as a person so we'll ask some general questions.
What has been your favorite place you've traveled to this past year? Any good stories from that place?
Everywhere I visit, people are so nice and I always have a good time at a tournament. I have been to the US the most, but I always look forward to my trip.
It's hard to single out any special place, but if I have to, I would say Kuwait for its exotic nature. It is no other place like Kuwait I have ever visited. And I so appreciated people's extra warm hospitality.
What is one fact about you that many people do not know?
I love to cook, and I can say I'm good at it 🙂 I love good food.
I also love movies.
I also love furry animals. Cats, dogs, and bears, all the furry animals.
Lightning Round – One Word Answers: 
1. Android or iPhone? — Both
2. Favorite type of Japanese food: Ramen, Izakaya, Sushi, or other? Ramen
3. Favorite movie from this past year >>Skyfall — I just saw it .
4. Any person you look forward to seeing at tournaments?  Old-timers in the US. We grew older together. It's always good to see them. It makes me happy.
What's next for you in the competitive fighting game scene? Any future events or are you going to take some time off?
I will be kicking off my Arcade Campaign on January 19 in Sapporo city. www.taito.co.jp/gc/special/umehara_tour_…
This is one my passions and efforts to give back to the community. I announced a year ago that I want to initiate a movement to support declining arcades in Japan, and received such a huge endorsement from all over the world.
I am here as a gamer today because of there was an arcade. I can't just sit around and do nothing to let arcades completely disappear. I would be touring around local arcades outside of Tokyo, from the North to the South and play with the local players with a help of Taito Station. All the revenue from the events will be donated to a non-profit organization in Tokyo to help out those who are in need.
So this campaign hits two big objectives. This is not about me but the arcades and the community. Together, we can work towards a great cause. I hope you join me.
Be sure to follow MCZ. Daigo The Beast on twitter @daigothebeast and also be sure to check out his sponsor MadCatz at www.madcatz.com.
Thanks to Karaface (@karaleung on twitter) for the amazing photo.