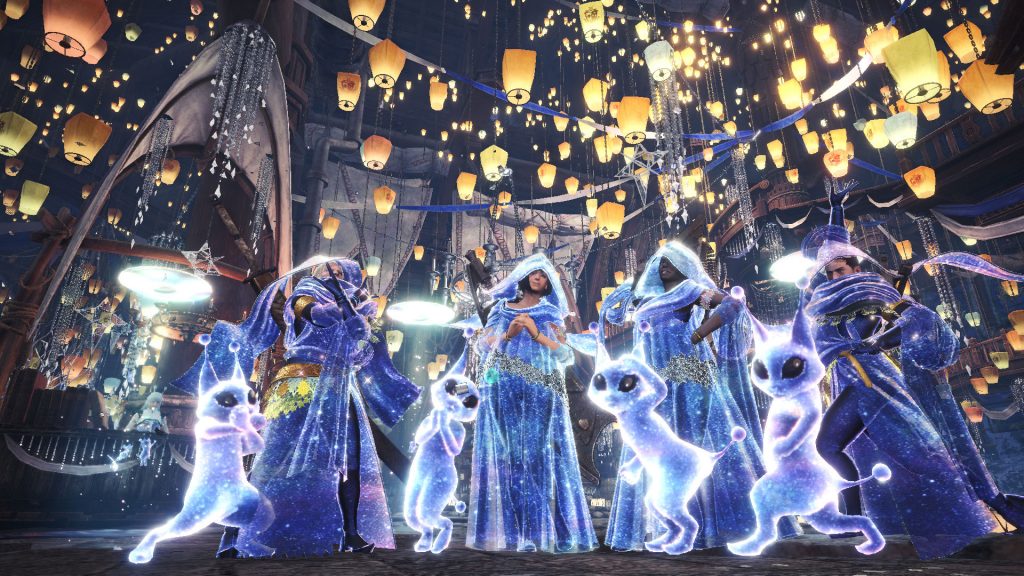 Put on your party hats and get ready to celebrate the 2nd anniversary of the original release of Monster Hunter: World! Starting on January 23rd at 4:00pm PST (Jan 24th 00:00 GMT), we'll be decking out both Gathering Hubs (Astera & Seliana) to bring out the starry festive spirit in all of us.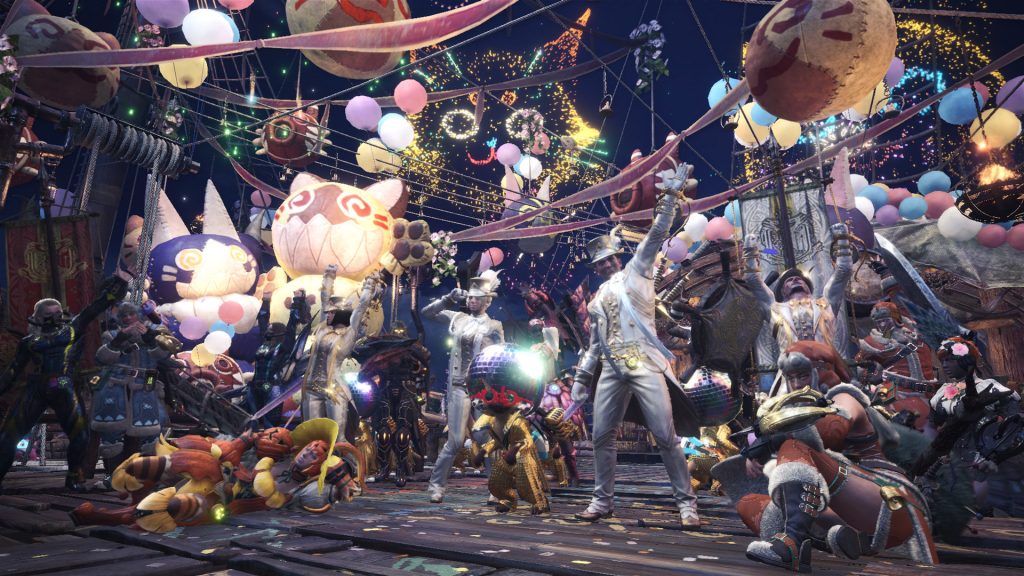 Appreciation Fest
The Appreciation Fest (Astera Gathering Hub, all players) reflects the star theme in a more metaphorical way, with super elegant Gala Suits for armor sets, and the Felyne Star set for your Palico exerting full celebrity vibes. And remember to get your daily free Appreciation Fireworks to light up the sky when out hunting some monsters.
---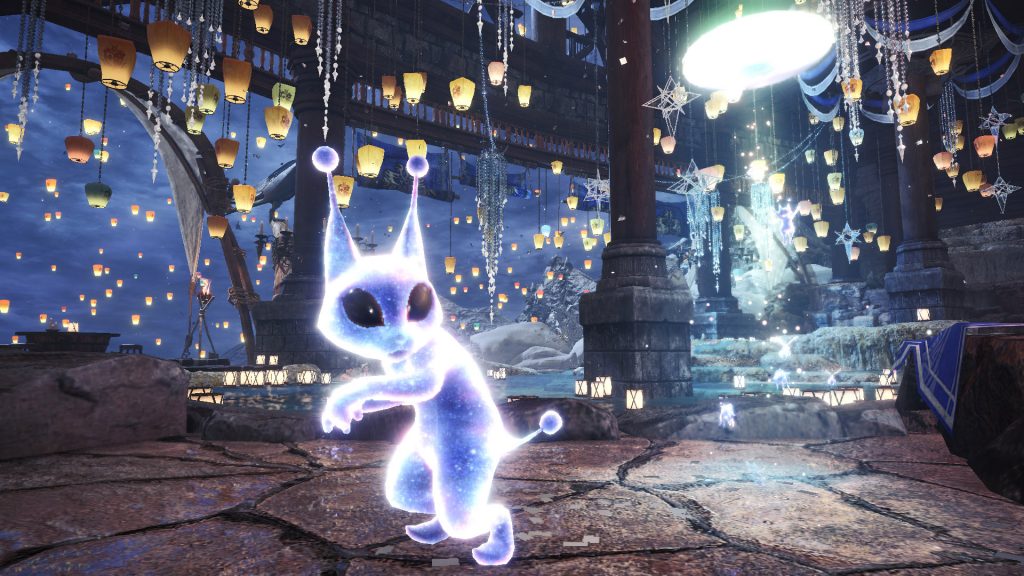 Grand Appreciation Fest
The Grand Appreciation Fest (Seliana Gathering Hub, Iceborne only) embraces the cosmic themes head on with an assortment of celestial equipment pieces and cosmetic items for you to earn.
While the event is live, claim your Login Bonus and complete daily Limited Bounties as you hunt to get "Gratitude Tickets" and the "Snowman" item. Gratitude Tickets can be used to craft a variety of special gear:
Astral Armor – this dazzling set covered in stars exudes an energy from out of this world. Each armor piece comes with useful skill points, and the set bonus grants you increased chance to earn special Grand Appreciation rewards: "VIP Gratitude Tickets."
Felyne Space Set – give your Palico this sparkling outfit so it can fit in and party with the rest of the crew.
Sky Blue Silverwisp – a shining pendant that can be attached to your favorite weapons.
Snowman – exchange your Gratitude Tickets for Snowman at the Elder Melder then "build" it out in the field and have friendly snowball fights with your teammates… or with your prey. Your call.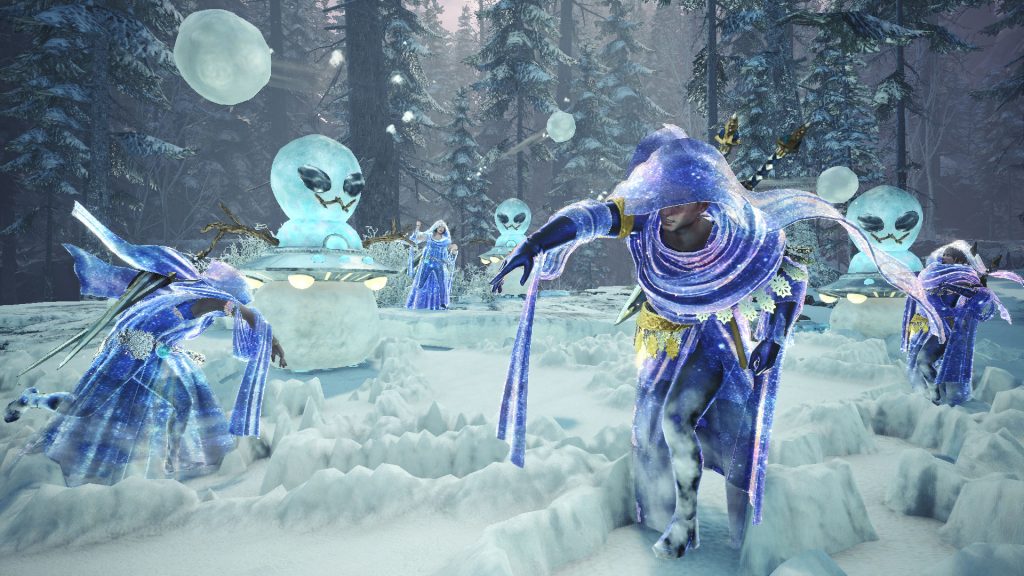 As you partake in various event related activities, and help out Low Rank & High Rank hunters via the Hunter Helper system, you'll also earn the aforementioned VIP Gratitude Tickets. They don't drop every time, so the Astral Armor Set Bonus really comes in handy with those increased odds. Here's what you can craft once you collect enough of them:
Astral Layered Armor – put on this otherworldly layered armor to change just your looks while keeping your existing selected armor's stats, skills, decorations, etc. The best of both worlds.
Silverwisp pendants – match your weapons' color schemes with a selection of color variations of the original Sky Blue Silverwisp.
Room Décor – Talk to your housekeeper to see the full selection of new Room Décor… and keep an eye out for a free set of masterpiece portraits.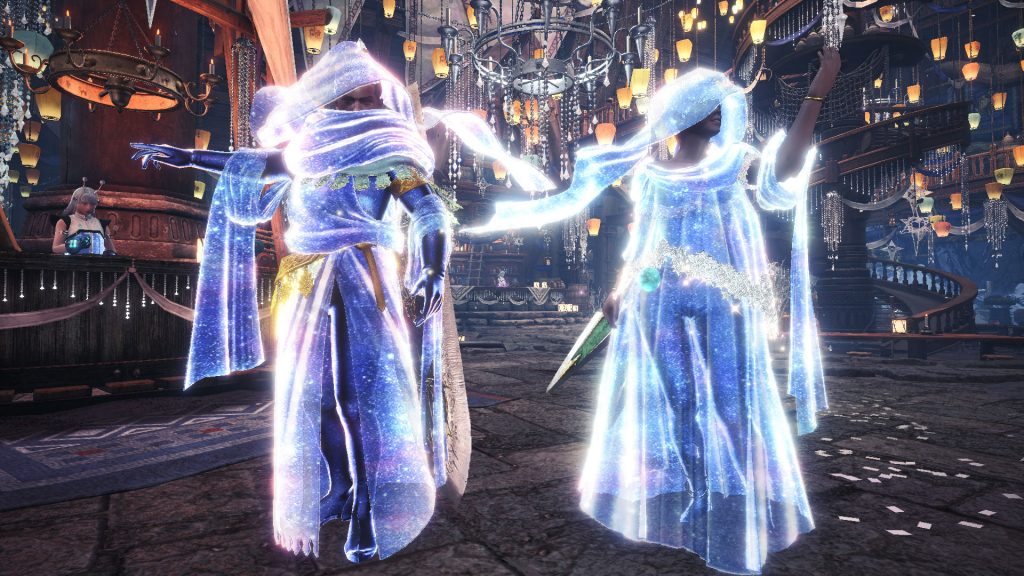 Event Quests
To keep the party going, we're bringing back nearly all previously available Event Quests as well as debuting some new ones! Some key events to look out for:
"Flora Frostbite" – fulfill a quick delivery request of 10 Iceblooms to craft the Wyverian Ears headgear.
"50 Shades of White" – successfully hunt a Barioth in the Arena and get special materials to craft a dazzling assortment of weapons!
"Beef is Never a Mi-Steak" – Something "so tasty" is making its way back onto the menu… as a hammer! Survive this Wildspire Waste hunt to craft your own!
"A Shocking Climax" – overcome this special quest to earn the coveted Unity Symbol. This item can be used to craft a variety of unique gear (including a Hammer and some Palico sets), and upgrade several special collaboration weapons into Master Rank.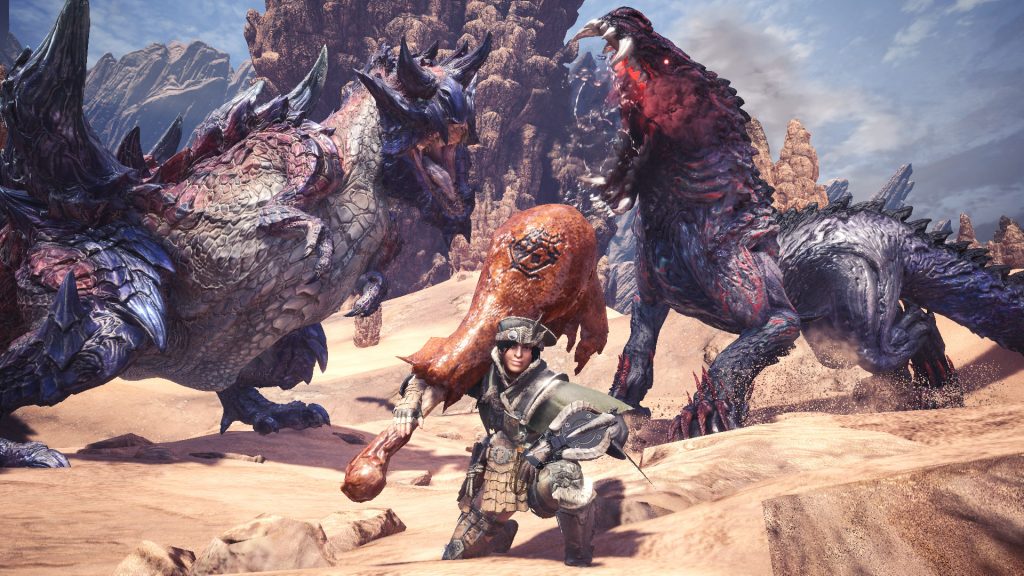 Appreciation Fest and Grand Appreciation Fest are live now until February 13th at 3:59pm PST (23:59 GMT)
Have fun, Sapphire Stars!