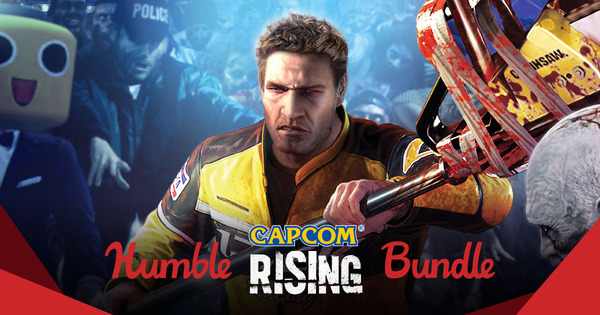 Summer's heating up with the hot new Humble Capcom Rising Bundle ! Pay what you want for a good cause! A portion of proceeds will go to charity for a ton of great games going to your PC, including Strider , Resident Evil HD, Dead Rising 3, and more.
Do you find yourself shambling around on warm Summer days? Do you have strange cravings for brain food on hot days where all you can do is sit inside with the AC on? Maybe everything starts to look… itchy. Tasty.
Good.
Sorry, don't know what came over me there. If you're in the mood for great games (who isn't?) and in the mood for donating to charity (see last aside), check out the Humble Capcom Rising Bundle !
Pay $1 or more for…
Strider
An updated take on the arcade and 8-bit classic, slice your way through Grand Master Meio's army as the ultimate ninja assassin.
Umbrella Corps
Work together with your teammates in this fast-paced third-person shooter set in the Resident Evil universe. Use the environment to your advantage, but take care that you don't become zombie chow.
DmC: Devil May Cry
Stylish action is at your fingertips with on-the-fly weapon switching and a contemporary story featuring the legendary half-human, half-demon Dante.
Beat the average for…
Umbrella Corps Upgrade Pack
Slay zombies and opponents in style with the Umbrella Corps upgrade pack!
Dead Rising 2: Off the Record
Frank West, photojournalist and hero of the original Willamette Incident in Dead Rising, returns in an alternate retelling of the events from Dead Rising 2. Smile for the camera!
Resident Evil HD
The game that defined survival horror lives on with remastered HD visuals. Explore the mysterious Mansion Incident that took place in the Arklay mountains in 1998, and the S.T.A.R.S. team's struggle to survive.
Resident Evil 0 HD
Before the events of Resident Evil, S.T.A.R.S. Bravo team's rookie member Rebecca Chambers investigates an unusual train in the Arklay Mountains, and becomes embroiled in a chain of events that serves as a catalyst for the Resident Evil series.
Pay $12 or more for…
Dead Rising 2
Taking the zombie outbreak to Fortune City, Dead Rising 2 introduced online co-op to the series and introduced Chuck Greene and his desperate journey to save his infected daughter. Craft some combo weapons and get to crackin' some zombie skulls!
Dead Rising 3
Welcome to the end of the world. Take control of Nick Ramos who must survive a zombie outbreak in Los Perdidos. Craft combo weapons on the fly, and crush the zombie hordes to upgrade your stats in your fight for survival.
As an added bonus, if you beat the average, you'll also get discount coupons to use on the Humble Bundle store! Save 40% on Resident Evil 7 biohazard, 50% on Dead Rising 4, and 50% on Street Fighter V .
What're you waiting for? Head over to check out the Humble Capcom Rising Bundle and grab some games today!