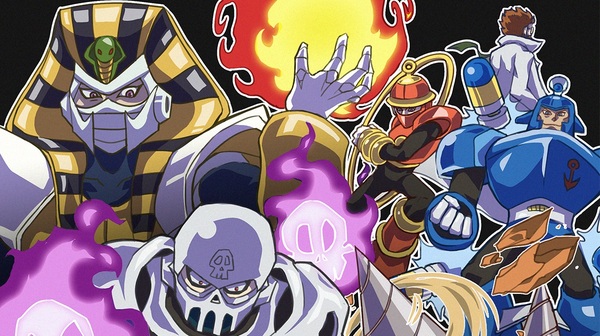 Earlier this summer we ran a ' re-imagine Mega Man box art ' contest and received numerous outstanding pieces. Of course, only six could win the contest… but we ended up with so many great entries, we had to post s'more!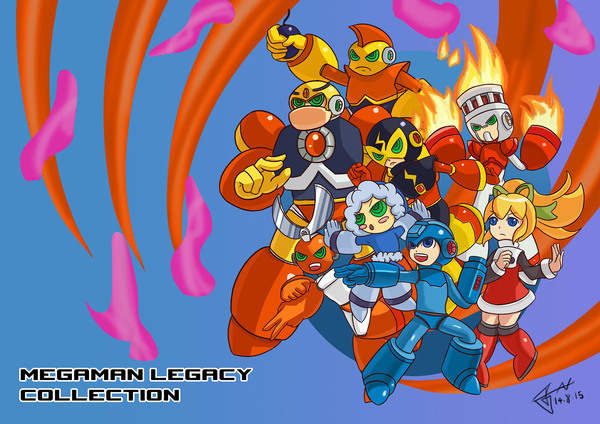 Submitted by: Jevan
Really digging the crazy eyes and flowing energy / ribbon pattern in the back, plus some slightly Manga-esque touches on the armor.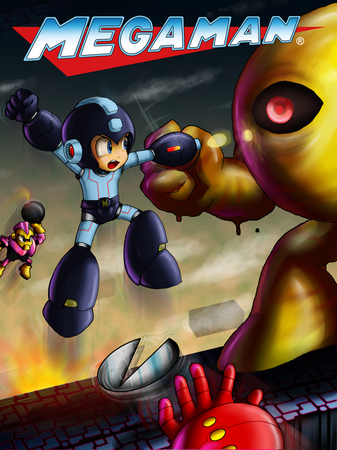 Submitted by: NiO
I love how this entry walks the line between "surreal interpretation" and "sprite-accurate presentation." All three of the main actors in this scene are striking poses right outta the game, but each have a twist… an interesting approach!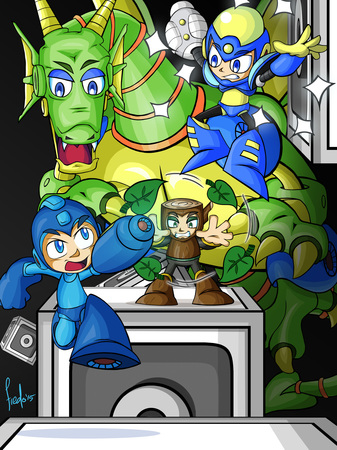 Submitted by: Alfredo
Very stylized, very cool. Love seeing Mecha Dragon looming in the distance as Mega Man leaps away. The floating eyebrows really make this one feel distinct.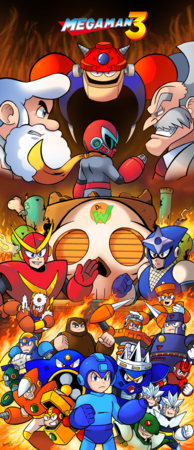 Submitted by: Terence
Whoa – this one's huge! This wall-scroll-sized MM3 art goes for broke by showing off both the MM3 bosses and the MM2 bosses that would appear through the Doc Robots later in the game. The Archie influence helps make this feel like a 'fun' poster despite being cloaked in flames, haha.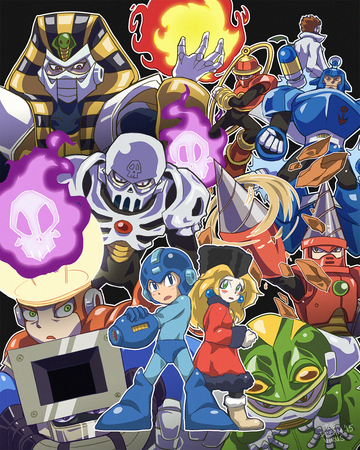 Submitted by: Anthony
Speaking of stylized approaches… this MM4 piece gives everyone a somewhat creepy, intense vibe and I love it. For some reason I'm reminded of Aeon Flux or maybe even comic artist Frank Quitely?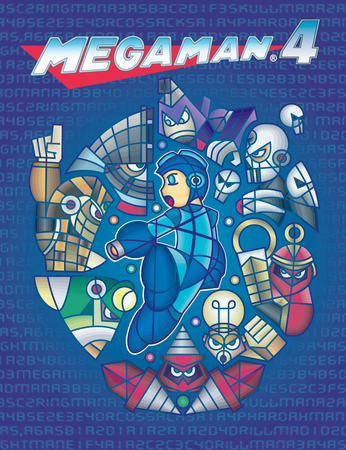 Submitted by: vizcan
Closing out our first look at honorable mentions is this super-stylized, stained-glass vision of the Mega Man 4 roster. The goal was to convey the gameplay / action / overall vibe of the game in a new way, and while the geometric shapes might not do that directly, the boss arrangement around Mega Man does suggest the center hero will have to take down the foes surrounding him. You can further infer that, maybe, there is some kind of relationship between the bosses since they're arranged in a circle… art, man!
This is just the first look at some of our additional entries – more to come, and thanks again everyone for entering!
Mega Man Legacy Collection is out now for Xbox One, PS4 and PC, with a 3DS version coming in 2016 – alongside physical versions of XBO, PS4 and 3DS!