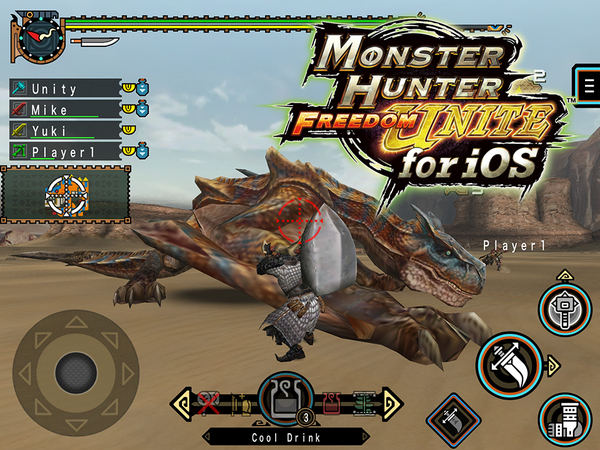 EDIT: Compatibility list added below
Hunters unite! Monster Hunter Freedom Unite for iOS is now available for download on the App Store ! So let's celebrate with a live stream today at 12pm PT on our Twitch channel!
If you already played MHFU , you know you'll love it; but if you're new, may these reviews will help… 😉
Convinced? It's only $14.99, £10.49 or €11.99 for dozens of monsters to hunt, hundreds of hours of gameplay, thousands of pieces of equipment to craft! Talk about value!
Again, we're live streaming this game at 12pm PT, and we'll be hunting online with YOU!
EDIT: For the sake of clarity, I've copied the full list of compatible devices below:
COMPATIBLE (with iOS 6 – iOS 7.1):
iPhone 4s
iPhone 5
iPhone 5s
iPhone 5c
iPod Touch (5th Gen 32GB/64GB with Back Camera)
iPad Air
iPad Mini (2nd Gen)
COMPATIBLE (with iOS 6.1.3 – iOS 7.1):
iPad (3rd Gen)
iPad (4th Gen)
iPad Mini (1st Gen)
NOT Compatible:
iPhone 4
iPod Touch (4th Gen)
iPod Touch (5th Gen 16 GB)
iPad (1st Gen)
iPad 2
*It is possible to download this title to an iPhone 4, but performance is not guaranteed.
Hit up the App Store page for more details.