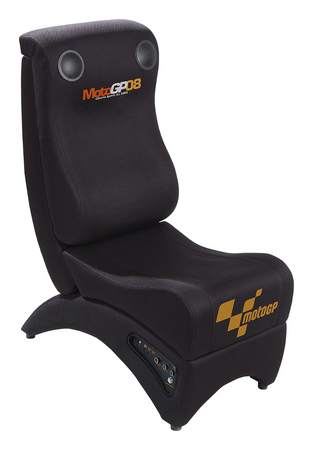 I'm blogging from my new upgraded chair… The new Ultimate Game Chair's MotoGP 08 Reactor Chair ! If you've never sat in one before, you're missing out on an experience. Unlike other chairs, this one has not only top of the line sound, but supports a load of other features. My favorite is the rumble. The whole chair vibrates just like your controller would. In MotoGP 08, this takes the game to a whole new level.
Once you're playing, you can turn the sound ear splittingly loud, but only you can hear it. It's really convenient for those of you who have roomates or spouses who are constantly nagging you to turn it down.
You can get the whole press release, promo pricing, etc below.
NEW REACTOR GAME CHAIR
– THE OFFICIAL GAME CHAIR OF CAPCOM®'S MOTOGP' 08 RACING GAME –
AVAILABLE FROM ULTIMATE GAME CHAIR'
Reactor Game Chair Debuts with Release of
Racing Favorite MotoGP 08
October 28, 2008, ANTIOCH, CA – The Reactor' Game Chair – the official game chair of Capcom® – is available for $199.99 (+ shipping) from Ultimate Game Chair', maker of all-in-one virtual game, massage and home theatre chairs. The new Reactor represents Ultimate Game Chair's first collaboration with a leading game developer/publisher and the first-ever co-branded chair based on a newly released, fan-favorite franchise – Capcom's MotoGP' 08 racing game for the PLAYSTATION®3 computer entertainment system, Xbox 360® video game and entertainment system from Microsoft, PlayStation®2 computer entertainment system and PC.
"MotoGP 08 recreates the fast-paced excitement of MotoGP racing," said Germaine Gioia, SVP Licensing at Capcom Entertainment. "The Reactor Game Chair further enhances that experience, enabling fans to literally feel what it is like to be part of these events."
The availability of Reactor from Ultimate Game Chair coincides with the release of Capcom's MotoGP 08. The Reactor Game Chair features eight vibrating motors that use Game Sync' technology for high-impact game action. The motors are located in the upper and lower back, as well as the seat cushion so that every bump or blow is felt by the gamer. Plus, the new chair features MotoGP 08 branding – placed on the backrest as well as the front of the chair – appealing to the most dedicated racing fans.
"With 50 million fans worldwide and 20 years of gaming excellence, Capcom has earned a reputation as the best in gaming," said Jamie Duran, president of Ultimate Game Chair. "Building on Capcom's gaming greatness, the Reactor Game Chair will bring unexpected thrills to the hottest new games, like MotoGP 08 while reinventing Capcom's fan favorites from the past."
The official game of the 2008 season, MotoGP 08 features all the riders, bikes and tracks of the 2008 MotoGP racing season, providing the definitive two wheeled racing experience. The development team's overriding aim is to deliver an unparalleled handling model that allows access points for gamers of all skill levels and just as importantly provide a challenge to meet each player's abilities. MotoGP 08 puts the player at the center of the MotoGP experience by letting them join a team and compete alongside their favorite racing heroes in all three race classes – 125cc, 250cc and MotoGP. Good results in qualifying and racing earn points that can then be exchanged for bike upgrades to improve attributes such as straight line speed, braking and cornering.
MotoGP 08 will mark the debut of the series on the PLAYSTATION®3, plus see the inclusion of the all new Indianapolis track and the spectacle of night racing at the Qatar circuit. The game will also offer online play for PLAYSTATION®3, Xbox 360 and PC owners.
Just in time for holiday buying, the branded MotoGP 08 Reactor is exclusively available for direct purchase at www.UltimateGameChair.com. Using the in-box promotion found in the new MotoGP 08 game, customers can save 10 percent off the $199.99 MSRP, for a cost of $179.99 (plus shipping). Moto GP 08 from Capcom is available at retailers nationwide.
In addition to the game play features, the Reactor also features a variable massage mode that can be used for relaxation or when watching movies or listening to tunes, as well as head-mounted, 3D-stereo sound for unmatched game play. The Reactor Game Chair is compatible with any console, computer, hand-held game or home theater, including Xbox 360, Xbox®, PlayStation, PlayStation®2 or PLAYSTATION®3, PSP, Wii', Nintendo GameCube', Nintendo DS', PCs and Mac systems. Players also can tune in with home theater systems and MP3 players like the iPod or Zune for a total media experience.
ABOUT ULTIMATE GAME CHAIR'
Ultimate Game Chair, Inc., headquartered in Antioch, California, designs all-in-one virtual game, massage and home theater chairs. Ultimate Game Chair amplifies the video gaming experience by delivering patented special effects and high-impact vibration capabilities that deliver the ultimate in game play intensity. For more information, visit http://www.UltimateGameChair.com.
ABOUT CAPCOM
Capcom is a leading worldwide developer, publisher and distributor of interactive entertainment for game consoles, PCs, handheld and wireless devices. Founded in 1983, the company has created hundreds of games, including best-selling franchises Resident Evil®, Street Fighter®, Mega Man® and Devil MayCry®. Capcom maintains operations in the U.S., U.K., Germany, France, Tokyo, Hong Kong and Korea, with corporate headquarters located in Osaka, Japan. More information about Capcom can be found on the company web site, www.capcom.com.
© 2008 Capcom Entertainment, Inc. MotoGP' and © 2008 Dorna Sports, S.L. Used under license. All rights reserved. Capcom, Resident Evil, Mega Man and Devil May Cry are either registered trademarks or trademarks of Capcom Co., Ltd., in the U.S. or other countries. Street Fighter is a registered trademark of Capcom U.S.A., Inc. All other trademarks are owned by their respective owners.