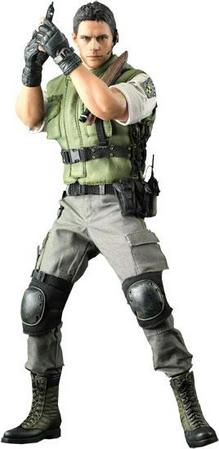 Spotted over on Electronic Theatre , these 12″ deluxe Resident Evil figures will be hitting the stores in the UK in March. North America will be getting them sometime after that (no confirmed date as of yet). The two figures are Chris Redfield and Wesker as they appear in Resident Evil 1. The cost is a bit steep at £159.99, but then again, these are high quality and truly for collectors.
For more specifics, hit the jump!
Standing at 12-inches tall, the Wesker figure features thirty-six points of articulation. Wearing his signature S.T.A.R.S. uniform, Wesker is equipped with the Samurai Edge Handgun, Hydra Shotgun, two incendiary grenades, a knife Electronic Theatre ImageElectronic Theatre Imageand a number of other accessories, including three interchangeable posing hands. In addition, Wesker feature battery-operated illuminated red eyes.
Chris Redfield, also 12-inches tall, is set to feature over twenty-one points of articulation, and sports a real-fabric S.T.A.R.S. uniform. The M9 Handgun, S&W 500 Magnum, MP-5 Machine Gun and Gatling Gun are complimented by a number of other accessories and, as with Wesker, three interchangeable posing hands. Both figures come with a stand emblazoned with the Bio Hazard logo – the original Japanese title for the Resident Evil series – and are complete with a nameplate.