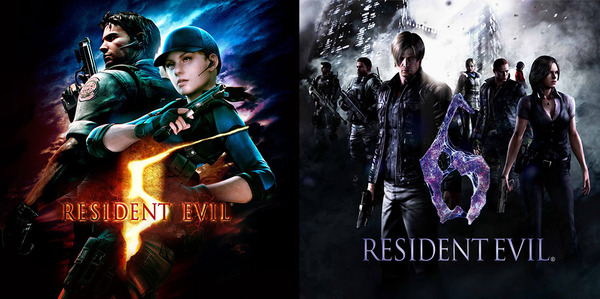 Looking for something to play while globetrotting, or are you more the staycation type? No matter what your travel plans look like, we've got you covered with Resident Evil 5 and Resident Evil 6 coming to the Nintendo Switch eShop on October 29 th ! Read on for more info, including the Resident Evil Triple Pack featuring RE 4, 5, and 6 coming to retail in North America.
Highly regarded for its co-op gameplay, Resident Evil 5 puts you in the shoes of two B.S.A.A. operatives: Resident Evil veteran Chris Redfield and newcomer Sheva Alomar. These two highly-trained agents will have their training and skills put to the test as they seek to prevent the sale of a bio-organic weapon and uncover a much larger, more sinister plot as a result. Together with your teammate, you'll tackle a variety of locations across Africa and, thanks to the included Gold Edition content, you'll even be able to take a trip down memory lane and experience events that unfolded before the events of RE5 as you explore a familiar mansion. Resident Evil 5 will be available on the Nintendo Switch eShop for $29.99 on October 29 th.
Taking place after the events of RE5, Resident Evil 6 follows various interconnected stories, bringing together fan-favorite characters like Leon S. Kennedy and newcomers such as Helena Harper. Travel the world and play each story solo or with a friend to unravel the full picture behind a sinister conspiracy that threatens the entire world. Resident Evil 6 also includes all previously released DLC, including additional content for the intense, arcade-style Mercenaries mode, and the unique Agent Hunt mode that flips the script and puts you in control of enemies in other player's campaigns. Resident Evil 6 will be available on the Nintendo Switch eShop for $29.99 on October 29 th.
We also have a special bundle coming to North American retail – Resident Evil 4, Resident Evil 5, and Resident Evil 6 will all be included in the Resident Evil Triple Pack! This pack brings together all three games in one convenient place, with Resident Evil 4 on a cartridge and Resident Evil 5 and 6 included as a digital download voucher. You can grab this pack for $59.99 beginning October 29 th.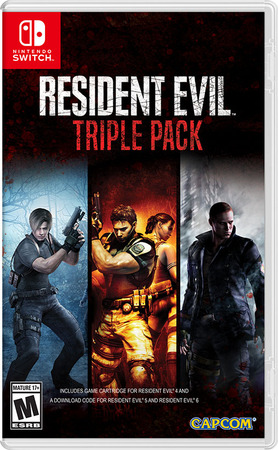 That's all for now, but if you're at San Diego Comic Con, swing by the Capcom booth (#215, Hall A) where you can get some hands-on time with a demo for both RE5 and RE6 on Nintendo Switch!
Don't forget to follow the official Resident Evil Twitter and Facebook for all the latest news on Resident Evil!