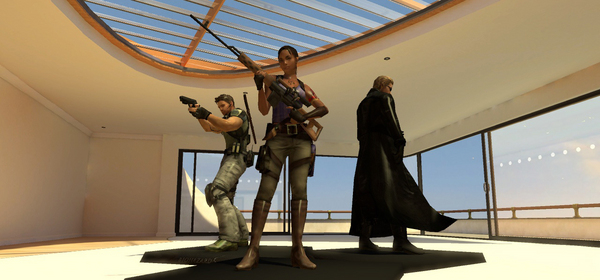 When you get your hands on RE5 for PS3, you'll start to notice some new things in PlayStation's Home. There'll be new costumes, and even a brand new area from the game. You'll even be able to launch a co-op game with your friends straight from Home. Be on the look out for tons of new items within Home that are RE themed, and even more content coming after the release.Â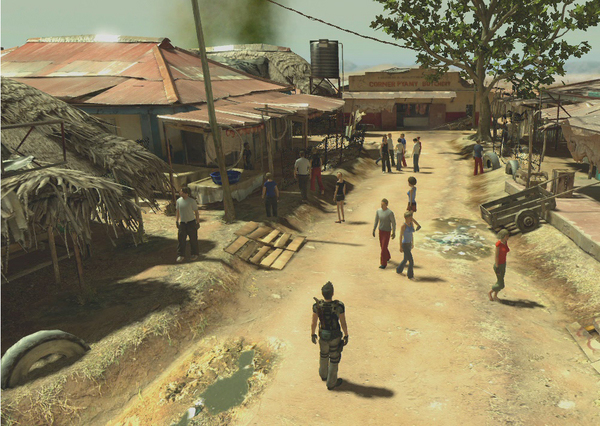 Click for the more button for the Press Release.
Sony Computer Entertainment America (SCEA) announced that Capcom Co., Ltd. is expanding its blockbuster franchise, Resident Evil, within PlayStation Home with its launch of a dedicated game space today. Now, Resident Evil 5 and Street Fighter IV, both Capcom properties, will utilize the technology and features within PlayStation Home to deliver compelling content allowing the PlayStation community to interact with the franchises in an immersive, 3D environment.
"As games become richer with graphics, embrace deeper storylines and character development, fans are getting hungry for more," said Jack Buser, director of PlayStation Home, SCEA. "Developers like Capcom understand the potential PlayStation Home provides fans – a platform in which the community can come together to talk about their games, strategize, trade tips and tricks as well as interact directly with the brand."
Capcom's new Resident Evil 5 Studio lot space within PlayStation Home is modeled after the movie set. The atmospheric and highly-detailed space will give fans of the franchise a place to meet and socialize, as well as acquire additional Resident Evil 5 themed items. Showcasing the game integration capable within PlayStation Home, Resident Evil 5 owners will be rewarded with unlockable themed items and costumes for the games main characters Chris Redfield and Sheva Alomar. Resident Evil 5 users will also be able to take advantage of the game's Co-Op play modes by launching the game with a friend through PlayStation Home.
The game launching features for the Resident Evil 5 space are slated to arrive with the release of the game in North America, with additional unlockable content being released following the launch.