Horror has taken on many forms throughout human history. Strange shapes in the dark, classic campfire stories told by the dying light of the fire, books of tall tales in the dead of night, films that explore the darker side of what people are capable of, and the soft glow of a television as "Welcome to Raccoon City" flickers across a roadside sign. The way horror is delivered may have expanded and changed over time, but people will always love a good fright. In 1998, Resident Evil 2 set a new standard for horror – and now, twenty years after the release of the original, the Raccoon City outbreak will live again when Resident Evil 2 arrives on PlayStation 4, Xbox One, and PC on January 25th, 2019!
A complete remake of the original from 1998, Resident Evil 2 revisits the nightmare of Raccoon City with modern gameplay mechanics, new and unprecedented visuals, and a photorealistic style powered by the RE Engine that was behind the stunning graphics of Resident Evil 7 biohazard. Keeping in line with the survival horror that defines Resident Evil 2, grotesque hordes of the undead are brought to life with a visceral sense of wetness and gore, reacting to attacks in real time with visible damage from every bullet and shotgun shell. True to the series' roots, you'll need to make every one of those shots count if you want to survive, with a new over-the-shoulder camera bringing you even closer to the shambling undead standing between you and your escape.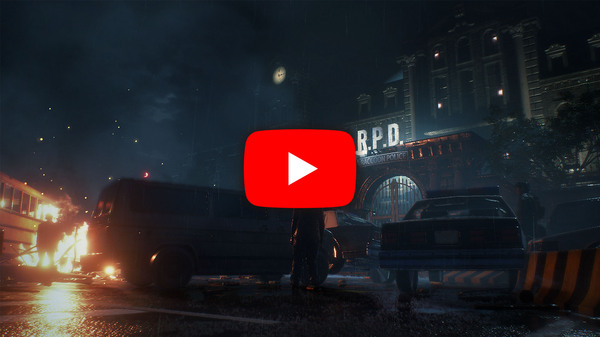 This new world of Resident Evil 2 has been built from ground-up to provide a new perspective on the destroyed metropolis of Raccoon City, and tell the stories of two characters that have become cornerstones of the franchise: Leon S. Kennedy, a rookie cop having the worst first day on the job of his life, and Claire Redfield, a street-savvy college student searching for her brother, Chris.
Both Leon and Claire will have separate campaigns throughout the game after their initial meet-up, allowing you to see events from their individual perspectives while meeting unique characters, solving distinct puzzles, and exploring their separate paths through the decaying city. The Raccoon City Police Department, a museum-turned police precinct, is just one of the many locales you'll visit. This iconic building holds a special place in the heart of many Resident Evil fans, and now both newcomers and veterans alike will be able to explore it in a brand new way.
From the initial announcement through today's reveal, the fan anticipation and response has been incredible. From Yoshiaki Hirabayashi, Producer:
"The press and fan reaction to Resident Evil 2 when we said ' We Do It ' in 2015 has been overwhelming. We want fans to see the reimagining of Resident Evil 2 not only captures the magic of the beloved original, but also expands it to deliver a richer experience with extended areas and story elements. The first look at E3 is just a taste of what's to come."
Resident Evil 2 will have a playable demo on the show floor of E3 this year at the Capcom booth (South Hall, Booth #2223), so if you're attending the show, be sure to swing by and get your hands on the exciting demo! Join Leon during his first day on the job as he searches the RPD for clues about the outbreak, and get a brand-new perspective on the police station as Leon begins a desperate attempt to escape Raccoon City.
Pre-order Resident Evil 2 and receive 2 bonus weapons – S.T.A.R.S. members Chris Redfield and Jill Valentine's signature Samurai Edge handguns.
Plus, pre-order Resident Evil 2 on PlayStation Store and receive a special Resident Evil 2 theme as an instant reward.
For all the latest info on Resident Evil 2 and pictures, videos, and more from the show floor at E3, be sure to follow the official Resident Evil accounts on Twitter , Facebook , and Instagram !
We'll have live gameplay demos from the E3 show floor, as well – follow the CapcomUSA Twitch channel and check out our E3 schedule for all the latest streams!