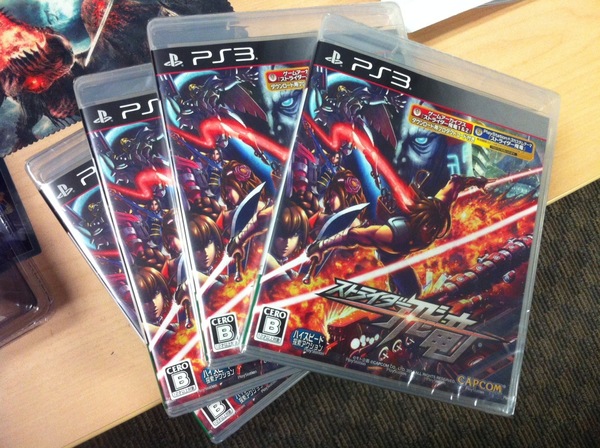 Well! So this is exciting. These here super-rad, Japan-only physical copies of Strider for the PS3 just arrived in the office. Guess we better find some good homes for them. Read on to find out how you can get a chance to win one!
Now look–I know a lot of you guys wanted to see these things stateside, and unfortunately it's not always as simple as just making it so. But as the community team, we wanted to at least give some of you guys a chance to get your hands one one of these undeniably cool pieces without having to go through importers.
Frankly, I've been fighting the intense urge to pocket one of these things all day, reminding myself over and over that I have wayyyy too much stuff as it is and that the rise of digital media is actually the best thing that's happened for me in the industry of late.
But for those of you who still have a spare 1.4cm of shelfspace and who are drooling over the above photo, here's what you've got to do for a chance to receive a copy.
Step 1) Follow @capcom_unity on Twitter. Surely you already were.
Step 2) Retweet THIS TWEET by 12pm PT on Monday, March 3rd. Further Twitter love for Strider is appreciated but optional. <3
Step 3) Wait for us to announce on Twitter that the winners have been selected. Winners will receive Direct Messages on Twitter asking for their mailing information.
And that's it! Easy.
For those who don't know, here's what this package contains:
-Japanese version of the new Strider (playable on Western PS3s)
-Download tokens for Strider 1 and 2 "Game Archives" on PSN.*
-Strider Hiryu PS3 custom theme.*
*Note that you'll need to set up a Japanese PSN account to access the digital features. Pretty sure the community can help you out with that ;D
Best of luck to all, and may the odds be ever in your favor.